'Ruthless' Warlord Could be Taliban's Next Leader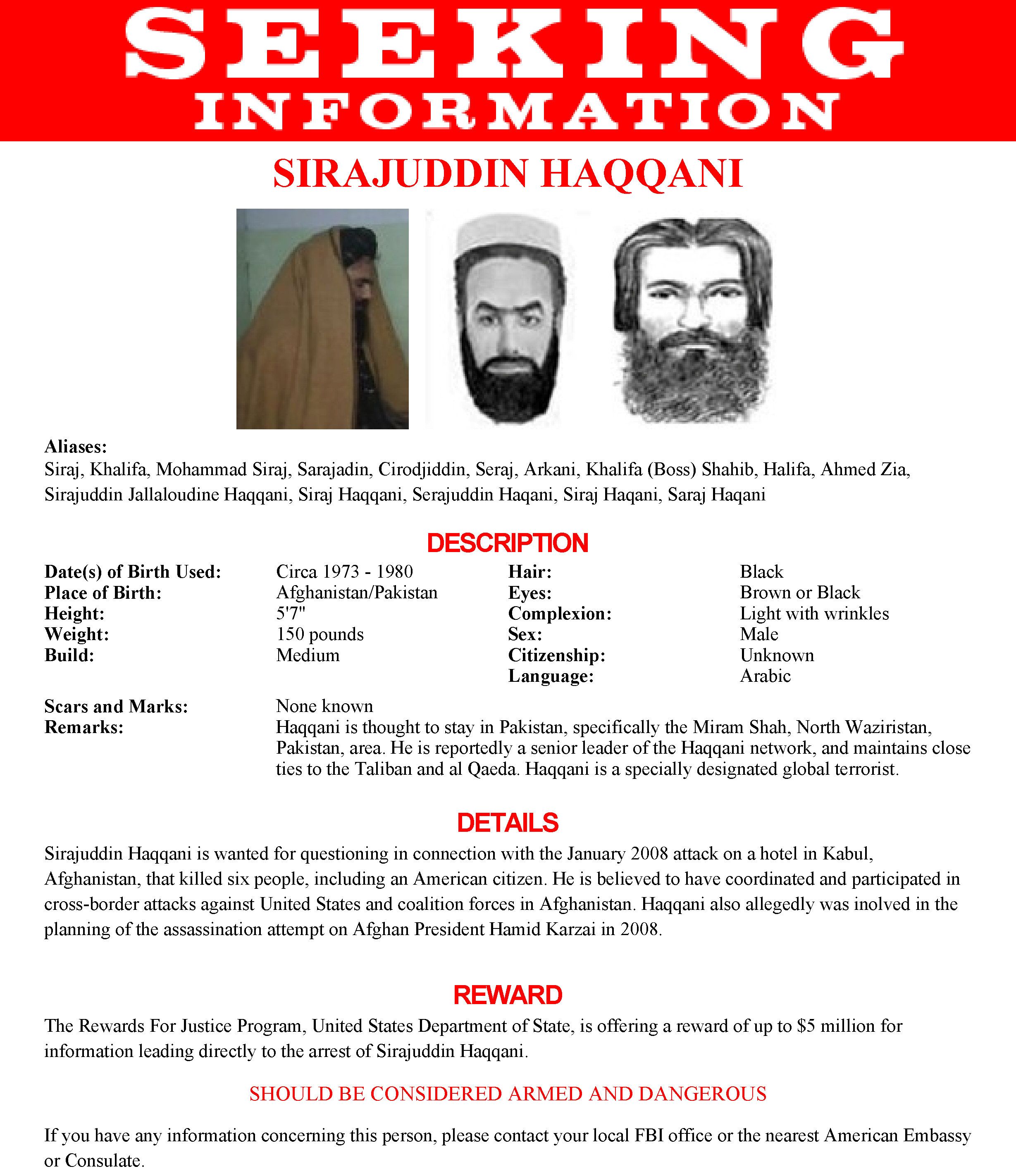 Afghan guerrilla commander Sirajuddin Haqqani, a possible successor to Taliban leader Mullah Akhtar Mansour, would likely prove an even more implacable foe of beleaguered Afghan government forces and their U.S. allies.
The United States killed Mansour in an air strike in a remote border area just inside Pakistan, the Afghanistan government said on Sunday, in an attack likely to dash any immediate prospect for peace talks. The U.S. has not confirmed Mansour's death.
Haqqani, who has a $5 million U.S. bounty on his head, is widely seen by U.S. and Afghan officials as the most dangerous warlord in the Taliban insurgency, responsible for the most bloody attacks, including one last month in Kabul in which 64 people were killed.
If Haqqani is confirmed as the next Taliban leader it may be seen as fitting for the scion of a family that has been famously involved in Afghanistan's decades of bloodshed.
His father, Jalaluddin Haqqani, was a heavily bearded leader of the mujahideen who fought the Soviet troops that invaded Afghanistan in 1979. A former U.S. Congressman, Charlie Wilson, once called Jalaluddin "goodness personified" and he was held in such high esteem he visited the White House when Ronald Reagan was president.
His son is seen as even more ruthless.
Sirajuddin Haqqani became one of two deputy Taliban commanders last year, integrating his feared militant faction, known as the Haqqani network, closely into the Afghan Taliban insurgency.
The Taliban now control more territory than they have done since their ouster from government in 2001, and hopes of peace talks that the United States was pushing have all but collapsed as the bloodshed has increased.
The Haqqani network is thought to have introduced suicide bombing to Afghanistan, and the U.S. State Department calls it the most lethal insurgent group targeting U.S.-led and government forces in Afghanistan. It labels Sirajuddin Haqqani a "specially designated global terrorist."
Sources close to the Haqqani network said they were still trying to verify whether Mansour had been killed. "It is too early to comment if Sirajuddin Haqqani would be willing to replace Mullah Mansour," a source said.
Haqqani, who is in his mid-40s, has been trying to reconcile factions within the Taliban who refused to accept Mansour's leadership since last year when it became clear that the group's founder, Mullah Mohammad Omar, had died nearly two years earlier.
He had been made head of a committee tasked to resolve a bloody split between Mansour and a rival faction led by Mullah Mohammad Rasool, a senior member of the Afghan Taliban told Reuters earlier this week, speaking on condition of anonymity.
Haqqani far from certain
But it is by no means certain Haqqani would be named Taliban leader.
The Haqqani network, which has for years had strongholds in northwest Pakistani border lands, is a powerful force in eastern Afghanistan's Paktika province, and the wider Loya Paktia region, but not in the birthplace of the Taliban—Kandahar province in the south.
"Haqqani ... as a non-Kandahari and as someone who is unfamiliar with the insurgency landscape beyond Loya Paktia, would likely struggle to gain the support of the powerful southern Taliban commanders who still dominate," Thomas Ruttig from the Afghanistan Analysts Network wrote in a February article on potential successors to Mansour.
Ruttig said Haibatullah Akhundzada, a former top member of the Taliban judiciary who became the other deputy along with Haqqani in July 2015, was a more natural successor.
A respected cleric from Kandahar, Haibatullah was among the few thought to have gained Mullah Omar's trust and to whom the late Taliban leader would turn for a final say on sensitive decisions, Ruttig said.
The other question is if Pakistan is ready to show its hand by having a leader of the Haqqani network, with which it has long been tied to, command the Taliban.
Former U.S. military chief Admiral Mike Mullen described the Haqqani network as a "veritable arm" of Pakistan's intelligence services after a 2011 attack on the U.S. embassy in Kabul. Pakistan remains a powerful player in the Afghan theater.
Instead, the choice of a successor may fall to someone with more distance from Pakistan, said Mohammad Taqi, a former columnist at Pakistan's Daily Times newspaper who has written extensively on Pakistan's intelligence agencies' ties to militant groups.
Mullah Omar's son, Mullah Mohammad Yaqoob, and brother, Mullah Abdul Manan, who were given important positions recently within the Taliban, could also be in the running.
What looks almost certain is more violence in the Taliban ranks as rivals lay claims in a leadership struggle that has not been resolved since Mullah Omar's death was announced, Taqi said.
Still, the Haqqani network is the most cohesive, capable and best-funded insurgent organization in the region, with activities ranging from extortion and ransom to investments in firms abroad through front companies. It may therefore be best placed to wield the muscle in the weeks ahead to ensure it is in a position to decide the leadership.