As the coronavirus outbreak continues to affect American lives, motorhomes could offer the perfect staycation adventure. But where can you buy a recreational vehicle (RV) and how do they you if you've found the right one?
According to Statista, 46,630 shipments of motorhomes from manufacturers to dealers took place in 2019 in the U.S. RVs have become popular for business and pleasure in America, cutting out the need for flying or booking accommodation.
Greg Kopf, brand ambassador at CAMPERiD, told Newsweek that RVs have become increasingly popular over the years, as they're an easy place to call home base. "RVs emerged in popularity among families, couples, and younger millennials looking to vacation or get a change of scenery," he explains. "With travel restrictions starting to lift, many are embarking on RV trips to have more space than a car, while avoiding airports and public transportation."
There is a vast array of RV, motorhome and campervan hire or purchase options. Of course, this can make it hard to know where to start when looking for the perfect vehicle. There are three main types of motorhome:
Class A Motorhome/RV: A lot of Americans spend extended periods in their Class A integrated camper rentals because of their size. This is a prime example of deluxe RVs and, sometimes, high cost—ideal for a luxury RV experience.
Class B Motorhome/RV: More semi-integrated, these versions are smaller. Class B is a term mainly used in North America and relates to a raised roof, with a van chassis. Normally these vehicles come with showers and a toilet.
Class C Motorhome/RV: More of a van/truck chassis, often with slide-outs to create more space.
"Some are satisfied with a simple interior and only the basic necessities, while others would like to splurge on luxurious amenities," says Kopf. "For more space and storage options, you have Class A RVs—which do cost more compared to others with less room.
"The customization options available are endless, which allows many people to make their home on wheels as comfortable as possible," he explains. He also says that purchasers should not commit to buying an RV without seeing and fully inspecting it first.
"Just like a used car, it could look perfect online, but pictures can be deceiving," he says. "If possible, make sure you can fully assess the vehicle to ensure there's no water damage or leaks, which could lead to serious mold and unsafe conditions.
"With that, check for brown spots in the ceilings, scope out all floors, and even open the closets and storage areas to ensure they're dry and clear of mold," he continues. "Make sure the walls and roof are both stable. Just remember, if something doesn't look or feel right, it's not the right choice for you. This process is car buying meets home buying—so it's important to combine your knowledge of both."
Is an RV right for me?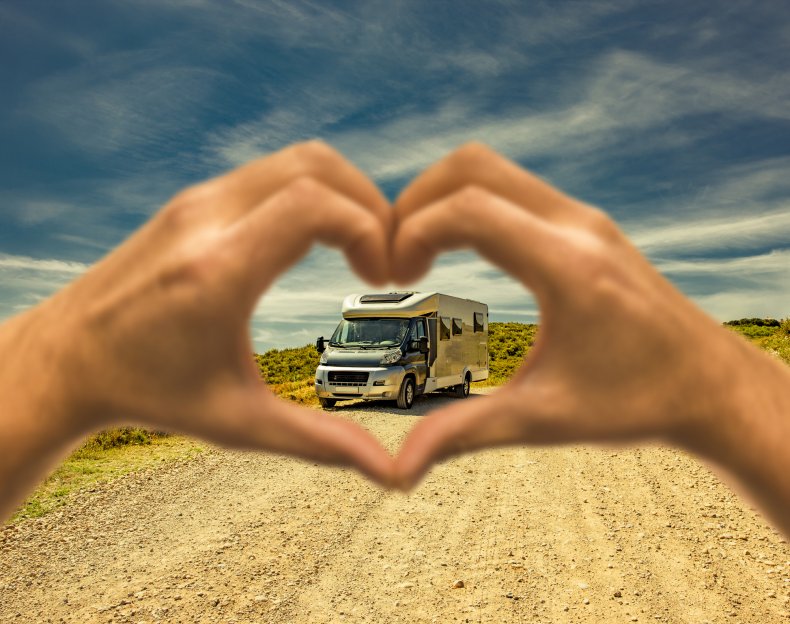 If you're still unsure about whether a motorhome is right for you, read about Ashley Gann's story. The chief meteorologist at CBS 42 has been living a Grand Design Solitude, 5th wheel RV life since her family sold their home.
"We did not want to rush into another house so we decided to move into the RV while we did some small remodels and then listed our house," she told Newsweek. "We already had a camper and upgraded to a more full-time RV. Through the process, it forced us to downsize and minimize. It was a physically, emotionally, and emotionally freeing experience."
When choosing their new RV, Gann says that they came across a humorous hurdle: "So my husband is 6 foot 6 inches and I'm 5 foot 2 inches—RVs aren't exactly made for tall people, so we had to physically go to the RV lots and walk in every one until we found the right fit.
"We also needed space for our three kids," she continues. "We found one with a residential-sized fridge and two full-sized bathrooms. A bunkhouse that sleeps four comfortably and plenty of storage underneath for seasonal things and toys.
"In addition to the bunk area was still our full-sized room," she continues. "Queen-sized bed, big closet and built-in dresser."
Gann goes onto say that the upsides to living in an RV include a more minimal life and realizing how time-consuming and expensive homeownership is.
"I'm not against homeownership, but I also think the narrative of homeownership has always resonated with equity," she explains. "But no one ever tells you that when your fridge goes out, a maintenance person doesn't just come right out and fix it—there are property taxes and HOA dues.
"The home is one investment, but homeownership can be consuming, both in time and money."
The meteorologist continues to say that the family has regained quality time, with priorities shifting to other activities. "I cut my cleaning from a 2,500 sqft home to just over 300 sqft," she says.
Of course, there are downsides to living in an RV, as Gann explains: "The only downside it laundry—right now we are either taking our laundry to a wash and fold place—which is awesome, just pricey—but with three kids, who are six and under, we just have messes, so I do miss the convenience of just doing a little load of towels or clothes as needed.
"But honestly, that's first world problems. A little planning and it's no big deal," she concludes.
If you have been convinced by Gann's story, there are several websites that show used and new RVs and motorhomes in your local area.
Sites include:
You can also rent an RV from websites such as Motorhome Republic.
Newsweek has affiliate partnerships. If you make a purchase using our links, we may earn a share of the sale.