Does President Trump Have an Ally in Paul Kagame, Rwanda's Strongman Leader?
President Donald Trump has shown a fondness for strong, decisive leaders during his first half-year in office.
He has praised Egyptian President Abdel Fattah el-Sisi for his fight against Islamist militants; had a "very friendly" phone call with Philippines leader Rodrigo Duterte; and, of course, shown a keen interest in building a strong relationship with Russia's Vladimir Putin.
Rwanda's Paul Kagame also seems to fit the mold. The 59-year-old rebuilt Rwanda from one of the worst genocides in history to a thriving economy and the easiest place to do business in mainland Africa. Kagame's Rwandan Patriotic Front (RPF) ousted the Hutu extremists perpetrating genocide in 1994 and has since protected the country from raging instability in neighboring countries, including the Democratic Republic of Congo and Burundi.
"Kagame is the kind of leader that Trump likes," says Phil Clark, a Rwanda expert and reader in international politics at SOAS University of London. "Trump likes to deal with leaders he considers decisive and forthright and willing to use force when necessary."
According to Kagame's critics, Rwanda's progress has come at a cost. Rights groups say he has created a one-party state, crushing political opposition and imposing severe restrictions on freedom of speech. Author Anjan Sundaram describes Kagame as a "postcolonial dictator" who has mythologized his role in ending Rwanda's genocide to the point that he is applauded by those within and outside his country.
Read more: Is Rwandan President Paul Kagame A Savior Or A Dictator?
Rwanda is voting in a presidential election on Friday. The president himself has described the vote as a "formality." Only two opposition candidates—one an independent, the other a leader of the Democratic Green Party of Rwanda, which only came into being in 2009—are running against Kagame. At the last election, in 2010, Kagame got 93 percent of the vote.
Should Kagame extend his 17-year-term in office by another seven years, it would ostensibly pose a conundrum for the United States. According to previous U.S. statements on the matter, he technically shouldn't even be running in the election.
Rwanda held a constitutional referendum in December 2015, in which 98 percent of voters backed the removal of term limits that would have barred Kagame from running in the 2017 elections. In response, the Obama administration State Department said it was "deeply disappointed" by Kagame's decision to bid for re-election. (Kagame was dismissive of the U.S. reaction, tweeting that Africa's problems "will not be easily solved by what is behind this 'deep disappointment' attitude."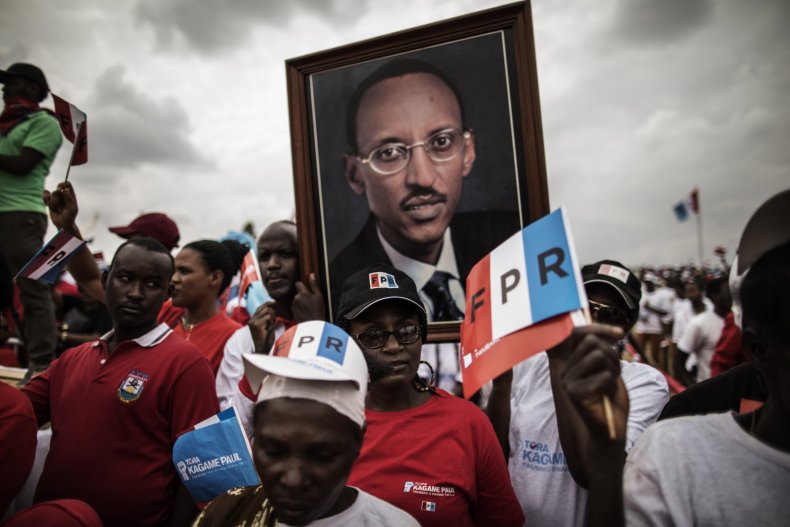 Since then, Washington and other Western nations appear to be resigned to Kagame remaining in power. While there have been few clues to Africa policy since President Trump came to office (apart from possible cuts in peacekeeping missions and foreign aid), it appears that the relationship between Washington and Kigali, Rwanda's capital, will be dominated by pragmatism. A U.S. official who asked to be quoted anonymously tells Newsweek: "Our hope [for the election is] that the Rwandan people have the opportunity to express their will."
If Trump's boast that he likes war heroes "who weren't captured," proves true, Kagame certainly fits the bill. The Rwandan genocide broke out following the assassination of former President Juvénal Habyarimana, whose plane was shot down in April 1994; the event sparked a mass campaign of violence by extremists from the Hutu ethnic majority, who slaughtered more than 800,000 people, mostly from the Tutsi minority, in 100 days. The RPF, commanded by Kagame (who has been accused of shooting down Habyarimana's plane and sparking the genocide, which he denies), captured Kigali in July 1994, forcing many Hutu extremists into neighboring Congo, then Zaire.
Kagame served as minister of defense and vice-president from 1994 to 2000 before assuming the presidency in 2000. In his almost two decades in power, Rwanda has developed a reputation as being clean and efficient. The country remains dependent on foreign aid for 30-40 percent of its budget but is known to be a prudent spender of its aid.
The United States has given almost $1.5 billion in aid to Rwanda between 2007 and 2016; the country usually receives slightly more than the regional average. Under Trump, foreign aid looks less likely to be tied to goals such as promoting democracy and human rights, and more like an efficient economic exchange. That's good news for Rwanda, says Clark.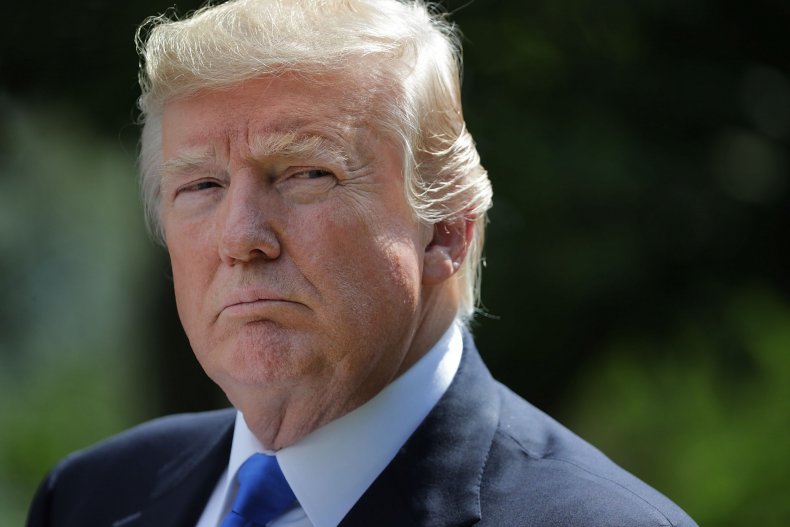 "Ultimately, this is a relationship that is about the spending of donor aid," he says. "So Rwanda has absolutely nothing to fear from this turn, under the Trump administration, toward favoring the economic dimension of aid over the human rights and political dimension."
While Kagame seems to be the kind of president Trump could get along with, it's not clear if the same is true in reverse. Clark says Kagame has an austere and quiet leadership style, as opposed to Trump's outspoken, grandiose pronouncements. (Kagame also is active on Twitter, albeit not as vociferously as the U.S. president.) "He could possibly be a bit suspicious of someone like Trump, who is volatile and flamboyant," says Clark.
But the points of similarity are clear, even to supporters of both leaders. David Simon, senior lecturer in political science at Yale University who has studied the Rwandan genocide, notes that Kagame's supporters described one of his rallies as "perhaps the biggest political gathering in Africa's history." The comment is reminiscent of Trump's ex-press secretary, Sean Spicer, characterizing the size of the crowd at Trump's January swearing-in as "the largest audience ever to witness an inauguration, period, both in person and around the globe."
"So perhaps there could be some grounds for affinity!" says Simon.