Rwandan National Who Burned Down French Cathedral in 2020 Admits to Murdering Priest
A Rwandan national on Monday confessed to the murder of a Catholic priest in France's western region of Vendée, according to local media outlets.
French authorities told reporters during a Monday news conference they did not believe the individual responsible for the death of 60-year-old Father Olivier Maire had terrorist motives and were investigating Maire's death as intentional homicide, BFM TV reported.
A source with knowledge of the case told Euronews the individual who confessed to authorities about his role in Maire's death was also suspected of setting fire in July 2020 to the Cathedral of St. Peter and St. Paul of Nantes, a cathedral located north of Vendée in Nantes.
The individual who confessed to the fire was released after being briefly detailed but was under judicial supervision, said Euronews.
Maire hosted the individual for "several months" prior to his death on Monday, a source with the local authorities said.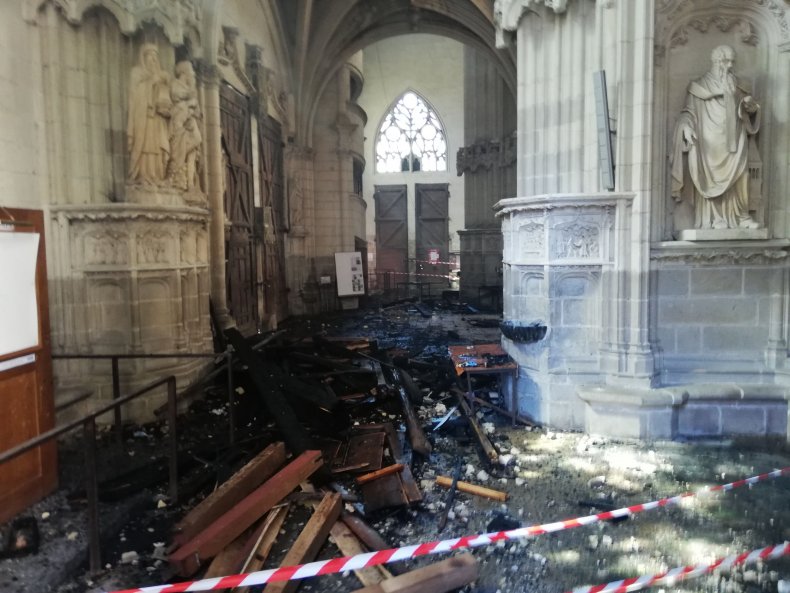 As news of Maire's death spread, the country's politicians began paying tribute to the priest through official statements shared on social media.
Bruno Retailleau, the president of the French Parliament's Senate Republicans, shared a photo of Maire on Twitter and said that the priest had been killed "by a criminal he was sheltering out of charity."
"His death testifies to the kindness of this priest whom I knew well and whose depth of faith I had been able to appreciate," Retailleau tweeted.
French President Emmanuel Macron retweeted Retailleu's tribute to Maire and noted the priest's "generosity" and "love for others."
"On behalf of the Nation, I pay tribute to Father Olivier Maire. Warm thoughts for Montfortians and all Catholics in France. Protecting those who believe is a priority," Macron tweeted.
In a Monday tweet, Marine Le Pen, the president of the National Rally, questioned why the individual was released following the Nantes cathedral fire.
"What is happening in our country is of unprecedented gravity: it is the complete bankruptcy of the state and @GDarmanin," Le Pen wrote, including mention of Interior Minister Gérald Darmanin at the conclusion of her comments.
Darmanian responded to Le Pen's tweet with criticisms of his own.
"Madame le Pen argues without knowing the facts: this foreigner was not deportable despite his deportation order until his judicial review was lifted," Darmanian tweeted.
The Nantes cathedral fire destroyed an organ that had lived inside the cathedral since the 1600s, as well as some paintings, stained glass windows and other artifacts, according to France24. Firefighters were able to preserve the main structure of the cathedral.
The devastating fire occurred 15 months after flames ripped through the Notre Dame Cathedral, bringing its spire to the ground and destroying much of its roof in the process. Restoration of the Notre Dame Cathedral is still ongoing more than two years later.
Newsweek reached out to the National Police in France for comment but did not hear back in time for publication.