Ryan Clark Trends After Former NFL Star Rips Commentator Paul Finebaum Over Cam Newton Criticism
Things got heated on the ESPN show Get Up! when former NFL safety and ESPN commentator Ryan Clark slammed fellow commentator Paul Finebaum for criticizing Carolina Panthers quarterback Cam Newton just minutes after praising Eli Manning.
The segment began with a discussion about the decision by the New York Giants to bench Eli Manning, where the analysts praised the veteran quarterback. The segment then cut to Paul Finebaum who had this to say about Newton, "We aren't watching the beginning of the end, it is the end. It's over for Cam Newton. I don't know why we are mincing words or trying to find a pretty way to put it. I think he's a train wreck right now, he can't do what he used to do and quite frankly, forget the sympathy tour, Cam Newton has never really cared about anyone other than Cam Newton."
Finebaum added, "It's over for Cam Newton. It's been nice knowing you, but you're done."
The sports commentator's words were in reaction to a rough start to the season for Newton and the Panthers. Newton has failed to score a touchdown in the two games played this season. He is also battling an aggravated injury and will possibly not play in the upcoming game against the Arizona Cardinals.
Ryan Clark quickly shut down what he implied was hypocritical in light of the praise showered on Manning moments ago.
"This is my only statement to that. We just spoke glowingly about Eli- not we, Paul- about Eli Manning and he has been a dud for the last four years," said Clark. "You want to talk about bringing a franchise down? Eli has ruined that franchise."
Clark felt that the criticism of Newton was based less on an objective analysis of his performance and more on perceptions of him of the field. "It's not about treating dudes because they play a certain way, because they act a certain way that's not familiar to us, that that's not leadership, that that's not caring."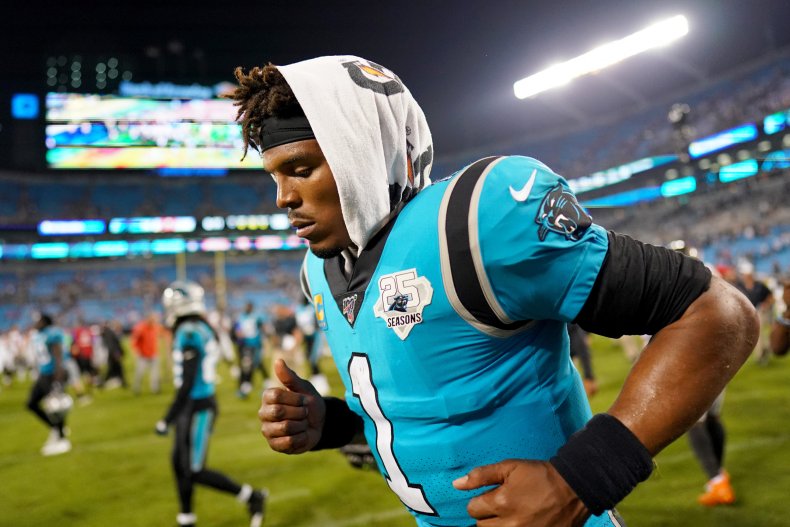 "I can stay healthy too if I learn to throw the ball and do this," said Clark while spinning and ducking in his chair. "I would be healthy too if I could throw the ball and do that. Of course, you're gonna get hurt if you're trying to win a game, if your gonna take a hit."
Many who shared the video on Twitter praised Clark for calling Finebaum out on what they considered hypocritical and bias analysis.
"Jesus, I didn't think I'd see someone murder another human on live TV today, but Ryan Clark just about ended Finebaum here," said sportswriter Sam Vecenie.
Ashly Holder, a sports reporter covering the Carolina Panthers, defended Newton: "1. Cam Newton is far from Selfish. 2. Paul Finebaum dropped the ball on this one. 3. Ryan Clark has always been a real one. "
Former NFL linebacker Emmanuel Acho said: "High key, this is why you need diversity on TV, and in life. Finebaum deserved to get drug through the mud for this, and it was done oh so eloquently."