Tim Ryan Asked Why He Didn't Put Hand on Heart for National Anthem: 'I Love This Country As Much As Everybody Else'
Analysts pored over the policies outlined during the Democratic party's presidential debate on Tuesday night, but just as much was made of the failure of one contender, Tim Ryan, to put his hand on his heart during the national anthem.
Standing alongside the other primary candidates in Detroit, the Ohio congressman noticeably had his hands clasped in front of his body during the playing of "The Star-Spangled Banner."
Questions were raised on social media about his patriotism. Among those to react was ex-White House press secretary Ari Fleischer, who tweeted: "Rep. Tim Ryan didn't put his hand over his heart during the national anthem.
"I guess he's appealing to the Kaepernick wing of the Democratic Party," he added, referring to the former NFL player Colin Kaepernick, who knelt during the national anthem to protest police brutality and racial inequality.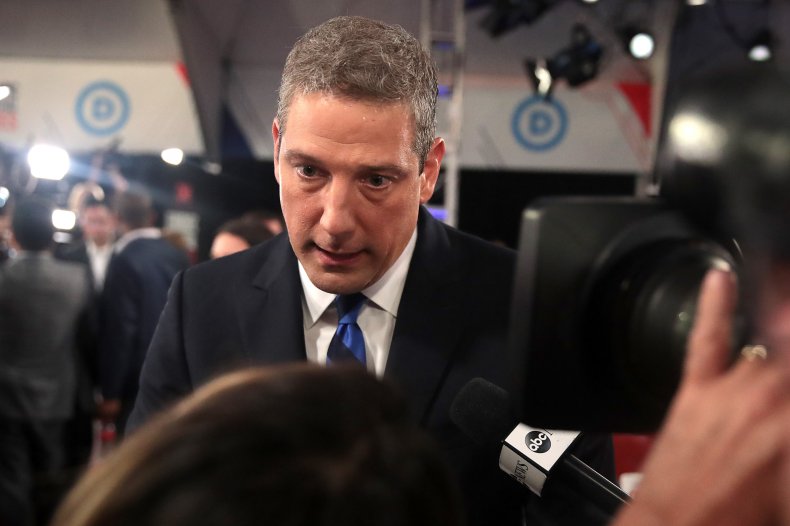 Meanwhile, television host Meghan McCain tweeted: "Put your hand over your heart for the star spangled banner Tim Ryan!!!"
The Daily Wire's Ryan Saavedra tweeted: "All these candidates have contempt for America, Tim Ryan is just choosing to be honest about it."
After the debate Ryan defended his actions, telling ABC News: "I love this country as much as everybody else... I put my hand on my heart for the pledge of allegiance."
Stephen Colbert, host of The Late Show, was quick to mock Ryan's inaction, telling his audience: "The debate began with the national anthem and everyone passed the test by holding their hands over their hearts, except Tim Ryan, unless he keeps his heart in his scrotum."
"I'm not sure where he keeps the brain either," Colbert added, to laughter.
Ryan challenged House Speaker Nancy Pelosi for the role of minority leader in 2016 and is looking to appeal primarily to blue-collar voters in the Midwest.
During the debate, he tried to position himself as a more moderate candidate than Bernie Sanders, with whom he clashed over healthcare.
He said that that the Vermont senator's proposed single-payer system would take away high-quality insurance away from the very union workers Sanders is trying to court.
"This plan that's being offered by Sen. [Elizabeth] Warren and Sen. Sanders will tell those Union members who gave away wages in order to get good healthcare that they're going to lose their healthcare because Washington's going to come in and tell them they got a better plan," Ryan said, according to The Hill.