Ryan Kelly Receives Flood of Support Following the Death of His Baby
NFL star Ryan Kelly has received an outpouring of support after he and his wife announced the death of their baby.
The Indianapolis Colts player and his wife Emma experienced a pregnancy loss at 19 weeks and have shared the sad announcement on social media.
On Monday, the couple announced that their daughter, Mary Kate, had passed away.
Emma Kelly was 19 weeks pregnant with the couple's first child when she discovered her daughter's "little heart just stopped for reasons unknown" and that she would have to be delivered early.
Emma Kelly gave birth to Mary Kate on December 14 after 48 hours in labor.
"There is no easy way for us to say what we're about to say... but we lost our sweet baby, Mary Katherine Kelly, aka Mary Kate, this week," Emma Kelly wrote in an emotional post on Instagram.
"I was 19 weeks along, 1 week from the halfway mark. Women have a 1 percent chance of losing their baby this far along, and yet somehow, here we are."
Ryan Kelly shared his own post to his late daughter, writing that "nothing made me happier than being your Dad."
He continued: "You were simply a miracle and always will be. I'm sorry you never got to open those sweet eyes and see us or take your first steps but you have angel wings now."
"You left this world too soon but we know God had a bigger purpose for you. Your mom and I find comfort knowing you're being loved on by your great grandparents," he continued. "Thank you for watching over us and your future siblings. I'll forever wonder who you'd be today. Until we meet again my sweet girl, I love you."
Colts coach Frank Reich has said that Ryan Kelly can take all the time he needs before returning to the field.
"What we've said to Ryan is 'Hey, take all the time you need, we're 100 percent behind you and Emma,' " Coach coach Frank Reich said, per Yahoo. "'We're here to support you, and when you're ready to take that step, we're right here.'
"I'm just not going to push that," Reich said. "Far as I know, it could be tomorrow, it could be a week from now. Whatever it is, we're 100 percent behind him."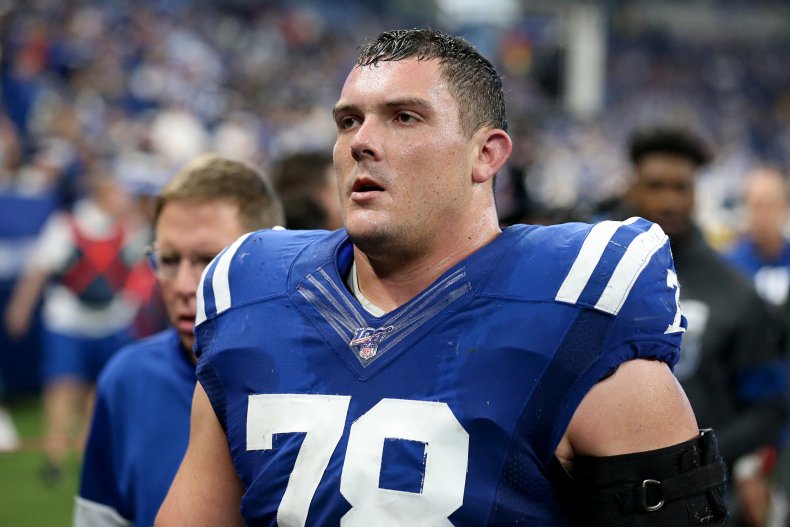 Reich said he and the team are behind Ryan Kelly as he and his wife mourn their tragic loss.
"These situations, as I think we all know, in life, there's no perfect formula for how to handle these situations," Reich said. "Everybody has to go through their process as a family. The mourning, and the healing steps that it takes."
Former Colts player, Darius Butler reached out to Ryan Kelly on Twitter.
"Praying for Ryan Kelly and his family," he posted.
Colts' Rigoberto Sanchez responded to Ryan Kelly on Instagram to offer support.
"Praying for y'all bro," he said,
While sports reporter Larra Overton added: "Embracing you and Emma with prayers, strength, love and faith."