Ryan Lochte: Jeah, I'm Sorry Brazil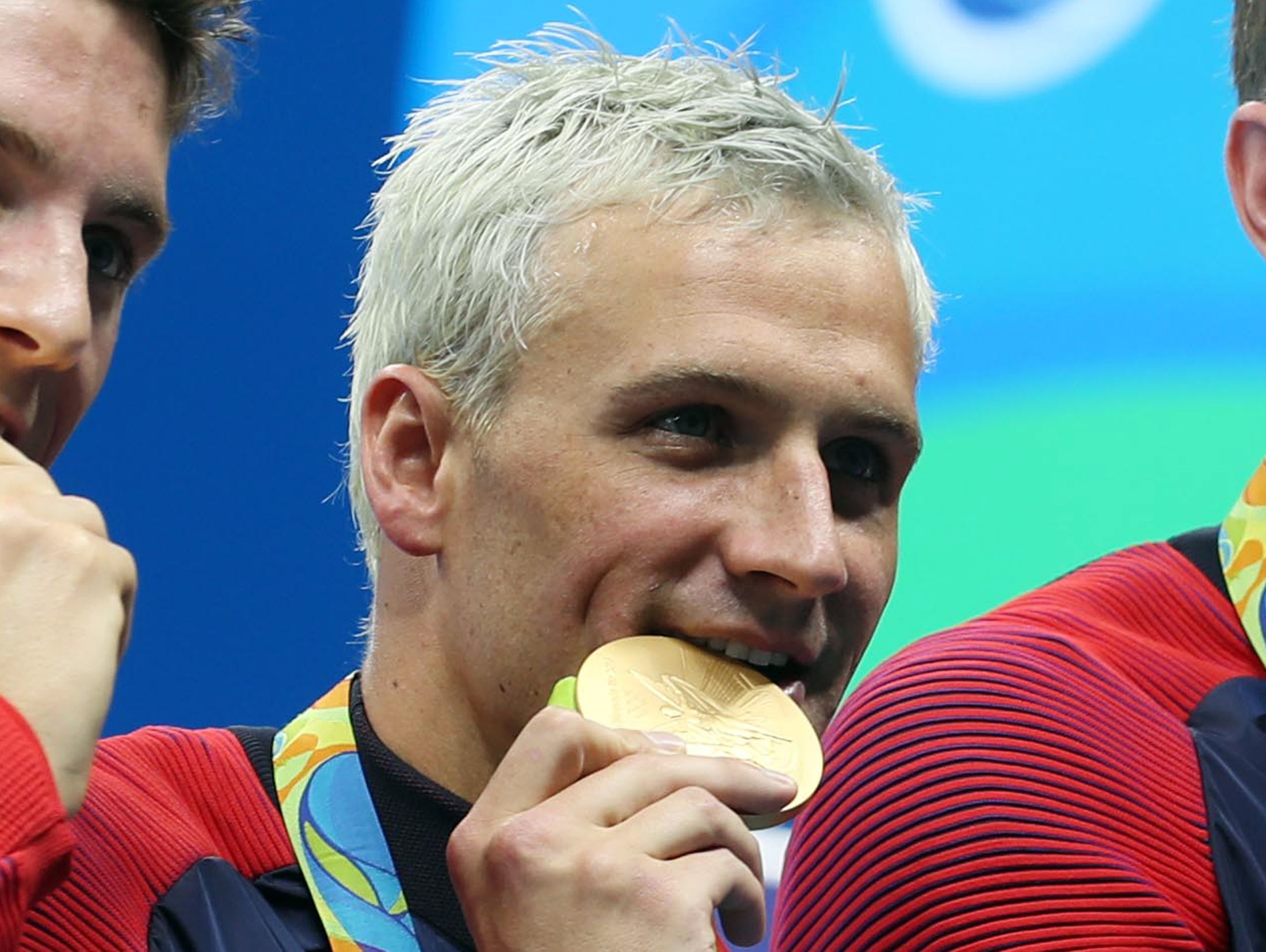 MIAMI/RIO DE JANEIRO (Reuters) - U.S. Olympic gold medalist swimmer Ryan Lochte issued an apology on Friday and his teammate Jimmy Feigen paid 35,000 reais ($11,000) to a charity after Brazilian police said they lied about being robbed at gunpoint at the weekend.
Rio Games organizers hope the swimmers' atonement, combined with an official apology from the U.S. Olympic Committee, will draw a line under a controversy that has dominated news coverage of South America's first Olympics and embarrassed the host city.
Lochte, who flew to the United States the day after Sunday's incident at a gas station, said he should have been more careful and candid in his account but it had been traumatic to have a man point a gun at him in a foreign country and demand money.
The 32-year-old, one of America's most decorated swimmers and the most outspoken about the incident, had originally said he, Feigen and two other team mates, Gunnar Bentz and Jack Conger, were stopped in a taxi on the way back from a party by gunmen posing as police who stole $400 from them.
However, police called this a lie, and Rio's mayor said on Friday he had "pity and contempt" for the swimmers.
Police said one of the swimmers had vandalized a gas station after the group stopped the taxi there to use a bathroom. The swimmers started an argument with staff at the station, who demanded payment for the damage, police added.
After security video emerged of the incident, the U.S. Olympic Committee admitted an act of vandalism had taken place and asked forgiveness for the swimmers' conduct.
"I want to apologize for my behavior of last weekend," Lochte said on his Instagram account as a social media storm gathered over him at home and in Brazil.
"Regardless of the behavior of anyone else that night, I should have been much more responsible in how I handled myself and for that I am sorry to my teammates, my fans, my fellow competitors, my sponsors and the hosts of this great event."
U.S. tabloid press dubbed him "The Ugly American" and "The Lochte Mess Monster", turning on the once-beloved champion and saying his behavior fed the worst stereotypes of Americans abroad.
The New York Post screamed "Liar, Liar, Speedo on Fire", a reference to the swimwear company that sponsors him. Speedo has said it is following the situation and does not comment on ongoing legal investigations.
'Pity and Contempt'
Police said Feigen, the last of the four swimmers still in Brazil, had agreed at a hearing with a judge on Friday to pay 35,000 reais ($11,000) to a sporting charity after giving false testimony. Prosecutors said later they would appeal the fine as too low but could not stop the swimmer from leaving Brazil.
The charity, the Reaction Institute, which brings sports to low-income communities and helped train Brazilian gold medalist judoka Rafaela Silva, said the money had been paid and would be used to fully enclose a judo arena near the City of God slum.
A police source said Feigen's passport would be released once he made the payment and presented a receipt to authorities. Police still want to speak to Lochte, who was also summonsed to appear before the judge on Friday, and say they hope to agree with U.S. authorities to interview him in the United States.
Bentz and Conger arrived in Miami on Friday aboard an American Airlines flight from Brazil, having sat in curtained-off seats for much of the journey. Police had pulled them off a flight on Wednesday night for further questioning.
Bentz and Conger said in revised testimony before their departure that they were not robbed, senior Rio police officer Alexandre Braga told Reuters. Instead, they said Lochte had vandalized a local gas station early on Sunday and had an altercation with a security guard.
Bentz and Conger were jeered by angry Brazilians shouting "liar" and "fake" before leaving for Rio airport on Thursday.
In Miami, the two swimmers caught a connecting flight, walking through the airport in matching backpacks, a Reuters witness said. Conger kept headphones on and wore an orange Team USA hooded sweatshirt.
The incident followed a series of muggings and armed robberies of high-profile athletes and visitors in Rio, including two government ministers - security scares that detracted from the image Games organizers hoped to portray.
"We want to put this matter to an end and I don't see this as a fact that will mark these Games," Games spokesman Mario Andrada said of Lochte's apology.
The International Olympic Committee said on Friday it had set up a disciplinary commission to investigate the incident and could sanction the swimmers if they considered their behavior violated the Olympic charter in some way.
The U.S. Olympic Committee and USA Swimming have said they will consider whether to take action against the swimmers. Lochte has said that he hopes to represent the United States at the 2020 Tokyo Olympics.