Ryan Mason Injury Update: Hull City Star Instagrams Retirement Statement after Life-Threatening Injury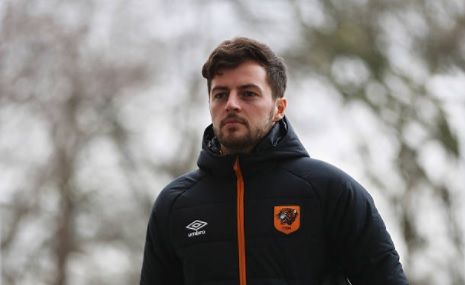 On Tuesday, Hull City midfielder Ryan Mason was forced to retire—even though he was working toward a comeback—after he clashed with Chelsea's Gary Cahill in January 2017. Doctors performed lifesaving surgery on the athlete, inserting 14 metal plates and 42 staples into his skull. The infamous head crash caused bleeding on Mason's brain, leading Mason to stay in the hospital for eight days.
A year after his surgery, the 26-year-old was advised to retire from professional soccer.
"I can confirm that following specialist medical advice I am having to retire from playing professional football," Mason wrote in a statement, posted to his official Instagram page. "I have worked tirelessly in order to be able to return to the pitch. Unfortunately, having taken expert medical advice I now have no option but to retire due to the risks involved given the nature of my injury."
He went on to thank his partner, Rachel Peters, for her support. He proposed to her 10 weeks before his life altering injury.
"Thank you to my amazing fiancé, Rachel, who has been by my side and lived every single day with me since the injury, helping to give me the strength I've needed no matter how tough things got," he said. "We are so lucky to have now become the proud parents of our perfect baby boy George."
In the final part of his post, he thanked his family and friends. "Despite how tough it's been and the challenges I've faced along the way you've all been there supporting me and words will never truly do justice to how grateful I am for your love and support," he wrote.
Within hours, the post was liked more than 62,000 times by his 213,000 followers.
On Tuesday, Hull City confirmed Mason's retirement in a separate announcement.
"It is with deep regret that the Club has to announce that, following the head injury suffered on 22nd January 2017, Ryan Mason is to retire from football with immediate effect.

"Ryan has sought the guidance of numerous world renowned neurologists and neurosurgeons who have all advised that a return to competitive football is not advised.

"Ryan would like to put on record his thanks to all at the Club who have aided his recovery to this point and he his is indebted to them for their support and compassion over the past 12 months."
Chelsea added in a tweet: "Everybody at Chelsea Football Club sends our best wishes to Ryan Mason following his retirement. Good luck in whatever you choose to do next, Ryan."