Ryan Nash: NYPD Cop Who Shot Truck Attacker and 'Stopped the Carnage' Hailed as Hero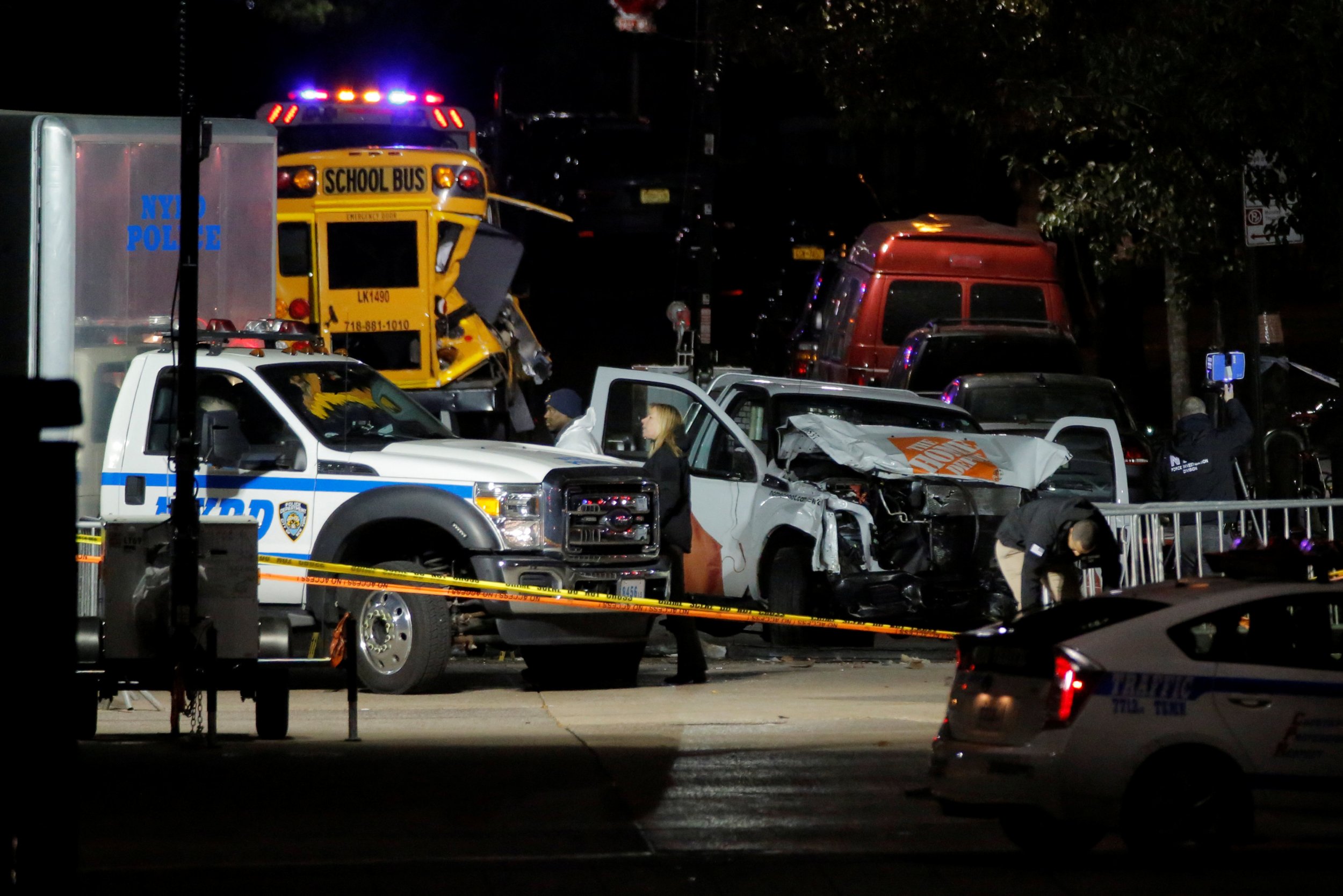 A police officer who shot the Manhattan truck attacker Tuesday was praised by both New York City officials and the public for his rapid response to the threat.
Ryan Nash, 28, had been assigned for the past five years to NYPD 1st Precinct, which encompasses the square mile on the southernmost tip of Manhattan, including the One World Trade Center, Soho, Tribeca, and Wall Street, CNN reported.
Police Commissioner James P. O'Neill told a press conference following the attack that the officer confronted the attacker and shot him in the abdomen. "I want to commend the response of our NYPD officer that was on post near the location who stopped the carnage moments after it began," he said.
The attacker, identified as 29-year-old Uzbek national and permanent U.S. resident Sayfullo Saipov, drove a rented truck down the West Side Highway bicycle path at Houston Street, striking more than a dozen people before ramming into a school bus. His actions resulted in the death of eight people.
The truck driver then exited the vehicle brandishing what appeared to be two handguns which is when Nash, who had been in the area after responding to a 911 call from the nearby Stuyvesant High School, confronted and shot Saipov, New York Daily News reported.
The attacker has since been transported to the hospital and the police said they found a paintball gun and a pellet gun at the scene. Sources told NBC they found a note in the vehicle in which Saipove pledged allegiance to the militant group Islamic State (ISIS).
Dozens of people paid tribute to officer Nash on social media. "Officer Ryan Nash and brave men and women of NYPD deserve our utmost respect and gratitude," one New Yorker wrote.
New York City Mayor Bill de Blasio also praised Nash and the other officers and first responders who attended to the scene at the briefing. "I want to thank everyone at the NYPD, all our first responders for their extraordinary efforts in the midst of this tragedy, starting with the officer who stopped this tragedy from continuing—all the first responders who came to the aid of those who were injured."
In the wake of the second terror attack on the city since 9/11, De Blasio asked New Yorkers to remain vigilant and trust in their police. "We ask all New Yorkers to live by the idea—if you see something, say something—tell an officer immediately if you see anything unusual, anything that worries you. Be vigilant and know that there will be extensive additional employments of NYPD officers this evening and throughout the days ahead."