Ryan's Obamacare Replacement Is Just Obamacare-Lite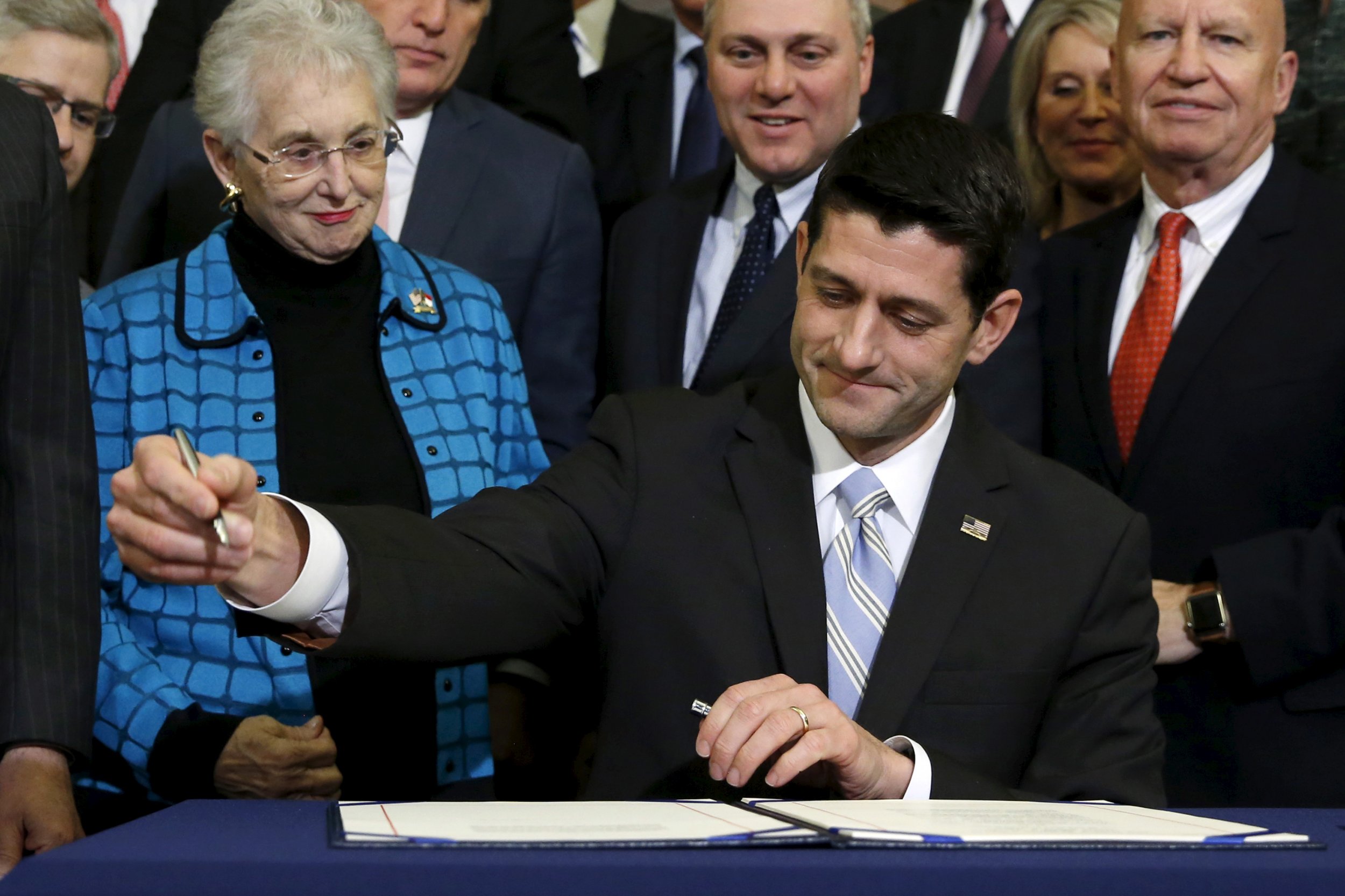 This article first appeared on the Cato Institute site.
After six-plus years, congressional Republicans have finally offered an Obamacare-replacement plan.
They should have taken longer.
Perhaps we should not be surprised that House Republican leaders* who have thrown their support behind a presidential candidate who praises single-payer and Obamacare's individual mandate would not even realize that the plan cobbled together is just Obamacare-lite.
Don't get me wrong. The plan is not all bad. Where it matters most, however, House Republicans would repeal Obamacare only to replace it with slightly modified versions of that law's worst provisions.
Here are some of Obamacare's core private-health insurance provisions that the House Republicans' plan would retain or mimic.
Obamacare offers refundable health-insurance tax credits to low- and middle-income taxpayers who don't have access to qualified coverage from an employer, don't qualify for Medicare or Medicaid, and who purchase health insurance through an Exchange. House Republicans would retain these tax credits. They would still only be available to people ineligible for qualified employer coverage, Medicare, or Medicaid. But Republicans would offer them to everyone, regardless of income or where they purchase coverage.
These expanded tax credits would therefore preserve much of Obamacare's new spending. The refundable part of "refundable tax credits" means that if you're eligible for a tax credit that exceeds your income-tax liability, the government cuts you a check. That's spending, not tax reduction. Obamacare's so-called "tax credits" spend $4 for every $1 of tax cuts. House Republicans know they are creating (preserving?) entitlement spending because they say things like, "this new payment would not be allowed to pay for abortion coverage or services," and "Robust verification methods would be put in place to protect taxpayer dollars and quickly resolve any inconsistencies that occur," and that their subsidies don't grow as rapidly as the Democrats' subsidies do. Maybe not, but they do something that Democrats' subsidies don't: give a bipartisan imprimatur to Obamacare's redistribution of income.
As I have tried to warn Republicans before, these and all health-insurance tax credits are indistinguishable from an individual mandate. Under either a tax credit or a mandate, the government requires you to buy health insurance or to pay more money to the IRS. John Goodman, the dean of conservative health policy wonks, supports health-insurance tax credits and calls them "a financial mandate." Supporters protest that a mandate is a tax increase while credits—or at least, the non-refundable portion—are a tax cut. But that's illusory. True, the credit may reduce the recipient's tax liability. But it does nothing to reduce the overall tax burden imposed by the federal government, which is determined by how much the government spends. And wouldn't you know, the refundable portion of the credit increases the overall tax burden because it increases government spending, which Congress ultimately must finance with additional taxes. So refundable tax credits do increase taxes, just like a mandate.
Health-insurance tax credits also give the federal government as much control over the content of your health plan, as Obamacare's individual and employer mandates do. The government has to define both (a) how much coverage you must buy to qualify for the credit, and (b) whether your employer offers sufficient coverage to make you in eligible for the credit. What House Ways & Means Committee chairman Kevin Brady (R-Texas) said on June 22 of the tax preference for employer-sponsored insurance—"You only get it if you do exactly what Washington says"—is also true of his proposed tax credit. Republicans may try to allow for flexibility in insurance design, but they would still be creating (preserving?) tools that future Congresses and unelected bureaucrats would use (a) to restrict choice and innovation in both the individual and employer markets, (b) to push consumers back and forth between these markets, and (c) to increase government spending.
Since House Republicans would offer tax credits for non-employer coverage without imposing an employer mandate to discourage employers from dropping coverage, their plan would do even more than Obamacare to encourage employers to drop coverage. I don't necessarily think that employers dropping coverage a bad thing—but wait until you see what happens next.
House Republicans appear to want to retain Obamacare's guaranteed-issue regulations: "No American should ever be denied coverage or face a coverage exclusion on the basis of a pre-existing condition," they write. "Our plan ensures every American, healthy or sick, will have the comfort of knowing they can never be denied a plan from a health insurer." (Emphases added.)
They also would modify, rather than repeal, Obamacare's community-rating price controls. A bit of explanation. Rather than allow reality-based (i.e., actuarially fair) premiums, Obamacare requires insurers to charge everyone of a given age the same premium, and forbids insurers to charge their oldest enrollees more than three times what they charge their youngest enrollees. The centerpiece of Obamacare, these government price controls literally punish insurers (like United Healthcare) who offer coverage the sick actually want, while rewarding insurers who offer coverage that's unattractive to the sick. House Republicans propose not to repeal these price controls, but merely to increase the age-rating ratio to 5:1 (better, but still binding) and, more importantly, to preserve pure community rating in cases where consumers switch plans. That last part is a big problem. Imposing community rating for plan-switchers would create the same perverse penalties and rewards, and cause the same race to the bottom among health plans, that we observe in Obamacare's Exchanges. The race to the bottom might be even worse under the House Republicans' plan than under Obamacare. The GOP plan contains none of the mechanisms Obamacare uses to slow down the degradation of coverage. And if the House Republicans' tax credits and lack of employer mandate cause employers to drop coverage, which is a real concern, then House Republicans could trap tens of millions more Americans in an even quicker race to the bottom than Obamacare does.
House Republicans would also keep Obamacare's millennial mandate.
Like Obamacare, they would cap the tax exclusion for employer-sponsored coverage in a way that increases taxes on workers with expensive health benefits.
Expect howls from conservatives who protest that the House plan is not Obamacare-lite. I mean, gosh, Chairman Brady promised it would create "health care freedom in a way Americans have never experienced."
Please. The above similarities to Obamacare include at least remnants of all three legs of Obamacare's three-legged stool. Conservatives, libertarians, and independents have spent seven years fighting Obamacare…for this?
Moreover, this plan is downright dishonest. House Republicans say they want to "Repeal Obamacare" and make "a clean start," because they want to signal to their conservative base that they remain committed to full repeal. But then they too start down the same path Obamacare has blazed.
That is arguably worse than framing this plan as partial repeal and promising to finish the job later. Pretending to repeal all of Obamacare but then reinstating some of its provisions with a Republican imprimatur would make those provisions completely repeal-proof.
To be fair, the plan includes some proposals that move in the right direction. It would modestly expand tax-free health savings accounts (HSAs) and health reimbursement arrangements. It would allow people to purchase health insurance licensed by states other than their own.
It would limit federal spending on Medicaid by giving states the option of a fixed amount of federal dollars per enrollee or a block grant (except for the elderly and disabled). A pure lump-sum, block-grant approach would be better, but at least this would be a step in the right direction.
The Medicare reforms would move that program ever so slightly in the direction of Social Security, where the government subsidizes enrollees' health care simply by giving them cash. But there would have to be a lot—a lot—of Medicare and Medicaid cuts to make up for Republicans keeping an Obamacare entitlement they are pretending to repeal.
And still other parts of this plan betray Republicans' lack of seriousness about health care reform and/or their own principles. Its authors claim, "Obamacare set America on a path that leads to a larger government having a greater role in how health care decisions are made," even though just a few paragraphs before they were lauding and promising to protect Medicare—a disaster of a program—and even boasting that it was Republicans who expanded it with a new, unfunded entitlement to prescription-drug coverage.
They apparently see HSAs as a product to be promoted—or a nice way to shave a little off your tax bill—rather than as a mechanism for fundamental reform that gets the IRS out of your health care decisions entirely.
Sen. Jeff Flake (R-Ariz) and Rep. Dave Brat (R-Va.) have introduced legislation that includes the basic elements of that approach. At press time [June 23], the House Republicans' plan didn't even include that bill among its list of health care proposals Republicans have offered this Congress.
And then there are House Republicans' wrong-headed, unconstitutional, anti-federalism, special-interest-pandering medical malpractice liability reforms. At a time when the estimated number of annual deaths due to medical errors in the United States (251,454) is seven and a half times the number of firearms deaths (33,636), these geniuses are proposing to reduce incentives for providers to invest patient safety—oh, and to abandon their principles along the way.
Health care reform should make health care better, more affordable and more secure, particularly for the most vulnerable. Obamacare does the opposite, and Republicans are right to oppose it.
If they really care for patients, Republicans need to go back to the drawing board until they find a better way.
Michael F. Cannon is the Cato Institute's director of health policy studies.
*One of the architects of this plan, House Committee on Energy and Commerce chairman Fred Upton (R-Mich.), has refused to endorse presumptive GOP presidential nominee Donald Trump.