Pink-Clad Michigan Attorney Raises Awareness for Those Living With Breast Cancer
For the past four years, one Michigan man has been raising funds and generating awareness for Breast Cancer Awareness Month—through his clothes.
In solidarity with all those impacted by the disease, Detroit-based attorney Ryan Plecha, started "Pink Week," an online campaign designed to call attention to breast cancer and the struggles faced by those living with it. Since 2016, Plecha has picked one week in October during which he wears at least one item of pink clothing each day wherever he goes—including the courtroom. He then documents the week's outfits on social media to raise awareness and encourage people to donate to the cause.
This year, Plecha scheduled his fourth annual Pink Week to coincide with a fundraiser for local charity The Pink Fund. For the nonprofit's Dancing With the Survivors showcase event on October 4, Plecha took to the stage dressed to impress in pink gingham slacks and a statement blazer.
"As a man, I don't have the primary worry of being the next one diagnosed with breast cancer—though it certainly could happen," Plecha told Newsweek. "However, I am fully aware that any of the women in my life just might be the next one."
It happened to his aunt, Rosemary, who died of the disease in 2012. She was 57 years old.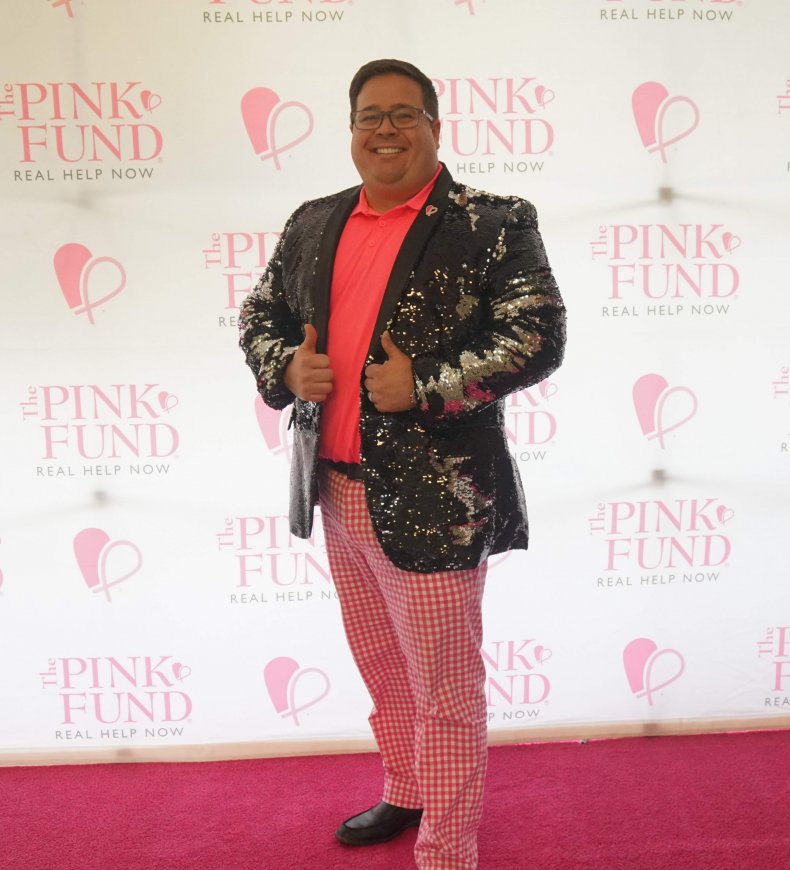 Plecha's breast cancer advocacy led him to cross paths with Molly MacDonald, founder and executive director of The Pink Fund, two years ago.
Created in 2006, The Pink Fund is a non-profit organization that provides 90-day non-medical cost-of-living expenses to breast cancer patients in active treatment for the disease nationwide, according to its mission statement.
For MacDonald, forming the non-profit was an act of necessity following her own illness. In the spring of 2005, MacDonald was still reeling from the aftermath of a divorce and raising five kids between the ages of 11 and 19. The unexpected breast cancer diagnosis had sent her into "financial free fall."
Sitting in doctors' offices over the course of her cancer treatment, MacDonald came across many women in similar situations—with growing medical expenses their insurance wouldn't cover. Some had considered stopping treatment so they could return to work, she said.
"I thought, I have to create an organization that provides financial support to people in these situations," MacDonald told Newsweek. "The diagnosis led me to a passion and purpose that I wouldn't have anticipated. It has been a blessing to help people." With the help of donations, The Pink Fund has provided financial assistance for approximately 3,000 people living with breast cancer since its creation.
Plecha now sits on the fund's qualification committee, which evaluates applications from individuals seeking aid from the non-profit.
This year, The Pink Fund's Dancing With the Survivors fundraiser, raised raised $170,000. The event "features local breast cancer survivors paired with professional dancers from Fred Astaire dance studios, performing ballroom style dances," according to a description on its website.
This year the pink-clad attorney took ballroom dance lessons over the summer and participated in the event as a dancer for the first time. His Pink Week campaign raised over $6,600 for the fundraiser.
"Breast cancer is obviously a tragic thing, but The Pink Fund and Dancing With the Survivors does an amazing job of caring for the patients and raising the spirits of all connected to the cause through, song, dance and hope," he said.