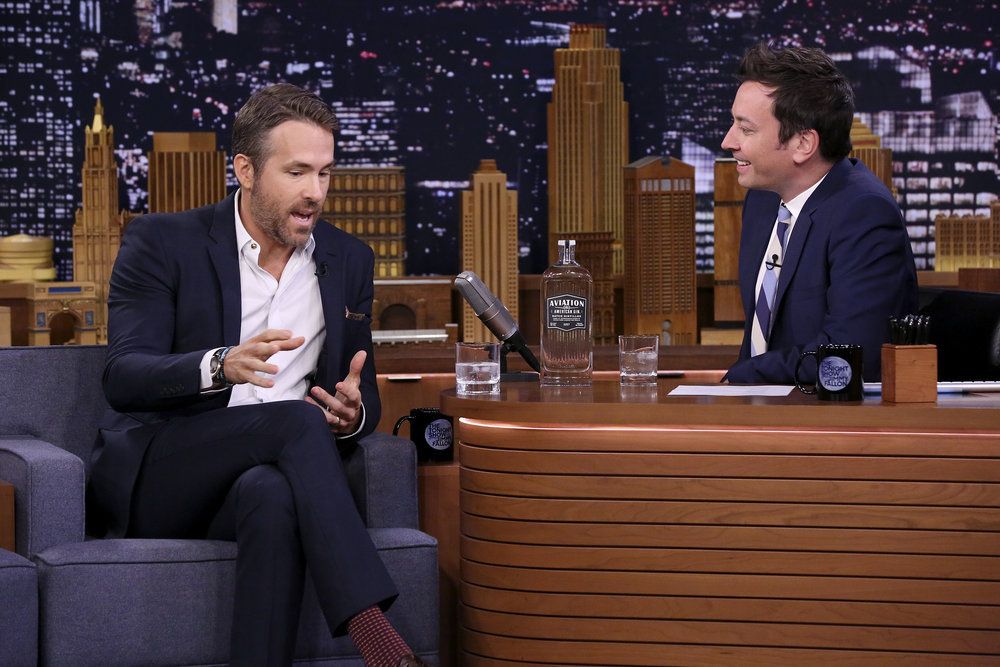 Ryan Reynolds and Jimmy Fallon celebrated the actor's new venture, an American gin company, with a drinking game on The Tonight Show Starring Jimmy Fallon Monday.
"It's a little smoother than its British counterparts, a little more drinkable," Reynolds told the late night talk show host of his Aviation American gin. Though he said he sounded "like a pro," he admitted, "I really know nothing about gin. If I ran the company for real, it would be on fire." He got into the liquor business after ordering a Negroni several times before asking what was in it. He found out it was Aviation American Gin. "I was able to meet some of the owners and weasel my way in as an owner," he said.
The liquor industry and the film business aren't that different, according to Reynolds. "It's all based on relationships and handshakes," he told Fallon. "What's weird and I found so ironic was that it's the liquor industry where you actually have to be accountable. In the film business, if you're working on a movie, you can go out for a night of drinking and then miss work because you fell asleep on a stove, and no one's going to really do much about it. But the liquor industry, it's hardcore. You don't mess up with those guys."
The 41-year-old actor also talked about other responsibilities he has as one of the company's owners, like an out-of-office reply set up for his email. He personalizes those messages for each occasion, like Father's Day (watch above) and even his visit to The Tonight Show.
He had Fallon try some of the gin before they used it in a game, Drinko, played like Plinko. The two men dropped disks down the board into cups of food and drinks to mix with the gin to create new cocktails. "I have such a weak stomach," Reynolds warned before they began, but he handled the game better than the host did. Fallon threw up after drinking gin with Twinkies and horseradish.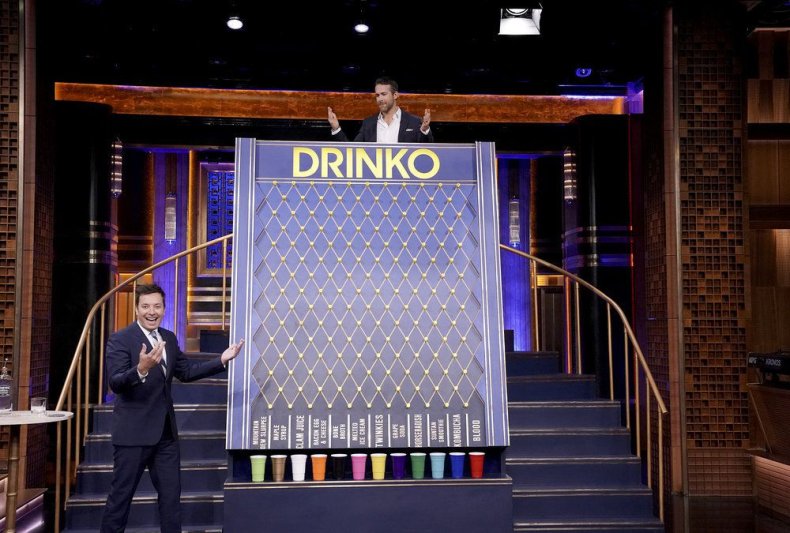 The Deadpool actor was able to drink his gin with Twinkies and grape soda (though he said he'd "rather drink spinal fluid" than have it again) and gin with grape soda, kombucha, blood, bone broth and bacon egg and cheese.
Reynolds also promoted Deadpool 2's release on all digital platforms. "We have a different joke for almost every moment of the movie, so when we release a DVD version or a home entertainment version, we were allowed to release an almost completely new Deadpool film," he said to Fallon. "For us, it's been a blast, because we get to use all the jokes we wished we could have kept for the main movie."