Ryan Satin's Unique Dave and Buster's Proposal Clip Seen 5 Million Times
FOX Sports' wrestling analyst Ryan Satin went viral this week—and it's not for his reporting on the WWE.
Satin and his girlfriend, Erica Steiner, had been dating at the restaurant chain Dave and Buster's for seven years. They would play the games and collect the prize tickets—but instead of turning them in at the end of the night, the couple would save them in hopes of one day getting the biggest prize Dave and Buster's offers.
That day came this weekend, when, in a viral clip seen over 5.1 million times on TikTok alone, Satin cashed in the tickets for the top prize: a wedding ring set next to a card stating its price, "7 YRS Worth Of Tickets." If the video's caption, "IM SO HAPPY," isn't a giveaway, the video's thumbnail certainly is—Steiner said yes.
Steiner shared some videos on her end as well, writing that she always wanted her boyfriend to propose in a way "so cute" that it would make her "ugly cry." In another clip, she said how happy she was that Satin made sure that Steiner's mother was there to watch.
"I can't get over how my fiancé made sure my mom was there to watch him propose to me," she wrote in an on-screen caption. "Getting someone with dementia somewhere is never easy, especially to a loud arcade after her bedtime."
"But with help from my fiancés mom and our friends, they got my mom dressed up and at Dave and Buster's in time to see her daughter's proposal," she continued. "I'm never going to stop crying about how much love I felt that night."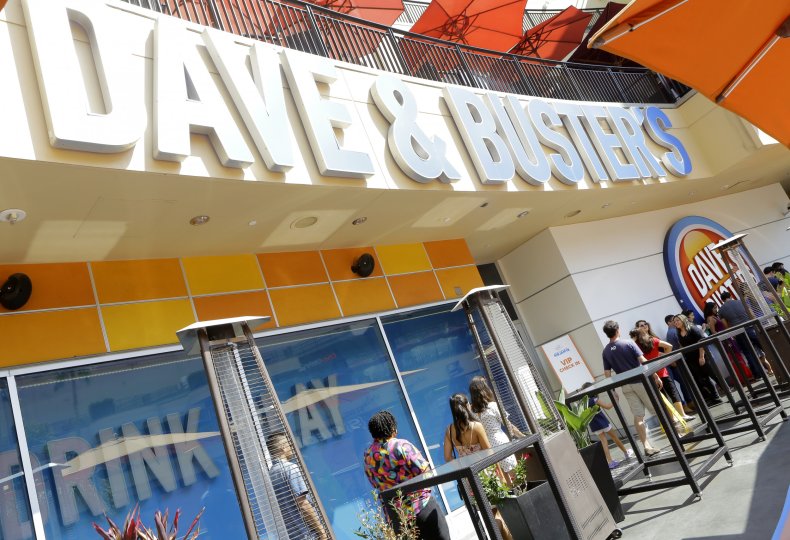 On Monday, Satin made a joking tweet saying "@DaveandBusters, you have 24 hrs to respond," along with a screenshot from the video. Steiner continued the joke, threatening to dump Dave and Buster's for Chuck E. Cheese if it didn't host the wedding reception. But Dave and Buster's, to the couple's surprise, took them seriously, inviting them plus 100 friends to a reception at the restaurant.
"Omg what?!? This is amazing," Satin tweeted in response.
"@DAVEANDBUSTERS HEADQUARTERS JUST CALLED AND THEY'RE THROWING OUR WEDDING PARTY," Steiner tweeted, adorned with the siren emoji on both sides.
In a follow-up TikTok, Satin talked about the response to his initial video.
"This is crazy. I did not expect this video to blow up as big as it did. Thank you so much to every single person who's left a nice comment on the original video," Satin said.. We've been like overwhelmed with love for the past few days. You seriously made our engagement, like, feel even more special than I thought it was going to be. And I'm like so incredibly grateful."
"The fact that Dave and Buster's has now reached out saying they want to throw us a wedding reception has, like, made my fiancée—that sounds so cool to say—has made my fiancée so happy. I am amazed, and I can't wait to keep updating you guys about everything that we're doing for this. We're gonna make it awesome," he continued.
Newsweek reached out to Satin via FOX Sports for comment.