Ryan Seacrest Has Added Another Job to His Long Resume: Co-Host of 'Live With Kelly'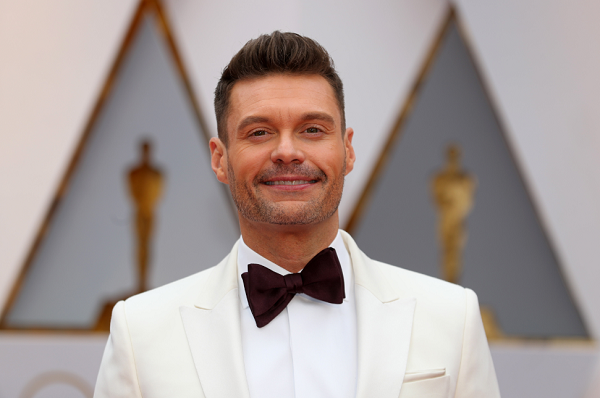 American Idol, E! News, On Air with Ryan Seacrest, Dick Clark's New Year's Rockin' Eve with Ryan Seacrest—these are just a few of the shows you've seen Ryan Seacrest hosting, and now you can add one more to the list: Live with Kelly.
Sources close to the ABC daytime show told CNN recently Seacrest would co-host the talk show alongside Kelly Ripa following a year-long search for Michael Strahan's replacement. Ripa announced Seacrest's addition to the show during Monday's broadcast.
Seacrest currently lives in Los Angeles but is expected to move to New York City, where Live is filmed. The TV host reportedly already has a residence in Manhattan, so moving to the Big Apple shouldn't be a problem.
However, it's Seacrest's long list of other jobs that fans seem to be the most curious about. Shortly after CNN speculated Seacrest was joining Ripa on the show, Twitter erupted with concern regarding the various other television and radio shows Seacrest is affiliated with.
Seacrest, who was the lead anchor of E! News along with former E! host Giuliana Rancic until he gave up the position in 2012, still has several other jobs that he apparently doesn't intend to give up now that he's joining the daily Live show.
Although his nationally syndicated radio shows are based in L.A., 42-year-old Seacrest will continue to broadcast On Air and American Top 40 for iHeartMedia from New York in his own new radio studio, which will be in the same building Live is filmed at, sources told CNN.
Seacrest's other on-air and behind-the-scenes positions won't be affected by his transition to Live, either.
In fact, he's already reportedly renewed his contract with NBCUniversal to host E! red carpet specials and he will continue to host ABC's New Year's Eve broadcast. There's also chances that Seacrest will be offered even more hosting opportunities with ABC now that he has a contract with the network, which means Seacrest's already impressive net worth will more than likely increase exponentially.
The broadcaster is already worth $55 million, according to Forbes, thanks to hefty earnings from all of his previous TV and radio hosting gigs along with his own businesses like Ryan Seacrest Productions.
His production company, which produces popular reality TV series like Keeping Up with the Kardashians, Rob & Chyna and Shahs of Sunset, will continue to pump out TV content while Seacrest, who has more than 75 production credits under his belt already, will continue to head the company.
Seacrest also will continue to do work for his investment group, Seacrest Global Group, which has backed various startups and media companies including Pinterest, FlightCar and Civic Entertainment Group.
Ryan Seacrest Has Added Another Job to His Long Resume: Co-Host of 'Live With Kelly' | U.S.