Interior Department Tapped Wildfire Preparedness Funds for Ryan Zinke Helicopter Tour
The Department of the Interior (DOI) says it made a mistake by trying to use wildfire preparedness funds to pay for an unrelated helicopter tour of Nevada taken by Secretary of the Interior Ryan Zinke this summer.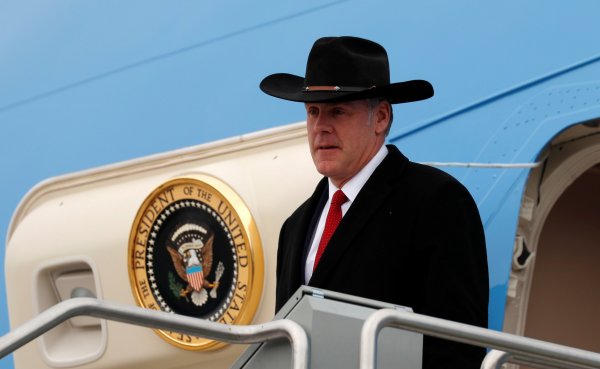 Officials initially said Zinke's July 30 helicopter trip could be covered by the Bureau of Land Management (BLM) and the National Interagency Fire Center, a hub for the organization of response to wildfires—even though the secretary did not visit any fire zones that day, according to internal emails obtained by Newsweek.
But after Newsweek questioned the line item, an Interior Department spokeswoman said this week that the chopper—listed in an accounting of Zinke's travel as costing $39,295—"was charged to the account in error." She added that the BLM would pay for the helicopter from "a more appropriate account."
Asked why the original billing was in error, the spokeswoman, Heather Swift, replied, "There are different accounts for different functions, and it's the department's position that there are more appropriate accounts to fit this particular expenditure."
She declined to comment further.
Zinke, a former Montana congressman and Navy SEAL, was criticized last month by his own agency's inspector general for an incomplete accounting of his travel through September 30, the end of the fiscal year.
The secretary has also been questioned for combining official trips with political activity, including attending a Republican party fundraiser in the Virgin Islands in March and taking a $12,000 flight from Las Vegas to Montana, where he spoke to a hockey team owned by a political donor.
Documents obtained under the Freedom of Information Act by the group Democracy Forward and shared with Newsweek show that on July 10, Swift emailed a group of colleagues, saying, "I think we should get the Secretary to a fire line in Nevada while he is there. The BLM is point on a couple fires out there. May have to leave a day early but I think it's worth it."
Swift also requested and received information on wildfire sites in the state.
In a July 17 exchange, a staffer said Zinke would probably not be able to get to a Nevada fire line because his schedule wouldn't allow it. Nonetheless, shortly afterward another planner emailed that "it looks like BLM will be able to pay for the helicopter out of the national fire office in Boise," and organizers cited a specific billing code.
In response to Newsweek questions about the trip and billing, Swift said in a December 21 email that "everything was scheduled in full compliance of all federal regulations."
Zinke, she said, "used a helicopter to do an aerial survey of more than 700,000 acres of land which has extremely limited road access."
Swift added that the Interior Department had made footage of and information about the Nevada trip available on its website. She added that "the only newsworthy item is that this secretary has sharply curbed the use of chartered airplanes compared to the previous administration, which spent over a million dollars on chartered airplanes."
Details of Zinke's Nevada journey appear in a summary of his noncommercial air travel compiled at the request of Utah Representative Ron Bishop, chairman of the House Committee on Natural Resources. The round trip from Las Vegas is listed with the purpose of "aerial survey of objects and boundaries pertaining to the 704,000 acres in Basin and Range National Monument and the 300,000 acres in Gold Butte National Monument."
"Zinke's visit to Nevada started early," the Las Vegas Review-Journal said in a roundup of the secretary's day, which ran with a photo gallery of him speaking to a gaggle of reporters with a cowboy hat shading his face from the sun. "After his flight landed in Las Vegas at about 7:30 a.m., Zinke flew by helicopter to Gold Butte's Whitney Pocket, where he hiked with several local officials."
According to the itinerary cited by the Review-Journal, that was to be followed by a helicopter tour of Basin and Range, lunch with land management staff and other stops.
This July, according to the National Centers for Environmental Information, 9,000 fires burned more than 2.6 million acres around the country. That ratio of more than 295 acres burned per fire was the fourth highest on record, the agency reported.
In September, the Agriculture Department announced that due to fires that had "ravaged states in the West, Pacific Northwest and Northern Rockies" over the summer, wildland fire suppression costs for the fiscal year had surpassed $2 billion, "making 2017 the most expensive year on record."
A BLM official confirmed to Newsweek on Wednesday that the codes cited for the Zinke flights meant they were billed to the National Interagency Fire Center under the category of preparedness. Those funds are earmarked for such uses as worker pay and to purchase equipment.
He added that neither Zinke's use of the helicopter nor the billing of the trip to the fire center negatively affected ground workers' response to "three large fires" in Nevada on the day of the secretary's visit.
Zinke ultimately recommended shrinking not only Gold Butte in Nevada but other Western national monuments, including Bears Ears in Utah and Cascade-Siskiyou in Oregon and California. His Gold Butte recommendation angered conservationists but was hailed by Nevada Senator Dean Heller and the head of a local water district.
The Trump administration has been dogged by questions about high-level officials' use of private and military aircraft. In September, Tom Price resigned as secretary of health and human services amid a scandal over the cost of his charter air travel.
Corey Ciorciari, Democracy Forward's policy and strategy director, called the Zinke Nevada chopper tour "yet another example of the Trump administration abusing taxpayer dollars to fund the lifestyles of its rich and semifamous Cabinet."
Told of the Interior Department's statement to Newsweek that the helicopter costs would be posted to a different account by the BLM, Ciorciari, a former policy adviser to Hillary Clinton, responded that given the multitude of questions about Zinke's travel, "the idea that this was a 'billing error' is laughable."
{{#isDisplay}} {{/isDisplay}}