Ryan Zinke Spent $139K on Doors—Here Are All the Trump Officials Accused of Misspending Taxpayer Dollars
Three sets of double doors in the office of Secretary of the Interior Ryan Zinke are being upgraded at a cost of $139,000. Revelations of the spending follow stories over the past year about several Trump administration officials who have been caught spending taxpayer money in questionable ways.
In his address to Congress in February 2017 Trump said he would "drain the swamp of government corruption" in Washington, targeting lobbyists. That message did not appear to extend to his cabinet officials.
Zinke's spokeswoman told the Associated Press Thursday that he didn't know about the contract and its cost and that he agrees it's a lot of money. The work, she said, was authorized by Interior career facilities.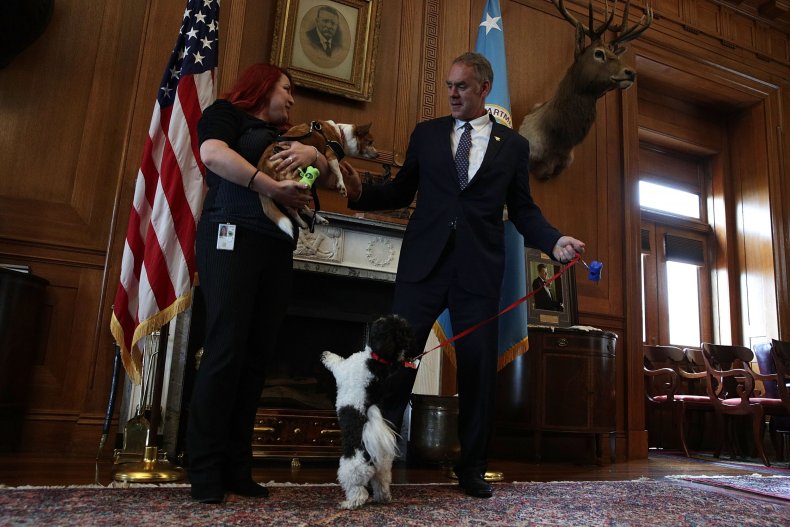 "I am not buying that he didn't know about it," wrote Norm Eisen, a senior fellow at the Brookings think tank and chair of the left leaning Citizens for Responsibility and Ethics in Washington advocacy group on Twitter.
"I spent six years in senior government positions & you can be damn straight that I would've known if somebody was spending $139,000 on doors for my office," Eisen, who served as ethics czar in the Obama White House, added. "If I didn't know about it I would've deserved to be fired for that!"
Republican strategist Ana Navarro pointed out that Zinke's doors are just the latest in a string of several scandals that have emerged from Trump's cabinet and how they have spent taxpayer dollars.
Read more: Interior Secretary Ryan Zinke could face investigation over helicopter rides
Ben Carson, Secretary of Housing and Urban Development
Last week Housing and Urban Development Secretary Ben Carson cancelled an order for a $31,000 dining set for his office.
Ryan Zinke, Secretary of the Interior
In December, Zinke received criticism for a $6,250 helicopter ride he took from Virginia to Washington to ride horses with Vice President Mike Pence. Last November his department's Deputy Inspector General Mary Kendall wrote in a letter to Zinke's office that an investigation into his travel expenses had been held up because of "incomplete documentation" for several trips he took. The investigation is looking at trips like his $12,000 chartered flight from Las Vegas to near his hometown in Montana.
Tom Price, former Secretary of Health and Human Services
Scrutiny of Zinke's flights followed former Secretary of Health and Human Services Tom Price's resignation in September 2017 after Politico revealed that he repeatedly used chartered private planes for trips that cost taxpayers more than $400,000. Officials are expected to fly on commercial airlines unless there is no alternative.
Scott Pruitt, Administrator of the Environmental Protection Agency
Environmental Protection Agency Administrator Scott Pruitt's chartered flights and first class travel have also come under the microscope. In February The Washington Post reported that Pruitt took a $1,641.43 first-class flight from Washington to New York last June after Trump announced America's intention to withdraw from the Paris climate agreement. Pruitt also cost taxpayers $36,068.50 when he and a number of staffers rushed on a military jet to New York to catch a flight to Rome.
Steven Mnuchin, Secretary of the Treasury
Treasury Secretary Steven Mnuchin has also defended a flight that he and his wife Louise Linton took to Fort Knox before the solar eclipse last August. Yet the Treasury's Office of Inspector General is reviewing the circumstances and reasons for the trip.
David Shulkin, Secretary of Veterans Affairs
Last month Veterans Affairs Secretary David Shulkin was found in an inspector general's report to have breached ethics rules by improperly accepting tickets to the Wimbledon tennis tournament in Britain. The department, it found, subsidized his wife Merle Bari's $4,300 flight during the trip where Shulkin mixed official business and sightseeing at a cost of at least $122,334.
The administration's spending of taxpayer money should come as no surprize as the "tone from the top" has been set by President Donald Trump's frequent trips to his Mar-a-Lago golf resort, said Walter Shaub, former director of the United States Office of Government Ethics last week.
In all, Trump has spends roughly $3.6 million each time he shuttles back and forth between the resort in Florida, the White House, and his other properties. Since his inauguration Trump has taken 14 trips to Mar-a-Lago.