Ryanair Flight Evacuated After Phone Catches Fire on Plane
On Tuesday, passengers aboard a Ryanair flight headed to Ibiza, an archipelago of Spain, were evacuated while still on the ground in Barcelona after a phone caught fire.
Anthony Carrio, who was sitting in the same row as the person whose phone blazed, posted a video on Instagram of the phone as it burned and said he'd "never seen so many people so scared" in his life. He explained that it, fortunately, occurred before the plane had taken off, and he put the fire out with water.
Ryanair confirmed the incident to Newsweek and said in a statement that an emergency evacuation was ordered after the phone caught fire while it was being charged by a portable battery pack. "All passengers were safely evacuated back to the terminal and cabin crew dealt with the mobile phone," the statement read.
Passengers exited from the plane down an inflatable slide, some falling over one another as they exited, and Ryanair told Newsweek the passengers were then put on a different plane, which departed later in the day for their destination. Ryanair did not specify if any passengers had been injured.
Some phone chargers use lithium batteries, and Ryanair allowed each passenger to carry 20 lithium metal batteries on flights, as long as they kept the battery with them at all times and did not place it in the overhead locker, according to its website.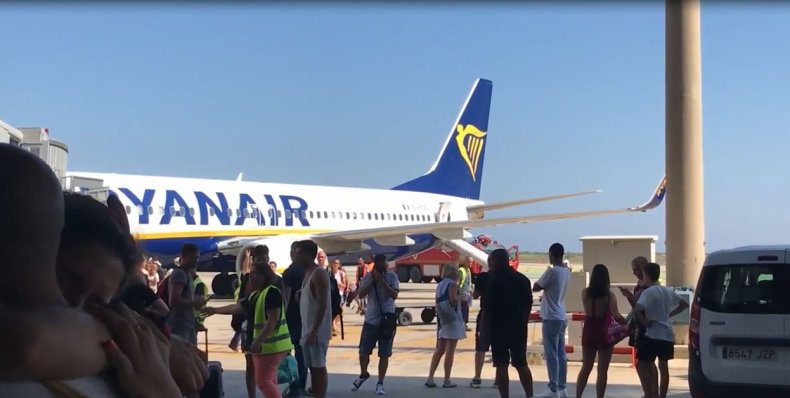 In March, a passenger aboard an Air Canada flight was injured after her cell phone caught fire shortly before the plane was scheduled to depart from Pearson Airport in Toronto. In February, passengers were boarding a China Southern Airlines flight when smoke began to seep into the cabin from one of the overhead bins. Inside the overhead compartment, a bag was engulfed in flames, according to Travel + Leisure, which was caused by a passenger's portable phone charger.
The possibility of lithium batteries overheating and sparking fires led to Samsung recalling its Galaxy Note7 phones in April, which caught fire on multiple occasions. Delta Air Lines, Southwest, American and Alaska Airlines have all banned "smart" luggage that contains non-removable batteries, according to Travel + Leisure.
Smart luggage comes with a built-in USB port that allows users to charge their portable devices right from their bags. The primary reason for the ban on nonremovable batteries was that if luggage was stored in the cargo hold and caught fire, the plane could be seriously damaged, since it's not an area easily reached by employees.
The phone fire came as Ryanair was dealing with massive flight cancellations as some of its employees continued to strike throughout Europe and the United Kingdom.