Ryback Says Triple H 'Ended Up Biggest Disappointment' But Wishes Him Well
In the wake of World Wrestling Entertainment superstar Triple H's retirement, one of his fellow wrestlers had harsh words.
Ryback—or Ryan Allen Reeves—wrestled with WWE from 2000-2016. On Friday, he called out Triple H, also known as Paul Levesque, while saying that he wished Triple H well in the future.
"You ended up being the biggest disappointment for me personally from loving you growing up, but I wish you well in retirement and future good health," Ryback wrote.
In a follow up tweet, Ryback clarified his stance.
"I truly wish him well. He went out of his way to prevent multiple opportunities for me, lied, and is part of a company I have a legal battle with and have won everything. I put out a heartfelt message and speak from experience, but wish him the best. Negative marks are horrible," he said. The term "Negative mark" is a wrestling term for an anti-fan of a particular wrestler, one who will always criticize them, no matter what.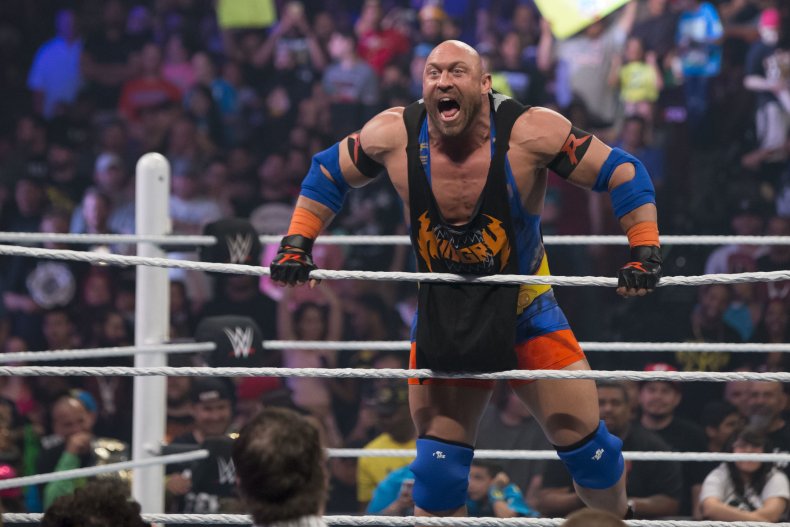 This is not the first time Ryback has feuded with Triple H. In 2019, he tweeted that Triple H told him he wasn't allowed to be on the cover of Muscle and Fitness magazine. In 2017, he said on his podcast that though he and Triple H were going to have an in-ring feud that was teased in a episode of SmackDown shot in England.
"It was nothing. And even [Triple H] came up, 'The plan was never for us to work, just so you know,'" Ryback said at the time. "And I go, 'Oh, okay. I don't know.' I'm not in the creative meetings. I don't know why. I just do what I'm told."
In another episode of his podcast, Conversation With the Big Guy, he said that Triple H told him that the WWE didn't want "marquee" talent anymore.
"He goes, 'We never want another marquee name here in the WWE.' This was during my first contract negotiations. Yeah, legit told me, he goes, 'We're never going to have another John Cena,'" Ryback quotes Triple H as saying.
Ryback sued the WWE in 2019 over the rights to his name. Ryback legally changed his name to "Ryback Reeves" after he left the WWE. However, the WWE registered "Ryback" as a trademark in 2011. The organization renewed that trademark in 2019, years after Ryback parted ways with WWE, according to wrestling news site, Ringside News.
Ryback also threatened to sue Dallas Cowboy Ezekiel Elliott in 2020, according to the Bleacher Report. Elliott filed for a trademark for the phrase "Feed Me," which he has tattooed on his stomach. Ryback alleges this phrase is too similar to his own catchphrase, "Feed me more."
Triple H, 52, announced on First Take that he was officially retiring, following heart surgery last September. He said he had viral pneumonia in his lungs and suffered heart failure. He added that a defibrillator was placed in his chest. Describing how close he was to death, Triple H said he was at "the 1-yard line."
Newsweek reached out to Triple H's representatives for comment.