Ryder Cup Fan Suffers Freak Injury After Being Hit in the Face by Brooks Koepka's Drive
A female spectator at the Ryder Cup suffered what appeared to be a serious facial injury after she was inadvertently struck in the face by a drive from Brooks Koepka.
The American, who was part of Friday's opening fourball match at Le Golf National's golf course on the outskirts of Paris, miscued his tee shot at the fifth hole and saw it disappearing into the crowd, where it struck the unfortunate fan right in the face, just above her right eye socket.
The girl required immediate attention and pictures showed her laying down with a bandage placed over her right eye. There has yet to be an official update on her condition, although The Guardian and The Telegraph both reported the girl is believed to have been taken to Le Golf National's medical center.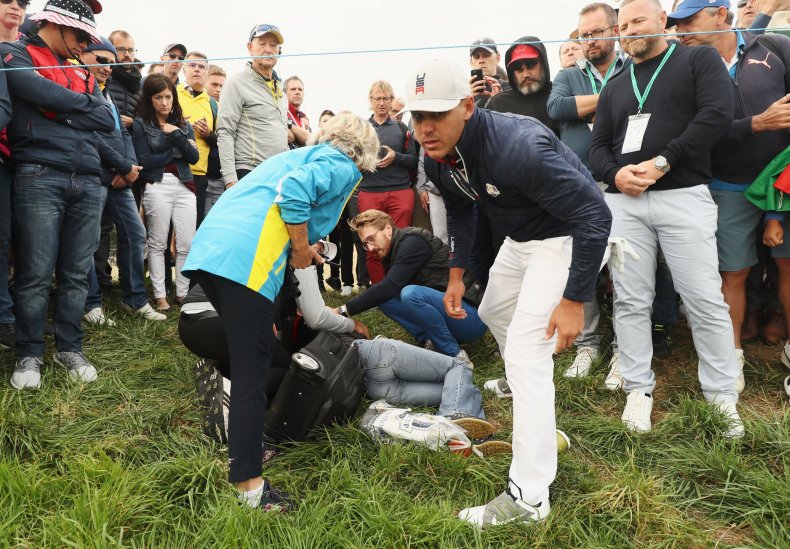 Commentating the event on Sky Sports, Richie Beem described the incident as "worrying," indicating the spectator had suffered a "nasty" injury.
"A spectator caught the golf ball. It looks to be right above her eye," he said.
"There are fairly worrying moments for one of the fans out here. Hopefully everything is okay."
Following the incident, Koepka immediately rushed into the crowd to check on the fan and apologize, handing her a signed a glove.
The 28-year-old appeared visibly shaken after the incident and was wayward on the following two holes, attempting to hit the green in one shot on the par-four sixth.
At the seventh hole, meanwhile, Koepka miscued his tee shot and narrowly missed some of the spectators lining the fairway. The American is the current world No. 3 and retained the U.S. Open title in June—becoming the first player since Curtis Strange in 1989 to win the tournament in two consecutive years—and triumphed in the PGA Championship two months later.
Koepka was playing alongside Tony Finau against Team Europe's Justin Rose and Jon Rahm in the first of Friday's fourballs matches.
At the time of writing, Team USA took a 1-0 lead after Dustin Johnson and Rickie Fowler defeated Rory McIlroy and Thorbjorn Olesen 4&2. The result will be a concern for Europe, as since 1975 the team that has won the first point has gone on to win the Ryder Cup in 15 occasions, a rate of 79 percent.