Sabinetek Smartmike+ Review: Content Creator's New Best Friend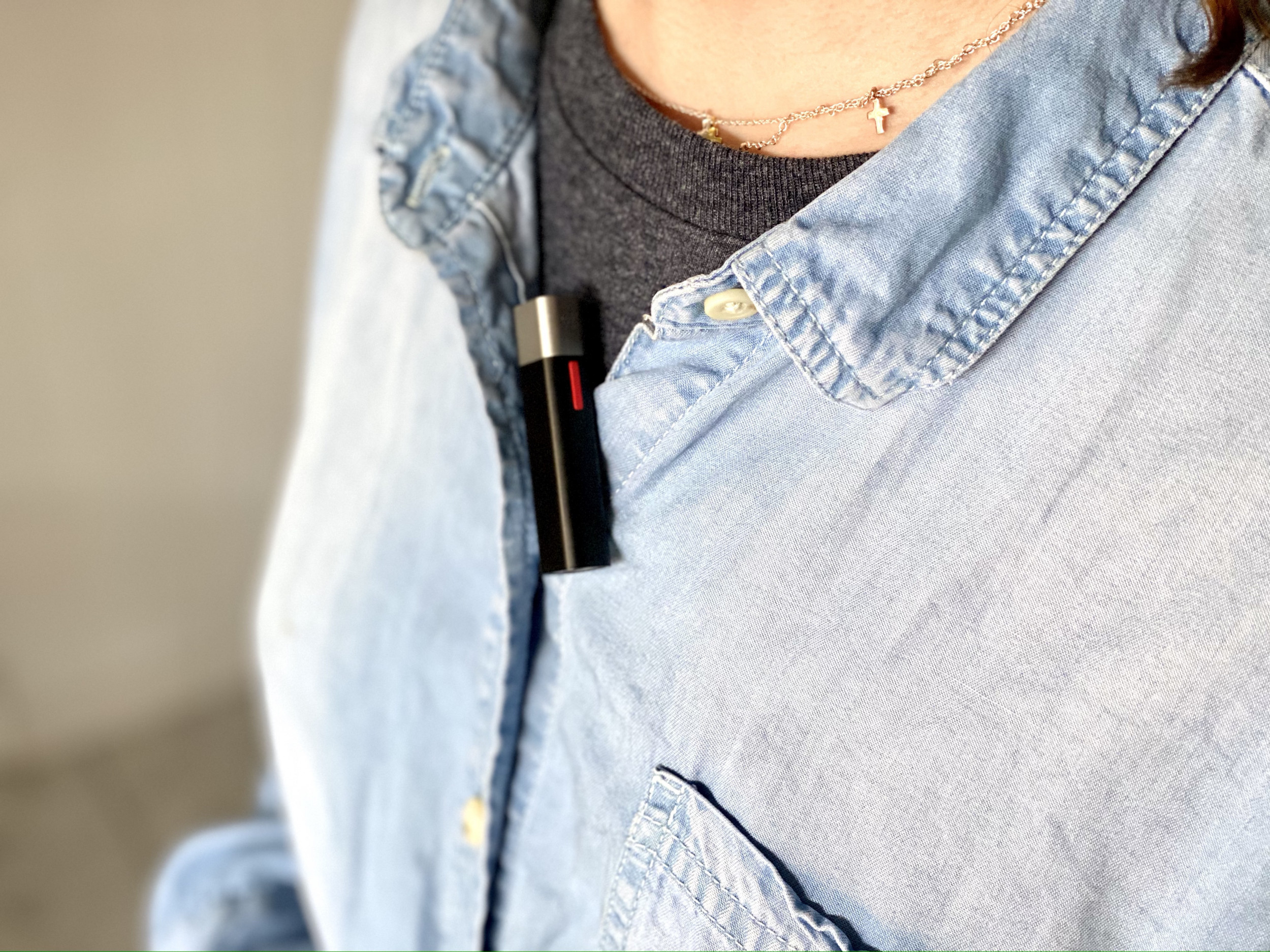 I often have to create content while on the go and am well acquainted with the difficulties of lugging around bulky microphones and fumbling with recording equipment. Content creators of all media are continually looking for tools to pull from their pockets and use right away. A smartphone can provide portability when recording, but you're not always guaranteed to get the audio quality you want or the noise reduction you need. The Sabinetek SmartMike+ may be just the device that solves these issues and offers a number of other features.
As the name suggests, the Sabinetek SmartMike+, a Bluetooth 5.0 wireless microphone, contains many smart features, which I'll discuss in detail below. The embedded intelligent algorithm enables SmartMike+ to record optimum acoustics by lessening background sounds, such as wind or the noise of people talking. It will work with both iOS and Android smartphones and is available in either black or white.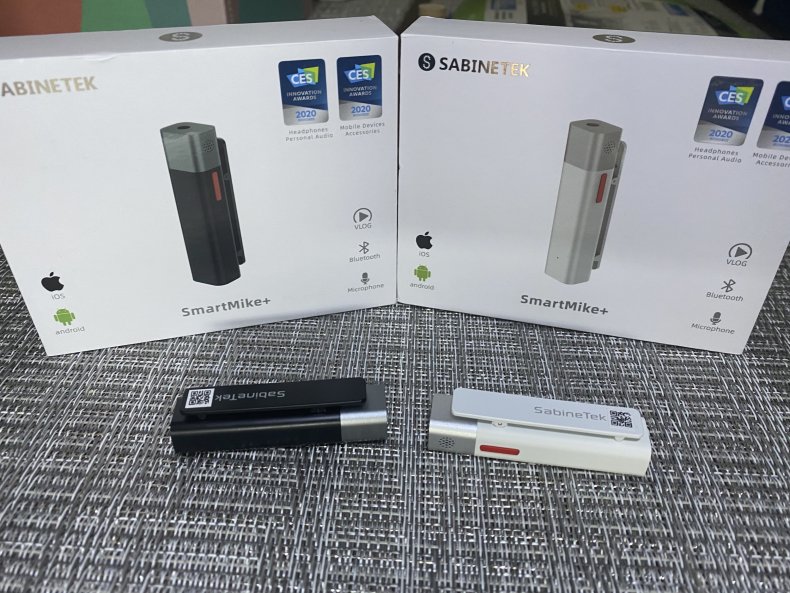 The SmartMike+ cordless microphone just clips onto clothing. It's as easy as it sounds, and it means not having to carry around heavy equipment or untangling cords on the go. With a wireless microphone smaller than a finger and weighing a mere .49 ounces, the SmartMike+ is exceptionally portable.
It's charged by a small USB port and made with a strong metal body. Highly animated when recording? Dropped it? No problem. The metal housing is durable and resilient, so you don't need to be overly cautious while using this mic to produce excellent content.
The SmartMike+ comes with several accessories:
SmartMike+ wireless microphone
1 earphone with a 3.5 mm jack
1 USB charging cable
1 windshield muff cover
1 foam wind muff
1 carrying pouch
1 user's manual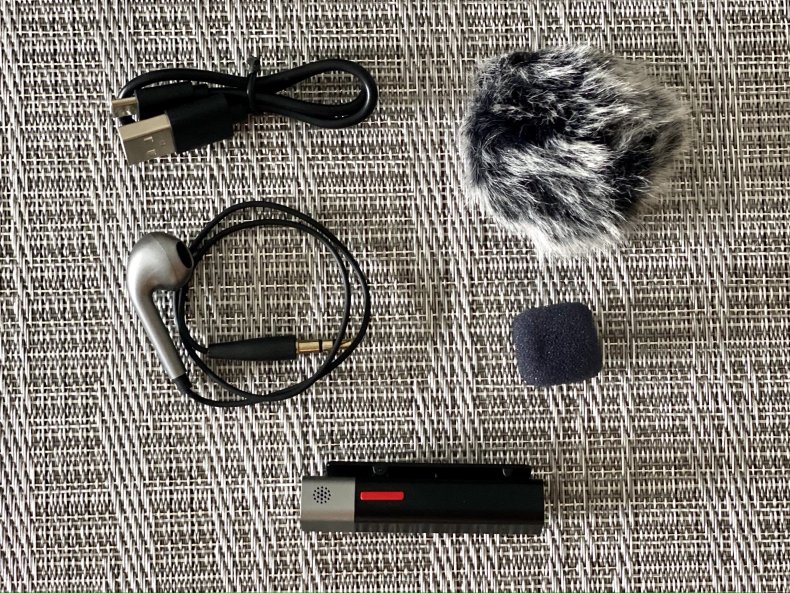 What Are the Best Features of the Sabinetek Smartmike+?
We've already discussed how beneficial the size of this smart mic is, but it's not the only impressive thing it offers. This device has a short one-hour charge time, a five to six hour battery life, and 110 mAh battery capacity.
It's easy to operate, as well. You simply give it a push to start recording and re-release the button to stop recording.
SmartMike+ not only blocks the external noise seamlessly but also gives you clear audio—as clear as my expensive headphones. If you need to record near a busy city street, the SmartMike+ will have no problem.
With the included earphone, the SmartMike+ can be used like any Bluetooth headset to make phone calls, listen to music, etc. It can also stream background music from apps such as Spotify and iTunes in real time. SmartMike+ can also be used with any third-party app, such as TikTok, Facebook Live, Instagram and YouTube Live on a smartphone via Bluetooth.
SmartMike+ is also compatible with a second SmartMike+ to transform them into a transmitter and receiver, connecting through a 3.5 mm jack. Use the two SmartMike+ in M/S mode for the highest possible audio resolution using your smartphone's audio input port.
SmartMike+ Setup Is Easy
The SmartMike+ comes with a helpful manual, but I still had some questions. After reading the instructions, watching a few YouTube videos, and reading the Quick Start Guide, the setup was pretty straightforward.
Holding down the button powers on the SmartMike+. If it hasn't been paired before, it goes into pairing mode. With my phone's Bluetooth on, I was able to pair my phone to use the SmartMike+ as a microphone with the SmartMike+ app.
Using the SmartMike+ App
Many users complain about having to use the proprietary SmartMike+ app with the device. Instead, they would like it to be more compatible with apps they already have. I found the app simple to use, though.
Among the settings, you can choose Vlog, Interview or Audio. Vlog is used to record video, Interview records video with a wireless mic, and Audio is used to record audio-only.
The app's audio transcription feature is one of its most exciting features. Once a recording is done, you need to tap the transcription icon to have the app accurately transcribe your audio recording. There are 120 languages supported by this feature.
Price
The Sabinetek SmartMike+ will range in price based on its color and accessory package. You can get a single Sabinetek SmartMike+, which is currently discounted from its usual price of $159 and is now going for just $139.
However, I recommend considering the twin package containing two microphones that is currently discounted from its usual price of $318 and is now going for $278 per set (saving you $40). Each set also comes with a one-year warranty.
Overall, I believe this is a great smart microphone for content creators. The SmartMike+ has a lot more to offer than just a Bluetooth microphone. If you're constantly shooting videos and using your smartphone for all your audio, it's a great addition to your tool kit. This is excellent value for the money.
Newsweek may earn a commission from links on this page, but we only recommend products we back. We participate in various affiliate marketing programs, which means we may get paid commissions on editorially chosen products purchased through our links to retailer sites.