'Sabrina': Netflix Reaches Secret, 'Amicable' Settlement with Satanists
Netflix has settled a $50 million lawsuit filed by The Satanic Temple over a statue featured in the series The Chilling Adventures of Sabrina, the group's spokesperson and co-founder has reported.
The Temple recently sued Netflix and Warner Bros Entertainment, claiming a statue of goat-headed deity Baphomet was similar to its own trademarked artwork.
Placing the statue in a school associated with "evil, cannibalism and murder" in the show tarnished its reputation, the Temple wrote in a complaint.
The Temple's statue was designed to "promote First Amendment values of separation of church and state and equal protection," the complaint stated.
This summer, the Temple's own statue was placed near an Arkansas monument to the biblical Ten Commandments as part of a religious discrimination protest.
"The Satanic Temple is pleased to announce that the lawsuit it recently filed against Warner Bros. and Netflix has been amicably settled," Temple co-founder Lucien Greaves wrote in a blog hosted by faith discussion website Patheos.
Sabrina's credits now acknowledge the statue's link to the Temple, he added, but other terms of the agreement remain undisclosed.
Greaves criticized media coverage of the lawsuit, saying it "overwhelmed" the copyright claim. Coverage of the Temple's rally in Arkansas, however, was "sparse," in spite of the fact it "still unresolved questions about the continued American dedication to Liberal Democracy."
"Overwhelming" media attention, he added, likely fuelled a barrage of "hate mail and armchair legal analysis" sent to the group. "One email implored me to not 'ruin' a show that 'just tries to bring joy into the world,' he wrote.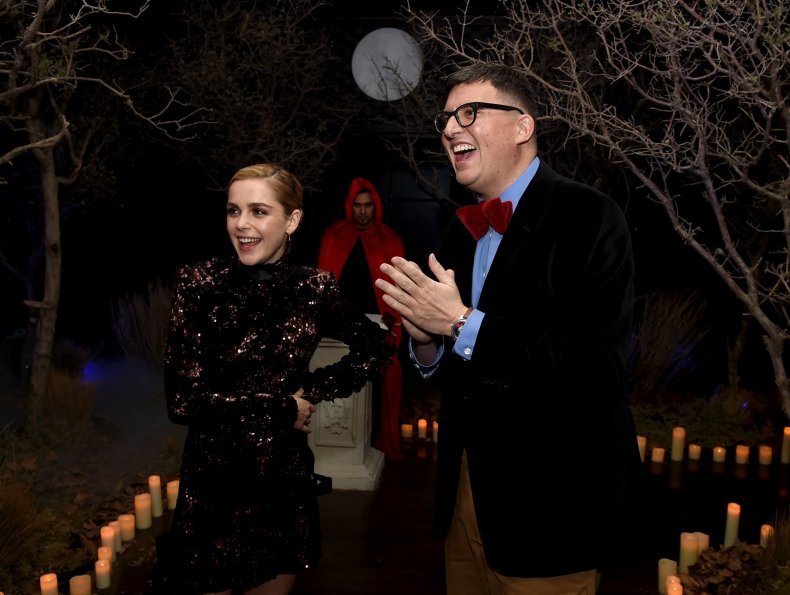 The Chilling Adventures of Sabrina is based on comic book series of the same name. The new show follows half-witch, half-human Sabrina Spellman, played by Mad Men's Kiernan Shipka, as she navigates adolescence as neither fully witch nor fully mortal.
Although it has received positive reviews from critics, the show has garnered controversy over its casting online. The show features black actress Tati Gabrielle as the villain to blonde, white Shipka's hero—a pairing some Twitter users have questioned.
"Through the demonization of Prudence, her character is the embodiment of 'dark magic', an association developed during colonization by white colonizers to dehumanize Black folx for our traditional African spiritual beliefs and practices," wrote Twitter user Taylor Crumpton in October.
'Sabrina': Netflix Reaches Secret, 'Amicable' Settlement with Satanists | Culture