GOP Could Lose a House Seat in a District Trump Won by 19 Points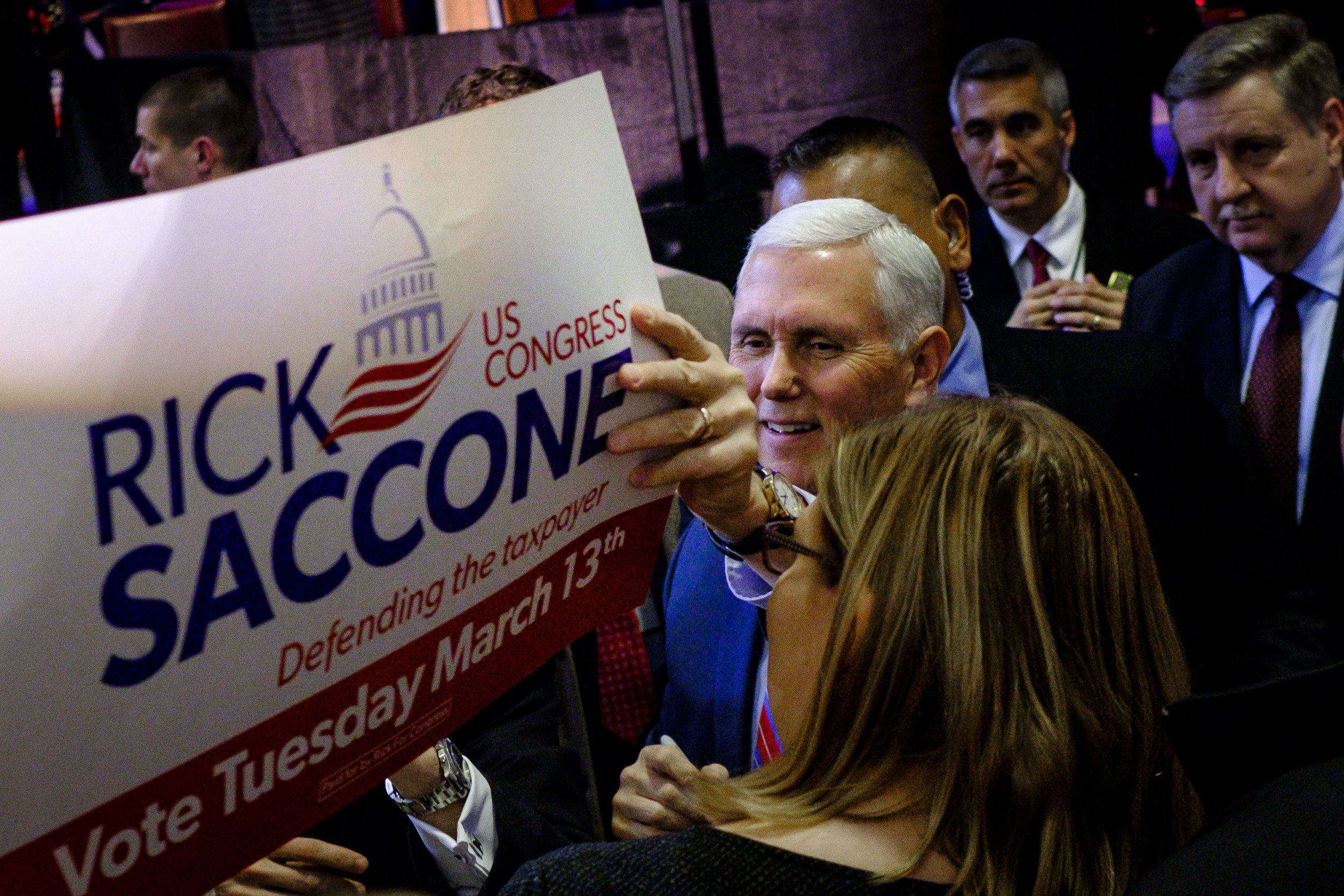 Republicans are pumping millions of dollars into a special Congressional election for fear that they will lose another House seat in a district that was once a Trump stronghold.
A special congressional election in western Pennsylvania will be the first test of President Donald Trump's tax plan, which Republicans are hoping to use to bolster their chances at retaining the House and Senate in the 2018 midterms. But the race is incredibly tight in what was once blood red and Trump is reportedly worried.
A new Monmouth University poll found that Democratic contender Conor Lamb is "within striking distance" of his Republican opponent, Rick Saccone, a Trump loyalist. Saccone holds a 49 percent to 46 percent lead over Lamb in Pennsylvania's 18th district, which Trump took by 19 points in the 2016 presidential election.
"Saccone has a slight edge, but it's nowhere near the double-digit advantage Republicans typically enjoy in this district," said Patrick Murray, director of the independent Monmouth University Polling Institute, in a statement. Saccone's advantage over Lamb is within the poll's margin of error.
Saccone, a four-term state Representative, has been campaigning heavily on Republican tax cuts, his motto is "defending the taxpayer." He closely follows Trump's agenda of increasing border security and ending Obamacare, and, in a debate against Lamb, said the only difference between his agenda and the president's is the football team he supports.
Lamb called the tax plan a giveaway to the one percent and large corporations, and lamented the $1.5 trillion it added to the debt.
A new Politico/Morning Consult poll released Wednesday found that only 25 percent of registered voters noticed an increase in their paycheck under the new tax rules, 51 percent haven't seen any change to their paycheck, and 24 percent aren't sure. Just 13 percent of Americans said the middle class would be the main beneficiaries of the tax plan, according to a Reuters/Ipsos poll. Nearly 36 percent of respondents said the rich would benefit most, and 22 percent said corporations would.
More than half of respondents said the tax plan "makes me more interested in voting for Democrats" or "will not change my interest in voting."
First Action America, a pro-Trump Super PAC, announced a $1 million ad buy in the district Thursday and both Trump and Vice President Mike Pence will make campaign trips on behalf of Saccone before the March 13 election. There is a clear fear that a Republican loss in such a pro-Trump district could lend a strong momentum to Democrats in the upcoming midterm elections.
"Republicans in Washington are frantically spending millions to bail out Saccone's campaign because his message is falling flat," said Andrew Bates of American Bridge, a progressive PAC. "Voters are so eager for leadership that doesn't sell-out the middle class that Republicans are on defense even in places that they easily won in 2016. They're certainly not spending this much from a position of strength—they know there's a real chance they could lose this solidly red district."
The Monmouth poll found that Democrats are more engaged in this election than Republicans and more likely to turn out to vote. Forty-eight percent said they were following the special election closely, compared with just 26 percent of Republicans. Strong turnout has been key to Democratic wins in red states like Alabama, Wisconsin and Florida. Just last week, Democrat Linda Belcher won a Kentucky House seat in a district that Trump won by a 50-point margin.
The special election is being held to fill the seat of Republican congressman Tim Murphy, who resigned earlier this year after he urged a women he was having an affair with to get an abortion. Murphy was vocally pro-life while in Congress.