Sacha Baron Cohen Trolls 'Bachelor' Star Corinne Olympios on 'Who Is America?'
Sacha Baron Cohen switched gears from trolling politicians on his Showtime series Who Is America? and pranked reality-TV starlet Corinne Olympios on Sunday night's episode.
Posing as an Italian photographer named Gio Madando, the comedian coerced the Bachelor alum into endorsing his fake charity—an organization supposedly providing aid to those suffering from Ebola in Sierra Leone. Cohen convinced Olympios to pose for pictures he intended to use to promote the made-up charity and explained he would Photoshop an image of her helping people in need while wearing a bikini and a half-zipped hazmat suit.
While interviewing Olympios, Cohen's character suggested she pretend she spent a month on the ground in Sierra Leone volunteering for his organization so the photos would be more believable. "Yeah, but they're gonna know I wasn't there," Olympios said.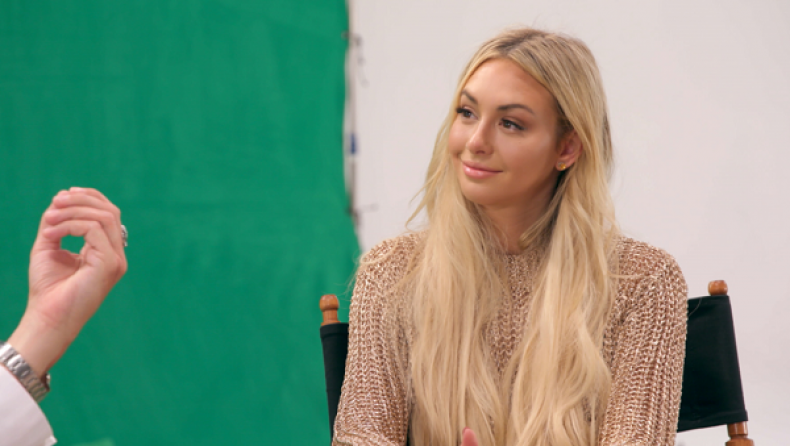 Cohen eased the 26-year-old's mind and said, "No, no, no, I run the charity so don't worry."
He then pressured her to tell a bizarre story of how she saved 6,000 Africans. "There was a warlord in Sierra Leone and he wanted to do a massacre, and apparently he recognized you, and you can tell us the story?" Cohen asked.
"So he recognized me, and he was a really big fan," Olympios responded. "He was just really nice, actually, and he was really surprised to see me. I was surprised he knew who I was, and yeah, it was just really humbling. It was good because I saved 6,000 people…. I feel, like, because I was so kind back and I was so positive back, it really helped with the whole massacre situation."
Olympios seems to be one of the first Who Is America? guests to play along with Cohen's pranks. Previous segments of the show, in which Cohen tricked politicians like former Alaska Governor Sarah Palin and Senate candidate Roy Moore, were met with much harsher reactions.