Why Did Rudy Giuliani Reportedly Call the Police on Sacha Baron Cohen?
Rudy Giuliani didn't take too kindly to being pranked recently by who he believes was actor and comedian Sacha Baron Cohen.
The former New York City mayor and attorney for President Donald Trump told Page Six that he was set up for a faux-interview at Manhattan's Mark Hotel on Tuesday, and reported the incident to the police, because he thought he was the target of a "scam or shakedown."
Giuliani said that he anticipated the interview to be about the Trump administration's response to the COVID-19 pandemic. The 76-year-old noted that he was offered payment for the interview, but asked for the money to go to the Stephen Siller Tunnel to Towers Foundation.
To hear Giuliani tell it, he reportedly spoke to a woman in a hotel room with professional-looking lights and cameras, and after a few simple interview questions, a bearded and scantily clad man burst onto the scene. "This guy comes running in, wearing a crazy, what I would say was a pink transgender outfit," he told Page Six. "It was a pink bikini, with lace, underneath a translucent mesh top, it looked absurd. He had the beard, bare legs, and wasn't what I would call distractingly attractive."
Giuliani continued, saying, "This person comes in yelling and screaming, and I thought this must be a scam or a shake-down, so I reported it to the police. He then ran away." The ex-mayor said that later on, he "realized it must have been Sacha Baron Cohen. I thought about all the people he previously fooled and I felt good about myself because he didn't get me."
Page Six reported that other people saw Cohen running out of the hotel and down a Manhattan street while wearing a bathrobe.
Giuliani mentioned to Page Six that he's a fan of Cohen's 2006 mockumentary Borat, "because I've been to Kazakhstan."
The NYPD and Cohen's publicist did not respond to Newsweek's emailed request for comment in time for publication. Newsweek reached out to Giuliani via his websites and social media, but did not receive a response in time for publication.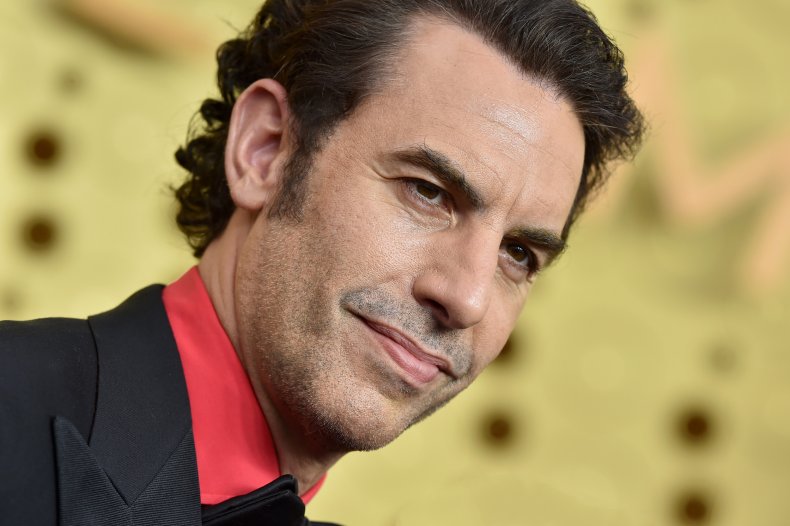 Word of this incident comes shortly after Cohen reportedly trolled people at a right-wing rally in Olympia, Washington, at the end of June by singing a song about CNN, protective masks and more. "Mask-wearers, what we gonna do? Inject them with the Wuhan-flu," he reportedly sang. According to one attendant on Twitter, Cohen returned to the event in another disguise, after being run off the stage, to interview people.
Cohen's recent stunts have led some people to speculate that the infamous prankster is gearing up for a second season of his Showtime show Who is America? "Looks like we got another season of Who is America coming," one person commented on the YouTube video of Cohen at the rally.
Newsweek reached out to Showtime for comment on whether there's another season of Who Is America? on the way, but did not hear back in time for publication.