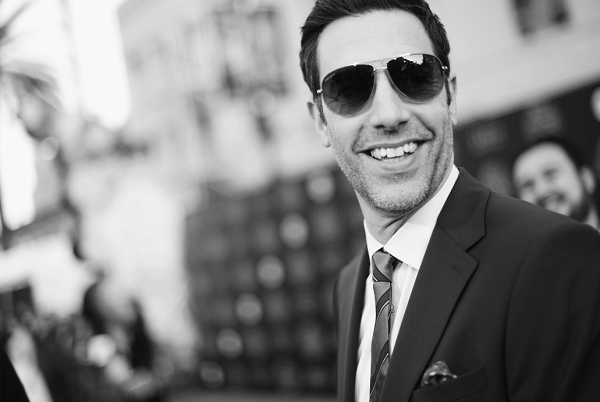 Billy Wayne Ruddick Jr., Ph.D., demanded an apology from Sarah Palin on Friday. Well, technically it was Sacha Baron Cohen, portraying his Who Is America? character. Palin criticized the comedian for tricking her into an interview for his new Showtime series.
Palin accused Cohen of disguising himself as a disabled U.S. veteran and convincing her to travel across the country to speak with him. "Out of respect for what I was led to believe would be a thoughtful discussion with someone who had served in uniform, I sat through a long 'interview' full of Hollywoodism's disrespect and sarcasm—but finally had enough and literally, physically removed my mic and walked out, much to Cohen's chagrin," Palin wrote in a Facebook post on Tuesday.
Cohen fired back at Alaska's former governor under the guise of Ruddick, a citizen journalist who runs the website Truthbary.org. "It was I that interviewed you. I did NOT say I was a War Vet. I was in the service–not military, but United Parcel and I only fought for my country once–when I shot a Mexican who came onto my property," Riddick wrote. "(Coincidentaly [sic], just like our Great President, I was sadly prevented from joining the regular army on my account of bone spurs bein [sic] discovered in my testies)."
Claiming that he "always admired" Palin for "telling the truth about [President Barack] Obama's birth certificate and the location of Russia," Ruddick suggested that Palin was "hit by a bulls*** grenade and are now bleedin' fake news" for claiming that Cohen was responsible for the interview.
Ruddick finished the open letter: "I demand an apology."
Palin shared more details of her experience with Cohen during an appearance on Good Morning America on July 13. "He started showing me these graphs and statistics that had, like, typos in them and just didn't quite look right, and part of this propaganda, this data that he was showing me, had something to do with sex changes and transgenderism, and he brought up Chelsea Clinton and said she was a recipient of a government-funded sex change," she recalled.
Palin, who was John McCain's running mate in the 2008 presidential election, said she removed her microphone and walked off the set of the interview. "It just got worse and worse and worse as the minutes went on in this bizarre, really embarrassing, humiliating interview," she said.
It's unclear when Cohen's new show will premiere on Showtime, but the Borat actor has already started sharing previews of the series on social media, including one clip in which he goes undercover to interview former Vice President Dick Cheney.