Sacramento District Attorney Says No Charges Will Be Filed Against Officers In Stephon Clark Shooting, Family Vows To Continue Fight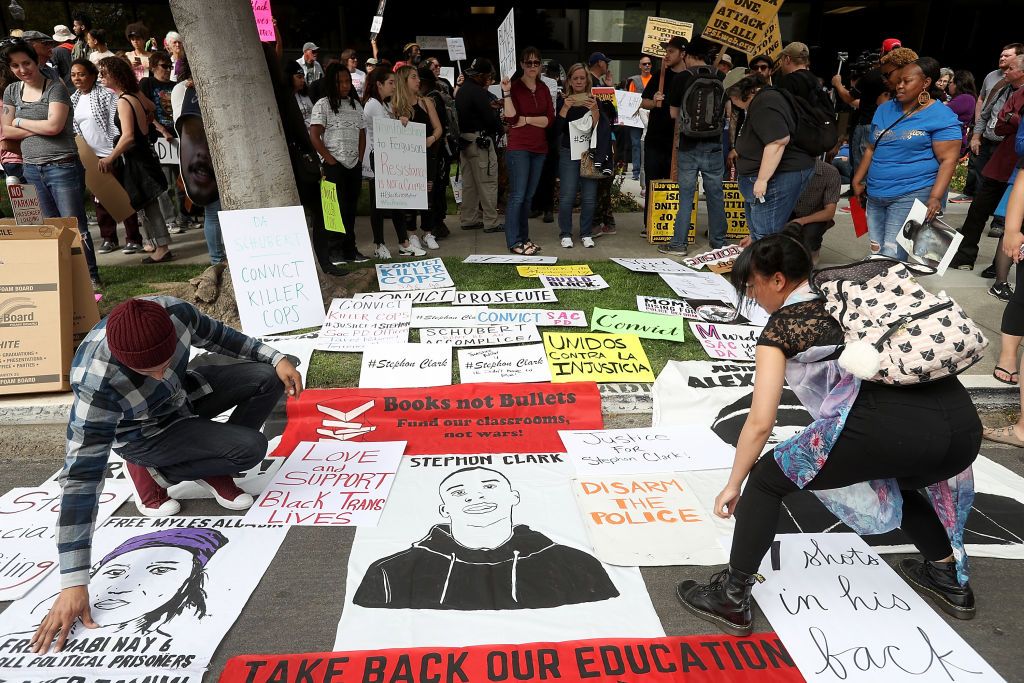 Sacramento, California District Attorney Anne Marie Schubert announced on Saturday that two officers who shot and killed an unarmed black man last March would not be charged with a crime.
Stephon Clark was shot multiple times the night of March 18, 2018, after officers Terrence Mercadal and Jared Robinet responded to a call about someone breaking into cars. The officers located 22-year-old Clark in the backyard of a residence, later identified as his grandmother's.
According to body cam footage of the incident, Mercadal and Robinent located Clark and, shortly afterward, Mercadal yells, "Show me your hands! Gun! Show me your hands! Gun, gun, gun!"
Both officers fired at Clark, with the coroner's autopsy report indicating he was shot seven times. However, an independent autopsy ordered by Clark's family states that he was shot eight times, six of those in the back.
Newsweek subscription offers >
The officers later said they believed Clark had been holding a gun, though Clark was discovered to be unarmed after the shooting. The father of two had been holding his cell phone.
"Was a crime committed? There's no question that a human being died," Schubert said on Saturday during a press conference about the ruling from the DA's office. "But when we look at the facts and the law, and we follow our ethical responsibilities, the answer to that question is no. And as a result, we will not charge these officers."
In Schubert's seven-page summary that accompanied the 61-page report on the case, the prosecutor wrote, "The evidence in this case demonstrates that both officers had an honest and reasonable belief that they were in imminent danger of death or great bodily injury. Therefore, the shooting of Mr. Clark was lawful and no criminal charges will be filed."
Schubert also slowed down frames from the body cam footage of the shooting, displaying a "flash of light" Mercadal said he thought was muzzle flash. Robinet said he thought the light was reflecting off a gun rather than a cell phone.
Newsweek subscription offers >
Both said Clark had been standing with his arms at chest level and pointed toward the officers.
In the report, Schubert included information on the 48 hours leading up to Clark's death where he had been accused of domestic violence by his girlfriend. Though police responded to the call, Clark was not at the home when they arrived. However, Clark was on parole for four previous arrests and seemed to be worried he would go back to jail. Clark had been searching for information on the district attorney's office and attempted to reach his parole officer on multiple occasions. He also conducted several web searches for how to commit suicide, as well as reaching out to individuals to try and obtain Valium or Xanax.
Clark later texted a photo of 10 pills lying in a palm to his girlfriend, the Sacramento Bee reports. Clark threatened to take the pills unless she agreed to "fix their family."
Clark drew the attention of police again the night he was killed after calls came in of someone breaking into cars. According to the Bee, officers saw Clark run and jump a fence into a backyard and break the glass door of a home where an 89-year-old man was watching television.
Officers then chased Clark to his grandmother's backyard, where the shooting took place.
After the press conference, Clark's mother, Se'Quette Clark, told reporters that officers "executed my son."
"They executed him in my mom's backyard and it's not right," Clark said. She added that Schubert focused on her son's personal issues rather than the actions of the responding officers, calling it a "smear campaign."
Se'Quette Clark added that Schubert has never charged an officer with a homicide, saying, "she has shown us time and time again who she is and what she stands for, which is not fairness or justice."
"My son is just the one that will break the mold because we're not going to accept that," she said. "We've been sitting for a year, patiently allowing her the opportunity to do right and she has failed us."
"This is just the beginning – the fight for justice has just to begin. It has not begun. We have sat and waited patiently for their response, so we have not had any fight for justice. We have not begun to fight," Se'Quette Clark added. "The fight will begin now."
The ruling in Clark's homicide is the 34th consecutive ruling in officer-involved shootings since July 2015 where the Sacramento District Attorney's office has decided not to press charges against law enforcement officials, the Bee reported.
The Clark family filed a $20 million wrongful death lawsuit against the Sacramento Police Department in January.
California Attorney General Xavier Becerra opened his own investigation into Clark's shooting and is expected to announce the results of that investigation soon. Becerra has also called for overhauling policies related to the use of deadly force in the Sacramento Police Department, something which the department agreed to improve.
In a statement issued Saturday, California Governor Gavin Newsom said, "We need to acknowledge the hard truth — our criminal justice system treats young black and Latino men and women differently than their white counterparts. That must change."
Newsom also called for "systemic" changes to the criminal justice system.
Sacramento District Attorney Says No Charges Will Be Filed Against Officers In Stephon Clark Shooting, Family Vows To Continue Fight | U.S.