Man Arrested after Fan Falls over Railing During Kings Vs. Warriors Game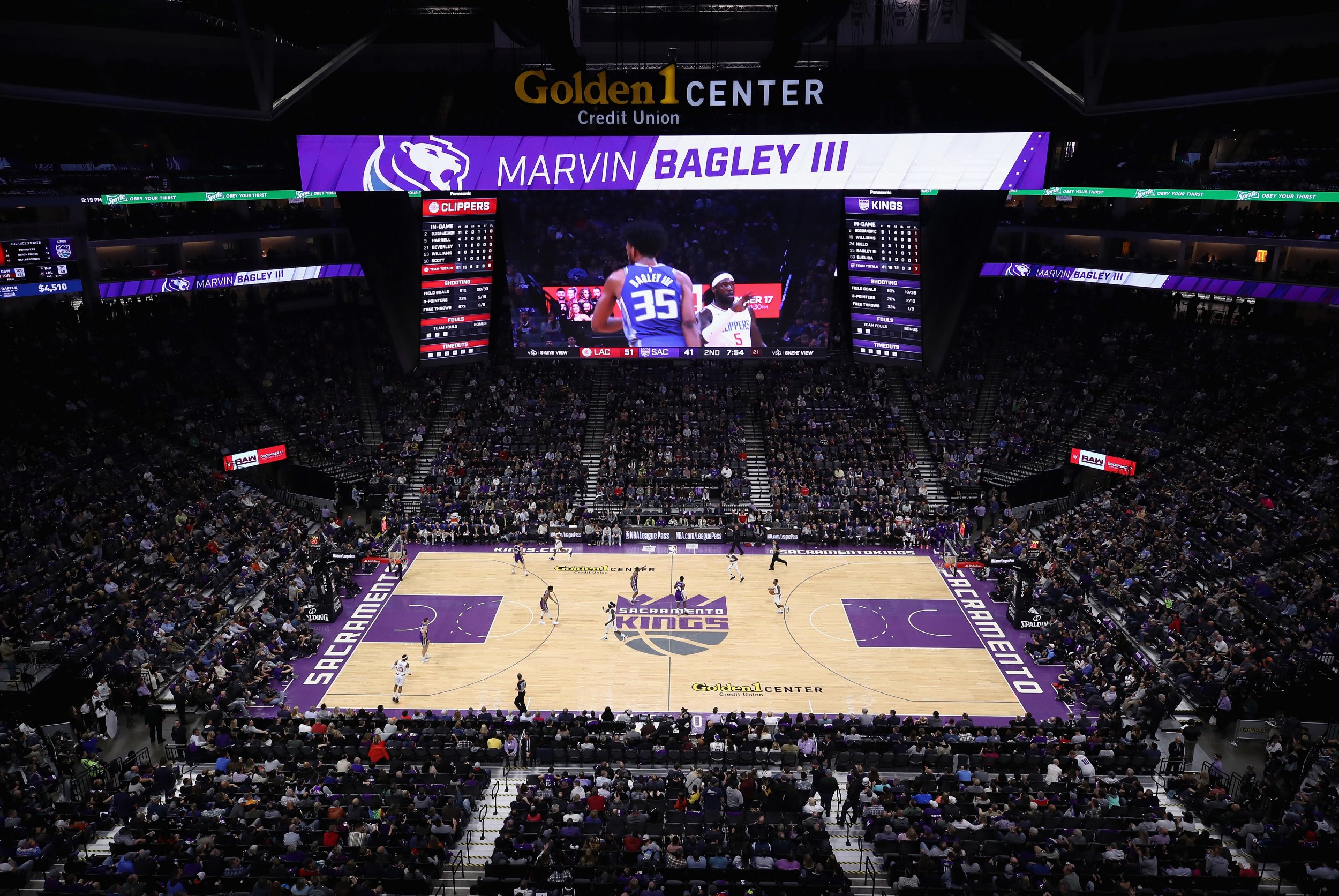 A man was arrested and another suffered a "major injury" after falling over 10 feet following a fight between two fans at an NBA game on Friday night.
The fight occurred at the Golden 1 Center in Sacramento, where the Kings were taking on the Golden State Warriors.
According to Kings officials, the incident unfolded in the upper bowl seating area of the arena between two men, who were reportedly heavily intoxicated. The fight is understood to have begun as the two men supported different teams. The Sacramento Police Department described them as "opposing fans."
The Sacramento Bee reported that Douglas Zeidman was arrested on suspicion of felony assault and booked into the Sacramento County Jail on Friday. The 39-year-old was subsequently released on Saturday.
Sergeant Vance Chandler, a spokesman for the police department, said two men pushed each other, with one of them falling over a rail and landing headfirst on the concrete area approximately 10 feet below. The victim was immediately rushed to hospital, where doctors described him as being in stable condition despite his injury.
News of the incident marred a famous Warriors comeback, as the defending NBA champions secured a 130-125 win following a spirited 17-2 run in the final three minutes of the game. Stephen Curry, Kevin Durant and Klay Thompson combined for 95 points and drained 13 three-pointers.
Curry finished with 35 points, seven rebounds and six assists, while Durant added 33 points, eight rebounds and eight assists. Thompson had 27 points, including the crucial go-ahead three-pointer with 38.5 seconds left, and nine rebounds.
"We knew we could get back in it if we were just poised and a little more patient offensively," Golden State head coach Steve Kerr was quoted as saying by ESPN. "We had several spurts in that second half where we sort of lost our composure and just couldn't get anything going."
For the Kings, Buddy Hield top scored with 27 points, while De'Aaron Fox finished with 25 points, nine assists and six rebounds, and Willie Cauley-Stein added 22 points and 11 rebounds.
The win saw the Warriors improve to 20-10, which puts them in second place in the Western Conference standings, 0.5 games behind the Denver Nuggets.
The Kings slipped to 15-13 after losing on Friday night but have since moved to 16-13 after beating the Mavericks 120-113 in Dallas. Sacramento is currently seventh in the Western Conference, tied with Memphis and Portland and 0.5 games ahead of the Mavericks.