Sacramento May Become Third California Region to Offer Quarantine Payments for Those With Virus
Public health officials in Sacramento, California, are considering a plan to pay low-income residents who test positive for the coronavirus to quarantine for two weeks, local media outlets reported Tuesday.
If the plan moves forward as expected, Sacramento would join San Francisco and Alameda County in offering infected residents a financial incentive to stay home. Health officials in both of those other Northern California areas approved their own programs earlier this summer to curb the virus's spread.
"A major point is to make sure people have the resources they need to be able to isolate," Sacramento County Public Health Officer Olivia Kasirye told The Sacramento Bee while speaking of the plan for city residents.
The one-time payment plan is still in development but could offer infected residents $1,000 to stay home for two weeks if approved, according to the Bee and Sacramento-based TV station KOVR. The amount would provide those asked to quarantine with about as much as they would earn through a minimum wage job in California, which pays at least $12 an hour.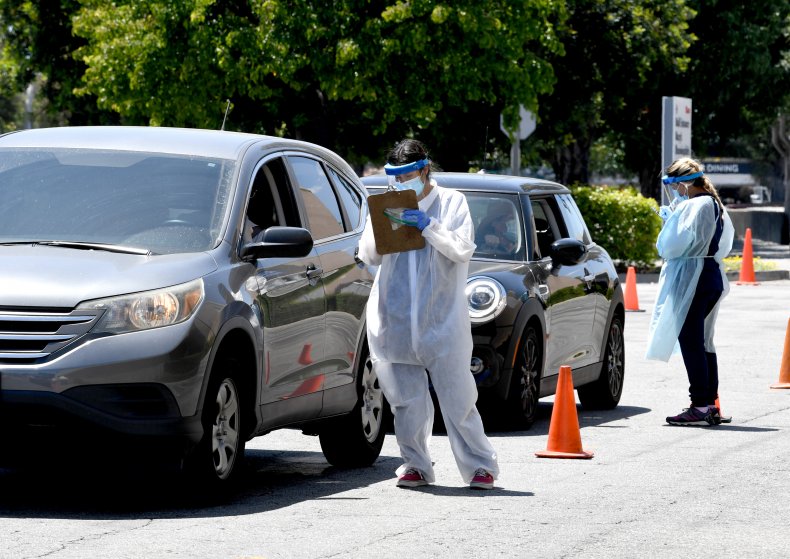 On July 1, San Francisco launched its Right to Recover Program as part of a strategy to slow the virus's spread. Under that plan, residents who are concerned about the financial fallout from staying isolated for two weeks after testing positive can receive $1,285 to cover costs during that period, according to the San Francisco Office of Economic and Workforce Development. Nearly 400 residents have already received the one-time payments through the Right to Recover Program, according to the Bee.
Newsweek reached out to the Office of Economic and Workforce Development but did not receive a response in time for publication.
In Alameda County earlier this month, health officials approved a pilot program known as the Alameda County Responsibility to Community Health. The program was intended to assist low-wage infected residents who could not work from home and those who work hourly, according to an Alameda County Social Services Agency news release. The county's Board of Supervisors approved $10 million for the program, which the Social Services Agency said would help about 7,500 residents through single payments of $1,250 per person.
These local health officials' efforts to address financial hardships for residents who test positive come as new virus case counts throughout California remain high. According to the California Department of Public Health, health officials reported more than 673,000 cases statewide by Monday, with more than 16,000 of those in Sacramento County. In late July, California surpassed New York as the state with the most virus cases and has retained that status ever since.
Newsweek reached out to Sacramento County Public Health for comment but did not receive a response in time for publication.