Who Is The Sacred Riana? Watch 'AGT' Contestant Terrify Mel B With Her Imaginary Friend
The Sacred Riana continued to terrify America's Got Talent host Mel B in Tuesday's Judge Cuts.
Her biography on the America's Got Talent website only adds to the mystery surrounding the magician from Indonesia. According to stories, she's possessed by a spirit that uses her "to call upon its spirit friends in an attempt to cause fear and chaos in the living world." She is "forever connected" to her doll, Riani, inside which is a young girl's spirit.
The Sacred Riana caused enough fear during her audition in May that judge Howie Mandel warned guest judge Martina McBride of her before her Judge Cuts act. The video package had everything needed to set the stage for the horror film that played out before the judges this time: "Twinkle, Twinkle, Little Star" playing as The Sacred Riana sat in a rocking chair with her doll in a creepy room and lights flickering around her outside a motel room.
The Sacred Riana began her act by walking to the judges' table and forcing Mel B to hold her doll. "My imaginary friend likes to play, and she also likes fear," the magician said after returning to the stage. She enclosed a blank book, with "Do you want to play?" written on the front, inside her dollhouse. When she took it out, there were drawings and what looked like blood on the front and inside. "I want to play with Mel B" was written on one of the pages.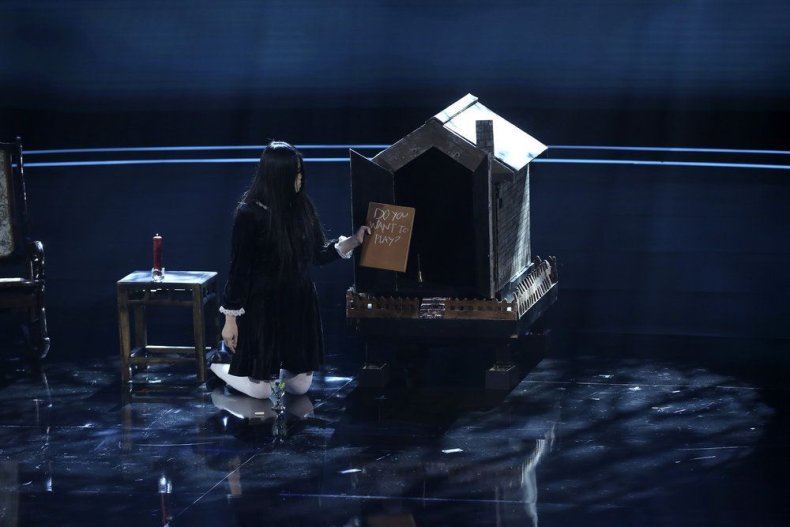 Though Mel B had forced Howie to hold the doll, he forced her to take it back. The Sacred Riana retrieved the doll and left the book on the judges' table. She enclosed the doll in the dollhouse and invited her to "come out" to "play with [their] new friend." A person burst out of the house, scaring everyone.
Howie noted the "blood" on the book was "wet," and Mel B had enough and walked away. The girl who burst out of the house followed her around backstage on her way to her dressing room.
The Sacred Riana advanced to the live shows, though judge Simon Cowell told her, "We actually didn't even judge [your act]. We just ran away from the table."
During her audition, The Sacred Riana scared Mel B as well. She had the judge select who was responsible for a fire reported in an old newspaper. Not only did Mel B select the right person, but that person was also pictured behind her in a photo the magician took of her with her Polaroid camera.
America's Got Talent Season 13 airs Tuesdays at 8 p.m. ET on NBC.