SAC's Guilty Plea Comes With An Escape Hatch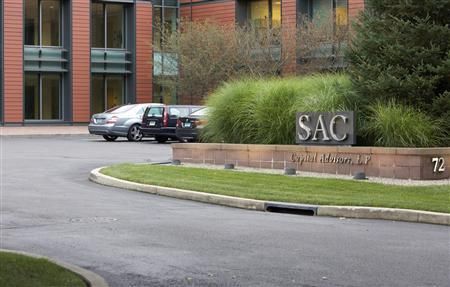 UPDATE:
SAC Capital formally entered guilty pleas to insider trading charges at a court hearing on Friday November 8, but the judge overseeing the case said she would wait until next March to decide whether to accept the admissions.
The judge, Laura Taylor Swain, of Federal District Court in Lower Manhattan, earned her law degree at Harvard and has overseen high-profile cases, including a copyright infringement lawsuit filed against Jessica Seinfeld, the wife of comedian Jerry Seinfeld, over her best-selling cookbook, Deceptively Delicious: Simple Secrets to Get Your Kids Eating Good Food. In 2009 Swain tossed out the lawsuit, which was filed by competing author Missy Chase Lapine, writing that Lapine's cookbook "is a dry, rather text-heavy work" while Ms. Seinfeld's "has a completely different feel.
---
When federal prosecutors announced on Monday a record $1.2 billion fine against SAC Capital Advisors, the once-powerful hedge fund run by flamboyant billionaire Steven A. Cohen, they touted the deal as a monumental crackdown down on insider trading on Wall Street.
But they didn't mention anything about the escape hatch.
Under an unusual provision, the deal gives SAC Capital the option to withdraw its guilty plea should a federal judge overseeing the settlement not approve the fine print of the final agreement. Known in legal jargon as a "C-deal," the provision effectively gives the firm an "out" should the judge decide that SAC deserves more punishment that is outlined in the agreement.
"This is a significant concession to SAC," said Daniel W. Levy, a former assistant prosecutor for the Southern District of New York, the same office that has handled the criminal investigation of SAC. "It's rarely employed, and it's largely good for defendants."
As part of the deal, SAC Capital agreed to plead guilty to securities and wire fraud and to be put on probation for five years. It also agreed to stop managing money on behalf of outside investors. The $1.2 billion it will pay is in addition to $616 million in fines that it agreed to pay securities regulators last March. All the fines will come out of the personal pocket of Cohen, who is the company's founder and sole owner.
Preet Bharara, the United States attorney in Manhattan who has overseen the investigation, called the plea agreement unprecedented for insider-trading cases on Wall Street. "Today, one of the world's largest and most powerful hedge funds agreed to plead guilty, shut down its outside investment business, and pay the largest fine in history for insider trading offenses," he said Monday in prepared remarks. "That is the just and appropriate price for the pervasive and unprecedented institutional misconduct that occurred here." Court papers called the agreement "the largest financial penalty in history for insider trading offenses."
But part of that history could change as a result an arcane item in the federal rules of criminal procedure known technically as 11(c)(1)(C). Under this backdoor clause, if Richard J. Sullivan, the New York judge assigned to the case, wants to impose stiffer fines or sanctions than those outlined in the deal, SAC Capital has the right to reneg on its guilty plea. The more traditional form of plea agreement does not allow a defendant to withdraw a guilty plea if a judge imposes heftier fines, sanctions or jail time at sentencing.
Monday's agreement outlines the formal guilty plea that SAC has agreed to enter at a later date. But between now and then, much could happen that could affect the judge's decision on whether to approve or reject the deal's terms. In coming months, several insider-trading trials of managers who worked at SAC Capital funds are scheduled to begin -- showcase trials that could yield new, potentially damaging information about SAC Capital. Any such information could in turn, lawyers said, affect the judge's decision on whether to approve the settlement.
A plea withdrawal would set into motion an uncertain chain of events, and likely lead prosecutors either to attempt to craft another agreement or push the case to a jury trial.
And a withdrawal would mean yet more years for an already lengthy and costly inquiry. SAC Capital, under investigation for more than a decade and indicted last July, was accused of creating a corrupt culture steeped in insider trading that raked in hundreds of millions of dollars in illicit profits over 1999 through 2010, court papers show.
Ted Wells, a lawyer for SAC Capital, did not immediately return calls requesting comment. Neither did a spokesperson for the Manhattan prosecutor's office.
Samuel W. Buell, a law professor at Duke University and former lead prosecutor on the Enron Task Force, said that the escape-hatch agreement appeared to signal that SAC had played hardball with prosecutors. "SAC is saying it's a deal-breaker if we have to throw ourselves at the mercy of the court, so we're going to do this safely and get a 'c agreement'," Buell said.
A former federal prosecutor who declined to be named, citing matters related to the case, called the escape-hatch deal "highly unusual." The source added that such agreements typically signal that the government is desperate to get a deal done, and that defendants, sensing opportunity for relief, have responded by demanding the escape-hatch deal.
"With these," the source said, "the defendant is saying, 'take it or leave it'."