'A Sad Moment': Michigan Gov. Whitmer Responds to State GOP Chair Calling Her a Witch
Michigan Governor Gretchen Whitmer, a Democrat, slammed state GOP Chair Ron Weiser after he described her and two other top female Michigan officials as "witches," suggesting they should be burned "at the stake."
Weiser, who also serves as a regent for the University of Michigan, made the highly controversial remarks during a political event in Michigan's Oakland County.
"Our job now is to soften up those three witches and make sure we have good candidates to run against them, that they are ready for the burning at the stake," he said, referring to Whitmer as well as Michigan's Attorney General Dana Nessel and Secretary of State Jocelyn Benson, both of whom are Democrats.
When asked about the Michigan Republican leader's remarks, Whitmer told CNN on Wednesday: "It's just really a sad moment in America where people who are leading are treated with such disrespect."
The governor pointed out that the FBI arrested a group of men last year who were actively plotting to kidnap and possibly assassinate her. Whitmer said this is a "dangerous moment."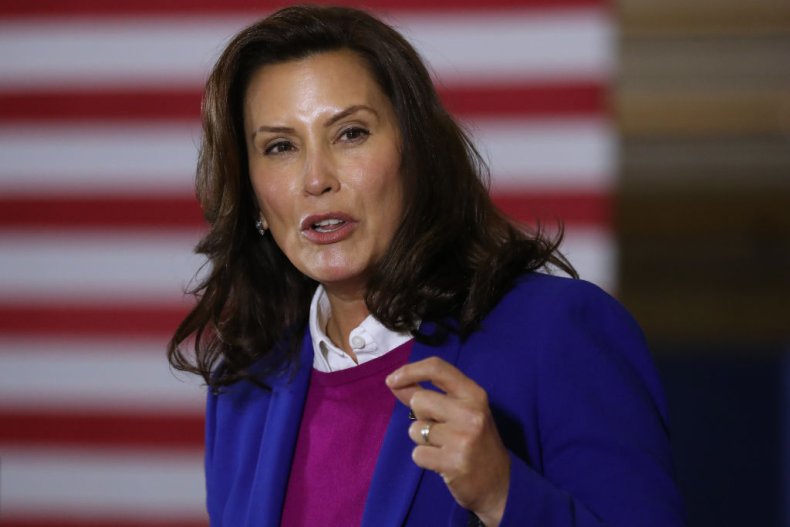 "We've seen threats come to those of us in office," she said, pointing to the "plot to kidnap and kill me." Whitmer noted that "we're seeing people in court this week on those very charges," saying remarks like the ones made by Weiser are "throwing gas on this fire."
"It is dangerous and it's unacceptable," Whitmer said. "And I've been, for almost a year now, calling on people to bring down the heat."
Newsweek reached out to the Michigan GOP for comment, but did not immediately receive a response.
Weiser issued an apology on Saturday for his remarks. But the GOP leader faces potential censure from the University of Michigan's board of regents due to the comments.
"In an increasingly vitriolic political environment, we should all do better to treat each other with respect, myself included. I fell short of that the other night," Weiser said in a statement.
"I apologize to those I offended for the flippant analogy about three women who are elected officials and for the off-hand comments about two other leaders. I have never advocated for violence and never will. While I will always fight for the people and policies I believe in, I pledge to be part of a respectful political dialogue going forward," he said.
In 2020, Michigan saw a wave of right-wing demonstrations against Whitmer and her Democratic administration. Many Republicans in the midwestern state were angered by her stringent COVID-19 emergency orders. At the protests, critics held signs comparing the governor to Adolf Hitler or suggesting she should be killed.
In October, the FBI worked with Michigan authorities to arrest and charge 13 men who were allegedly plotting against Whitmer. At least six of those men allegedly had formed a plan to kidnap and potentially assassinate the governor. One of the suspects explicitly called for the Democratic lawmaker to be "hung for treason."