Saddle Fire in Midway, Utah, Burns More Than 600 Acres, Person Arrested for Arson
A wildfire burning through at least 630 acres of land in northeast Utah may have been lit intentionally, local authorities said Wednesday.
The Saddle Fire, as officials have named it, was first seen Tuesday afternoon near Midway, a city located roughly 30 miles outside of Salt Lake on the edge of Wasatch Mountain State Park. According to the latest update from Utah's state wildfire agency, about 20 percent of the Saddle Fire had been contained by 1:30 p.m. GMT on Wednesday, up from 15 percent reported three hours prior. The agency said 150 firefighters were working to contain the spread with assistance from an aircraft and two additional crews.
Wasatch County Fire Department announced that several homes in the surrounding town of Interlaken, with a population of less than 200, were evacuated Tuesday as a precautionary measure, and a handful of trail systems within the state park were closed until further notice. All Interlaken residents were issued a pre-evacuation notice early Wednesday as officials monitored the wildfire's trajectory.
An earlier message shared to the fire department's Facebook page notified community members of the Saddle Fire's beginnings and noted that it was the latest of four wildfires to break out in the area during the past week. On May 11, the department confirmed two smaller fires had been extinguished and said an investigation would proceed to determine the source of the outbreaks.
In a Tuesday statement shared to the county fire department's Facebook page, Utah's Division of Wildlife Resources (DNR) confirmed the latest fire was "human caused" and said the county sheriff's office had arrested one person for their suspected involvement in all four incidents.
"As part of their investigation they were interviewing juveniles and now have one in custody," the statement read. Newsweek reached out to the Wasatch County Fire Department and Sheriff's Office for additional comments on this story but did not receive replies by time of publication.
Utah's terrain and climate make it particularly susceptible to wildfires. In light of oncoming warm weather, the Utah DNR's Division of Forestry, Fire and State Lands recently released an advisory notice warning state residents of potential fire hazards and offering recommendations to mitigate them. At the time, it reported several fires that had begun in field clearings or as a result of burning debris.
"Fire managers say these fires were all preventable and they recommend taking some simple precautions to safely and successfully burn," the notice stated.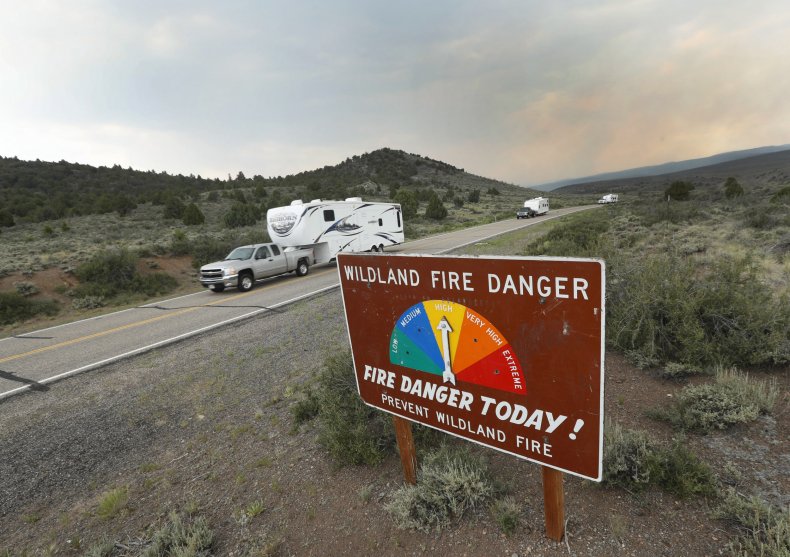 Utah has taken significant steps to prevent and address wildfires since a particularly damaging 2012 season, which burned roughly 500,000 acres of land and required thousands to evacuate their homes. In response, the DNR's forestry, fires and state lands division partnered with Utah Governor Gary Herbert to develop a Catastrophic Wildfire Reduction Strategy that coordinated efforts between local, state and federal agencies.