Saeb Erekat, Top Palestinian Negotiator and PLO Leader, Dies After Contracting COVID-19
Prominent Palestinian spokesman Saeb Erekat has died after contracting the coronavirus, his Fatah party has said. He was 65.
Erekat was secretary-general of the Palestine Liberation Organization (PLO) and was chief negotiator in the U.S.-brokered peace talks with Israel that collapsed in 2014.
He was a vehement critic of Israel's settlement policy on occupied land which he said undermined the chances for a viable Palestine.
Erekat held the title of chief Palestinian negotiator and was involved in nearly every round of peace negotiations between Israel and the Palestinians going back to the landmark Madrid conference in 1991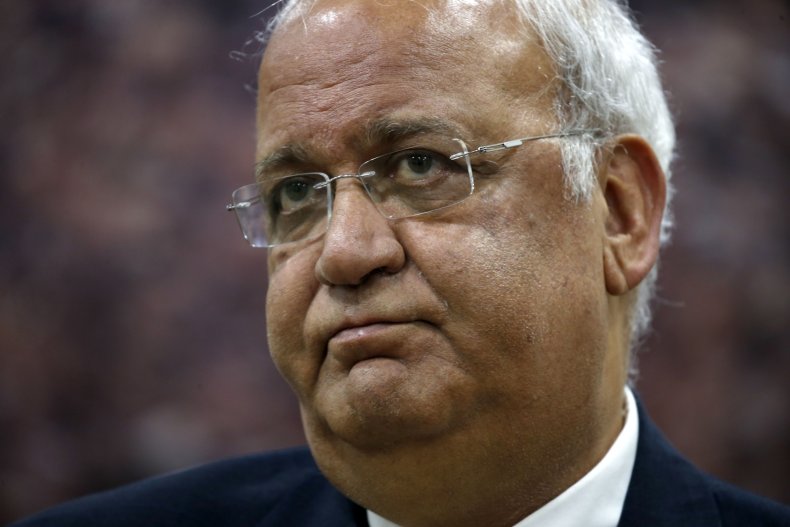 Erekat, a lawmaker from Jericho in the occupied West Bank, was a senior adviser to Palestinian President, Mahmoud Abbas and worked for his predecessor, Yasser Arafat.
Educated in California and the U.K., he played a key role in the Oslo Peace accords in 1993, which created the Palestinian Authority and gave Palestinians limited self-governance in the West Bank and Gaza Strip.
Erekat was a proponent of the so-called "two-state solution" to the Israel-Palestinian conflict, which features an independent Palestinian state alongside Israel. He called for international sanctions on Israel over its occupation of the West Bank, East Jerusalem and the Gaza Strip.
More recently he condemned moves by Arab states to normalize relations with Israel, describing it as a "killer to the two-state solution."
On October 8, Erekat confirmed he had been infected with the coronavirus. Three years ago he had a lung transplant in the U.S., which suppressed his immune system.
Last week, he was taken from his home in the West Bank city of Jericho to Hadassah Medical Center in Israel and placed on a ventilator. He was then put into a medically induced coma after his condition deteriorated.
Doctors said his lung transplant had made it difficult to treat him and he suffered from a "weakened immune system and bacterial infection, in addition to coronavirus."
President Abbas has declared three days of national mourning, paying tribute to his former adviser. He said that the death of "our dear brother and friend, the great fighter, Dr. Saeb Erekat, represents a great loss for Palestine and our people".
Meanwhile, Tzipi Livni, the former Israeli foreign minister tweeted her condolences as well. "Saeb dedicated his life to his people," she wrote.
"Being sick, he texted me: 'I'm not finished with what I was born to do'. My deepest condolences to the Palestinians and his family. He will be missed."
This story has been updated.