Safer School Zones, Bus Stops Coming Thanks to New Connected Vehicle Technology
Identifying speed limit signs, keeping a vehicle centered in the lane, and avoiding front-end collisions are all within the purview of modern safety systems. The next frontier takes safety a step further, integrating infrastructure communication into vehicles via a cellular connection.
That cellular vehicle-to-everything (C-V2X) technology is where a partnership between Audi of America, Applied Information Inc., Blue Bird Corp., Fulton County Schools, the City of Alpharetta, Temple Inc., and Qualcomm Technologies plays out as testing gets underway on a system designed to make school zones and bus stops safer.
Each year, about 17,000 children are treated by emergency rooms for injuries associated with school buses. Around 24 percent of those injuries are related to getting on and off the bus. National Association of State Directors of Pupil Transportation Services (NASDPTS) estimated that in 2019, 17 million drivers illegally passed school buses while their stop arms were deployed.
The first-of-its-kind public/private collaboration uses a combination of hardware and software to detect school zones and stopped buses then alert a driver that the space is active.
After initial system engineering by Audi and Applied Information, the new technology is being employed in Alpharetta, Georgia utilizing roadside units (RDUs) attached to school zone beacons that emit an over-the-air signal ahead of and throughout the designated school zone. In the Audi E-Tron Sportback test vehicle, a school zone icon appears on the screen alongside a speed limit alert. At present, the inch-tall icon appears front and center on the driver's information screen instantly grabbing the driver's attention.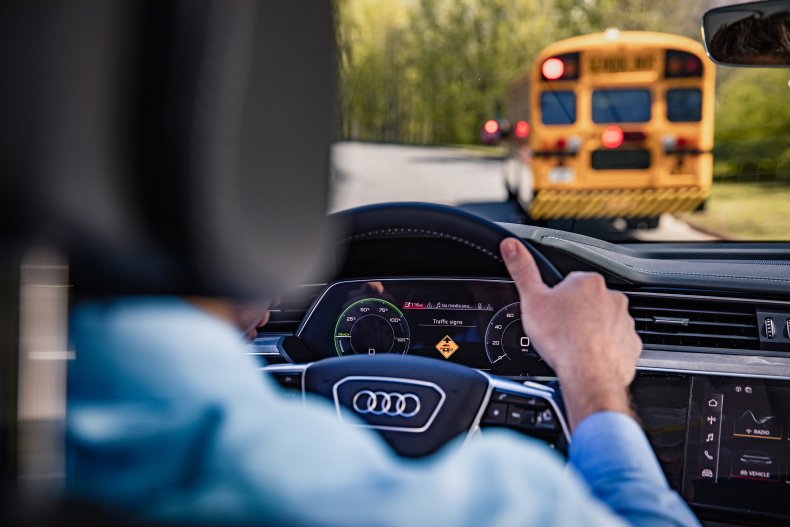 On the test bus, a beacon emits a similar signal when its stop sign is deployed. That signal sends a message to the vehicle and, in test model, a different style of alert is displayed on the driver's information screen showing that a school bus is ahead.
Individual vehicle companies would be able to set the parameters of the measures taken from there which might include automatically limiting speed within the zone or making sure that the vehicle safety stops for the outstretched arm of the bus. Because of their connectivity, RDUs are able to be turned on and off at their manager's will, allowing signals to only be sent when a school zone is active.
Trey Stow, director of transportation and operations for Fulton County Schools likes the integration of this level of technology as opposed to the cameras some school districts have installed in buses that issue tickets days, weeks, and even months after an infraction has taken place. The C-V2X system addresses behavior before it occurs. It's predictive rather than reactionary, and should be safer for the drivers and students he's responsible for.
Expanded testing of the system is ongoing with months more expected as the 2021-2022 school year gets underway. It will happen alongside an additional C-V2X test that uses RDUs to connect with traffic light infrastructure to switch signals safely to green from red when a school bus is approaching in a manner similar to how first responders use the technology. The idea is that it won't just save on fuel and idling pollution, but that it will also make people within the bus and the surrounding vehicles safer.
The larger goal is a more connected world that works better for and is safer for those that live in it, Bryan Mulligan, president of Applied Information says.
The cost per school zone is estimated by Mulligan to be $2,000 to $5,000, should integration of the technology be ramped up on a mass scale nationwide.
Cars would require a new chip to be installed to be compatible with the safety solution and allow C-V2X communication. Buyers would likely see the cost of these chips rolled into the overall cost of the new vehicle, and possibly available as a safety package add-on in some models, depending on how and if automakers adopt the technology post-testing.