The Saga of the Stinky Cheese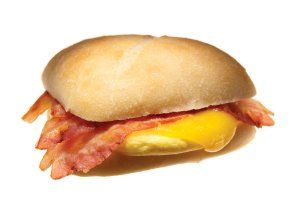 For me, the most symbolic representation of how Starbucks in 2007 was losing its magic was the warm breakfast sandwich. I'd resisted the idea of serving sandwiches in our stores from the start, though I understood why they made financial sense. Our warm sandwiches gained a loyal following and drove up sales and profits. The more popular they became, the more our baristas had to heat them in warming ovens. And when they did, the sandwiches would inevitably drip and sizzle in the ovens, releasing a pungent smell. The rich, hearty coffee aroma in the stores was overwhelmed by singed Monterey Jack, mozzarella, and, most offensively, cheddar. Where was the magic in burnt cheese?
At one point an "aroma task force" was pulled together to try and eliminate the smells. They experimented with different ovens. They retrained baristas to clean the ovens more often. Cook times were narrowed to prevent dripping cheese. Manufacturers were asked to rework their ovens' vents to contain the aromas, and our own operations people tried to improve the stores' heating, ventilation, and air-conditioning systems to pull odors from the air. Nothing seemed to work.
Internal disagreement about the sandwiches' benefit to Starbucks as a business—versus their detriment to Starbucks as a brand—continued to heighten tensions within the company. Should we follow customer data or my intuitive sense? At the time, as chairman, I was not interested in finding a compromise. As soon as I returned as CEO in early 2008, I announced the end of the breakfast sandwich.
With my admittedly tempered enthusiasm, the food team continued to study the sandwich. They discovered that improving the quality of the ingredients—leaner bacon, better ham and cheese—helped reduce the aroma. They also learned that the tang of the English muffin was partly to blame, so they tried other bread options, such as ciabatta. Finally, by moving the cheese to the top of the sandwich and lowering the baking temperature to about 300 degrees F, the cheese was less likely to burn. The result was a breakfast offering that was worthy of our coffee. We relaunched the breakfast sandwiches in June 2008.