Huge Dust Cloud from Sahara May Bring Incredible Sunsets to Parts of U.S.
The massive cloud of dust from the Sahara desert in Africa that is headed toward the southwest states could bring incredible sunsets to the region. The cloud of dust from Africa is currently moving westwards over the Atlantic and is expected to reach parts of the U.S. including southern Texas, Louisiana and Florida, by Wednesday.
In a tweet, the National Weather Service (NWS) Houston/Galveston TX said dusty weather could be possible as a result of the cloud, which would be moving into the state's southeast on Tuesday. "If this dust reaches the area we should expect some red skies at sunrise and sunset for a few days and probably drier weather as well," it said.
The cloud of dust is the result of atmospheric conditions in the Sahara at this time of year. According to the National Oceanic and Atmospheric Administration, the Saharan Air Layer is a mass of extremely dry dusty air that forms over the desert between late spring and early fall. It normally forms a layer in the atmosphere that is around two miles thick and sits around one mile above the surface. It can cover an area about the size of the lower 48 states and at peak periods, the layer can reach as far as the U.S. southeast coast.
Images captured on one of the NOAA's satellites showed the huge plume traveling across the Atlantic. It is expected to reach the Caribbean in the coming days.
A statement from the agency said the Saharan Air Layer is transported further towards the U.S. when winds are particularly strong. It said the dry and dusty air is known to cause "hazy skies" over areas it reaches.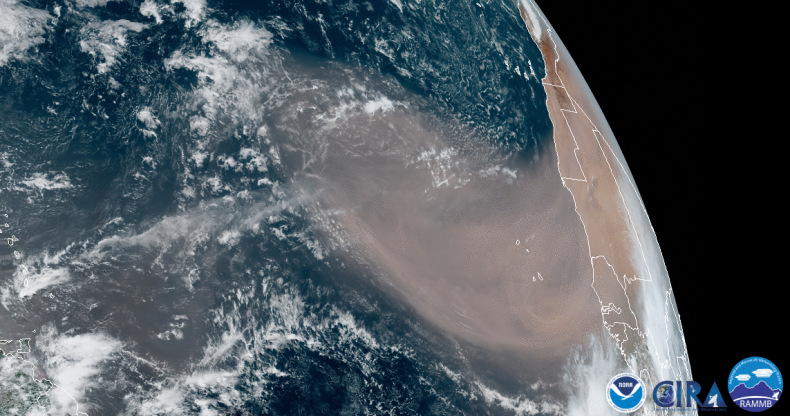 Sunsets and sunrises can become more impressive as a result of the dust. When the sun is low in the sky, rays reflect off the dust particles, creating more vibrant skies.
Speaking to the Tampa Bay Times, meteorologist Rick Davis, from the National Weather Service's Ruskin office, said: "One unique aspect of the dust will be our sunsets being incredibly vivid. Saharan dust is orange and red, so as the sun sets through the haze you'll get bright, brilliant sunsets."
As well as producing spectacular sunrises and sunsets, the dust plume will also help suppress the development of tropical systems. Davis said the dust does this by taking the moisture from the air, a component hurricanes rely on to form.
NWS New Orleans said the dust plum was "great news" in terms of tropical systems developing and the "chance of seeing beautiful sunsets next week. However, it also warned it could cause some problems for people with respiratory issues. "Be mindful of this as we head into next week," it said on Twitter. "If you are in a vulnerable category, be aware of your symptoms & take preventive meds!"