The three Sailor Moon movies — released following the '90s anime's second, third and fourth seasons — have been something of a white whale for Western fans, often discussed and rarely seen. Pioneer's censored English dub has been out of print for more than a decade, even though the full-series run of 200 episodes has been available on mainstream streaming platforms for years.
Viz Media released a remastered version of Sailor Moon R: The Movie early last year, with a fresh dub from the current English voice cast. Now, Sailor Moon S: The Movie and Sailor Moon SuperS: The Movie have received the update they deserve. The animation has never looked better; both are major improvements from a standard TV episode. Viz's English dub cast once again delivers solid performances across the board, with chuckle-worthy humor and dramatic action that never becomes overwrought. While neither the S or SuperS movies quite manage to top the SMR movie's killer mix of fun and feels, there's loads here for longtime fans to enjoy.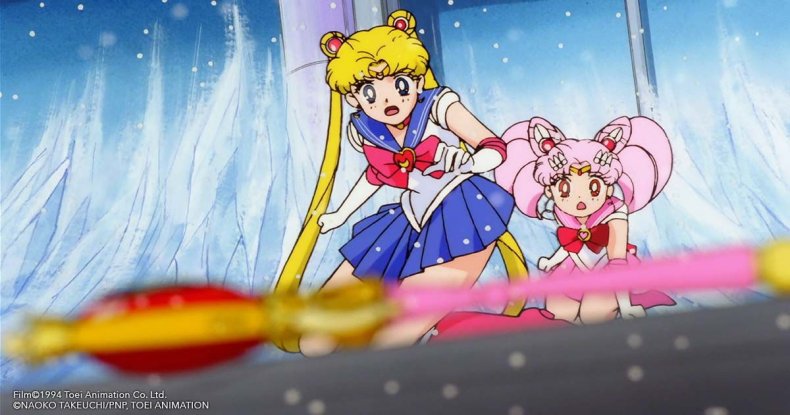 Sailor Moon S: The Movie, the more affecting story of the two, sees an extraterrestrial being named Princess Snow Kaguya threatening to turn the Earth into a ball of ice. Naturally, her first stop is the Juban neighborhood of Tokyo, Usagi's home turf. There, a wayward Luna crosses paths with an astronomer named Kakeru, whose obsession with the evil ice queen from space have made him a laughingstock among his colleagues. Luna quickly falls in love with Kakeru, which makes sense because he's essentially an easy-on-the-eyes mix of Mamoru and Haruka. (Who wouldn't fancy that?) Kakeru falls ill, leading Luna to wish she could become human and pretend to be Princess Snow Kaguya to make his dream —and hers—come true.
Even though her dream boy is a bit of a dud beneath his handsome exterior, Luna's love story is surprisingly moving. Voice actor Michelle Ruff's delivery nails every little wobble and quaver, capturing the raw agony of unrequited romance. The Sailor Moon S movie also features a solid appearance from three of the Outer Senshi, even a brief innuendo-laced banter between Michiru and Haruka. (Saturn, presumably, is off in a nursery somewhere.) It also contains what may be the best Tuxedo Mask battle cameo of all time, which I won't spoil here.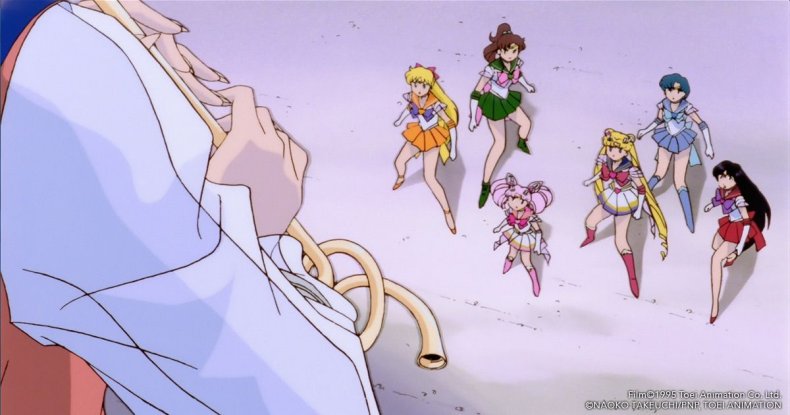 The Sailor Moon SuperS movie, much like the anime season from which it derives, is a mixed bag. Children throughout the world are being hypnotized by a mysterious faerie, then taken to another world known as Marzipan Castle. An evil queen known as Badiane seeks to harvest their dream energy, and it's up to Sailor Moon and Sailor Chibi Moon to rescue the children and put an end to her plot.
Frankly, the SuperS movie is not a great Sailor Moon story, and leans quite heavily on the tiresome "Usagi is jealous of Chibiusa" dynamic, but it's still a fun, silly watch. There's some standout moments along the way, particularly when Badiane transforms the Sailor Senshi into little-girl versions of themselves, and the scenes in which all the girls bake cookies together at Mako's house. Badiane comes off like a dime-store Galaxia (the big bad of Stars, the fifth season), so the stakes never feel particularly high. Even so, some of the SuperS movie's best moments come from hilarious lines the English voice cast seemingly delivers with a knowing wink, like "My Black Dream Hole needs her Sugar Energy!" The charming short that accompanies the film, "Ami's First Love," further sweetens the deal, featuring some giggle-worthy banter between the girls and offering a fresh perspective on the daily life of Sailor Mercury, the brains of the squad.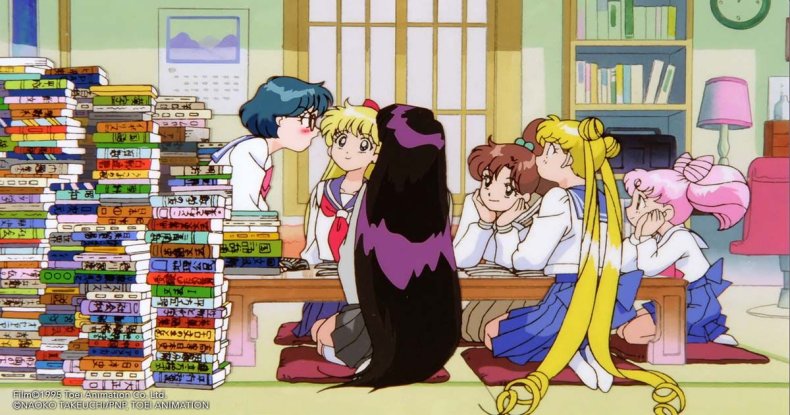 Viz Media has partnered with Fathom Events to bring the Sailor Moon movies to more than 590 theaters across the United States. During this second—and final!— week of showings, the English dubbed version of Sailor Moon SuperS: The Movie and "Ami's First Love" will play in theaters Aug. 4, while audiences can catch the subtitled version Aug. 6. It's pretty spectacular to see the Sailor Senshi on the big screen, and we'd recommend checking out a showing if you can find one that works for you. To find a nearby theater and purchase tickets online, head to the Fathom Events page and enter your zip code.
Viz hasn't announced plans for a home video release of either Sailor Moon S: The Movie or Sailor Moon SuperS: The Movie, but it's likely we'll see a physical release in the coming months.
Have you seen any of the Sailor Moon movies in theaters? Would you buy a copy if they came out on DVD and Blu-ray? Let us know in the comments!