Sailor Saves Woman Floating at Sea for Hours After Seeing Her Hand While Watching Dolphins
A day meant to be enjoyed on a boat turned into a rescue mission on a dark and gloomy day in Marina Del Rey, California when Khosrow "Koz" Khosravani spotted a woman's hand raised out of the water. He later learned she was stranded for 12 hours.
He told Newsweek that he was watching a dolphin pod from his boat while he and his guests were about three miles offshore. It was then that he first saw the woman's hand that fateful morning on September 26. KTLA recently reported that he and a group of friends were sailing from Marina Del Rey to Paradise Cove in Malibu.
"I wouldn't have seen her if it wasn't for the pod of dolphins," Khosravani told Newsweek.
He explained that while the waves weren't too high, there were enough to complicate the rescue mission. Khosravani said he needed to ensure that the route he took to get to the woman wouldn't injure her.
When the woman was pulled toward the boat, Khosravani said she was clearly exhausted and had difficulty getting into the boat. Once she was on board, they found that the woman was naked and cold, so the other women on the boat retrieved a dry towel and blanket to warm her up. Khosravani said the woman did not speak much to him, but he was able to confirm that there was no one else in the water they needed to look for.
He made a distress call over the radio and responders arrived within seven minutes. The woman was taken to a hospital where she spent three days recovering. Officials told Khosravani that she was out for a late-night swim when she was pulled out from the shore and was unable to swim back.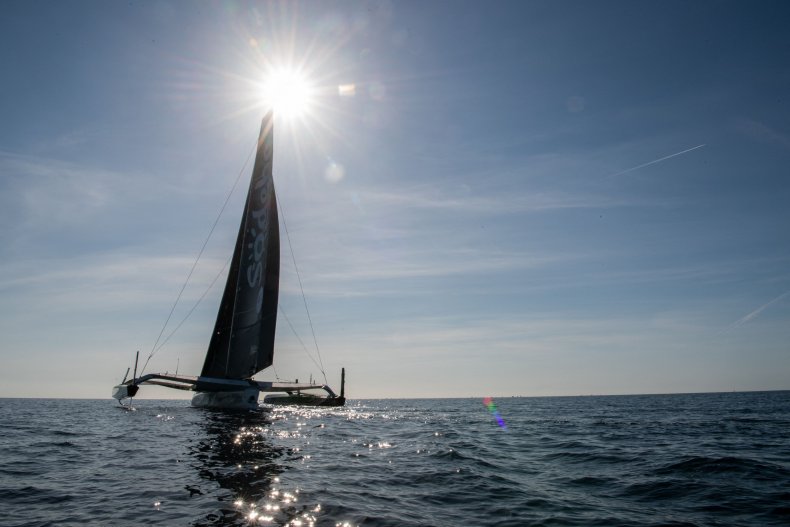 "The captain of the [rescuse] boat said in his opinion, based on the woman's condition, that she didn't have much time left," Khosravani said.
Between extreme exhaustion and hypothermia setting in, Khosravani arrived just in time. Had this taken place at any other point of the year, he said it may not have been likely that the woman would have survived this long. He pointed out that the water temperature is the warmest it would get the entire year.
It was just recently that Khosravani completed a sailing course and was able to take his boat out onto the water. In fact, he only just purchased the boat a few months ago.
And while he was new to sailing, he did not let his inexperience get in the way of saving the woman.
"I was on autopilot, I was in the zone for the rescue," Khosravani told Newsweek. "I didn't have time to think. I was directing my crew members on what to do and to not lose track of her location."
He continued and said that he wasn't thinking about fear or what could go wrong.
"At that moment, you're just focused like a laser on the rescue," Khosravani said.
In the days following the rescue, he said he felt "down" and had difficulty sleeping because he could only think of the horrors the woman went through those 12 hours. Over time, however, he began feeling better.
He told Newsweek that he hopes people recognize the strength of the ocean.
"They should have a healthy respect for Mother Nature," he said. "People should realize the ocean is very powerful."