Sailor Yells at Barista Following Request He Wear a Mask
An irritated sailor who media reports have called a Navy SEAL was caught on video verbally assaulting a barista at a Southern California coffee shop after he was asked to wear a face mask.
The incident, which was recorded via cellphone last weekend, happened outside Clayton's Coffee Shop in Coronado, California, which is home to Naval Base Coronado where the SEAL Teams are trained.
The recording posted on Reddit showed the man with his face mask pulled down and dangling from his ears, standing outside Clayton's yelling at the barista through a walk-up window.
"First of all, you're going to listen to me because I'm a customer and I've been coming here since 2009," the sailor says as he jabs a finger at the barista, and repeatedly threatens to tell his friends to avoid the coffee shop.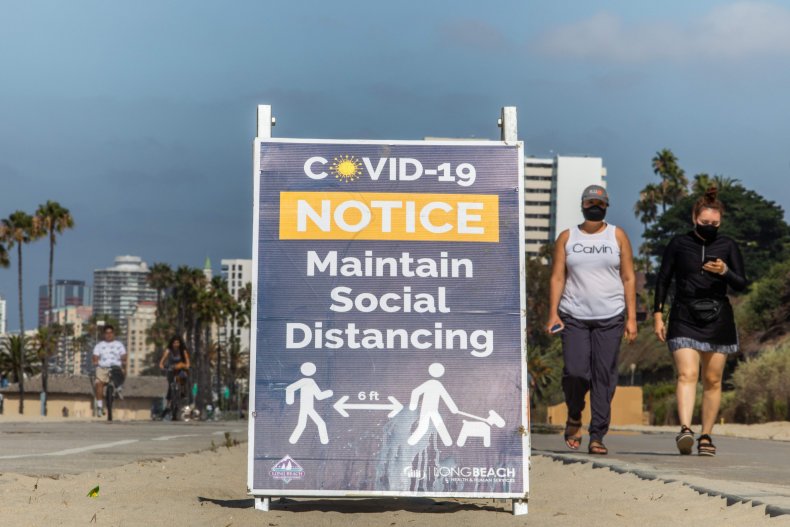 The sailor, who apparently became angry after a male employee asked him to wear his face mask properly, serves as part of the Naval Special Warfare Command, according to Task & Purpose.
"We require humility and professionalism from all Naval Special Warfare service members," Navy spokesman Lt. Matthew Stroup told Task & Purpose. "We value our long-standing relationship with the local community and will continue to foster a positive relationship in the future."
On June 18, California Governor Gavin Newsom mandated that everyone venturing into public spaces would be required to wear a face mask or a face covering, whether it is inside or outside, to help curb the spread of COVID-19.
The state of California has reported 413,576 confirmed cases of the new coronavirus since the health crisis began in March.
Mary Frese, who owns Clayton's Coffee Shop addressed the incident on the company's Facebook page and reminded visitors that face masks are mandatory for the continued safety of staff members and customers.
"We have done our absolute best to keep our staff and guests safe and healthy while serving our community. There was an unfortunate event that occurred yesterday at our Coffee Shop takeout window," Frese wrote on the Clayton's Coffee Shop Facebook Page. "The continuous resistance to wearing masks has been disheartening. We respectfully ask all of our guests to comply with California's orders to wear masks when at our establishment, and have given permission to our staff to respectfully require this of all guests."
Newsweek reached out to Frese for additional comment on the incident, but she was not available in time for publication.