Sailors, Marines Could Lose Promotions if They Don't Get Vaccine in 90 Days
Active-duty members of the U.S. Navy and the Marine Corps will need to receive their mandatory COVID-19 vaccines in less than 90 days or face disciplinary actions like losing promotions.
The Navy said that the mandate was going into effect one week after Defense Secretary Lloyd Austin announced that the Department of Defense (DoD) would be impose the requirement. Austin made his announcement one day after the Food and Drug Administration (FDA) gave full approval to the Pfizer/BioNTech vaccine.
"The DoD's mandatory vaccination policy is the proven way to ensure the readiness and the safety of our naval force, DoD civilian work force, and the American people and our allies and partners," Rear Admiral Bruce Gillingham, the Navy's Surgeon General, said in a statement.
"Vaccinating every eligible service member improves readiness and ensures our Sailors and Marines are equipped with the biological body armor needed to protect ourselves from biological threats," Gillingham continued.
Vice Admiral William Merz, deputy chief of Naval Operations for Operations, Plans and Strategy, released the mandate for full vaccination on Tuesday—meaning that active duty servicemembers have until November 29 to become vaccinated. Reservists have 120 days, or until December 29, to get the vaccine.
Under the Navy mandate, which also applies to the Marines, service members can also choose to take one of the vaccines that the FDA has authorized for emergency use, the two-shot Moderna vaccine or the single-dose Johnson & Johnson vaccine.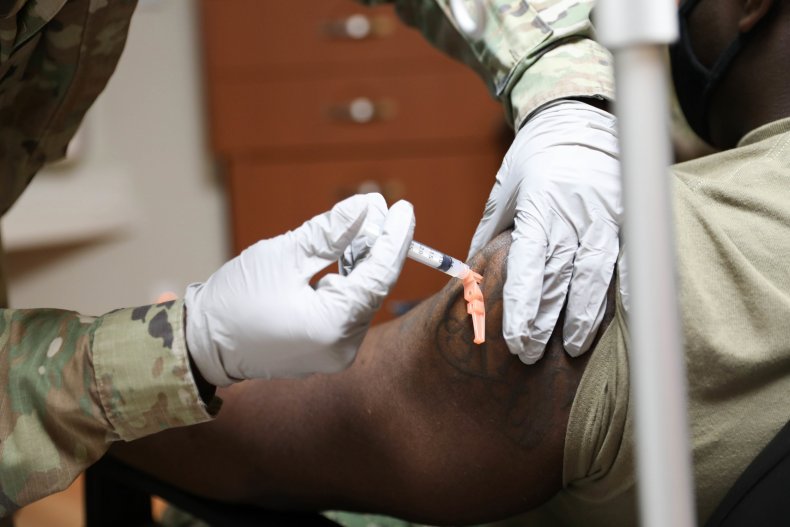 However, those who refuse to be vaccinated without a valid exemption will face "punitive or administrative action or both." The only exemptions allowed are for valid medical or religious reasons, with any other refusals deemed a violation of the Uniform Code of Military Justice.
"The Chief of Naval Operations and Commandant of the Marine Corps have authority to exercise the full range of administrative and disciplinary actions to hold non-exempt Service Members appropriately accountable," Secretary of the Navy Carlos Del Toro wrote in a message to the fleet.
"This may include, but is not limited to, removal of qualification for advancement, promotions, reenlistment, or continuation, consistent with existing regulations, or otherwise considering vaccination status in personnel actions as appropriate," he added.
Although a little less than 60 percent of all service members have been vaccinated against COVID-19, the Navy and the Marine Corps have seen higher voluntary vaccination rates. About 64 percent of Marines and 84 percent of Navy sailors have been vaccinated, according to Military Times.
Those who refuse COVID-19 mandates in the military could potentially find themselves facing a discharge. Marine Corporal Whitney McHaffie was dismissed in late July after refusing the abide by a mask mandate. Josh Mandel, a Republican candidate for the U.S. Senate in Ohio, shared a viral video of McHaffie complaining about her dismissal to Twitter on August 21.
On Tuesday, McHaffie told Military.Com that she would also refuse a COVID-19 vaccine mandate over "religious freedom, choice and health concerns." She offered no explanation when asked why she agreed to follow orders by taking more than a dozen other vaccines that the military has long mandated but not the COVID-19 vaccine.
Newsweek reached out to the Navy Bureau of Medicine and Surgery for comment.