A Religious First, Mother Teresa's Famous Sari Officially Trademarked by Nuns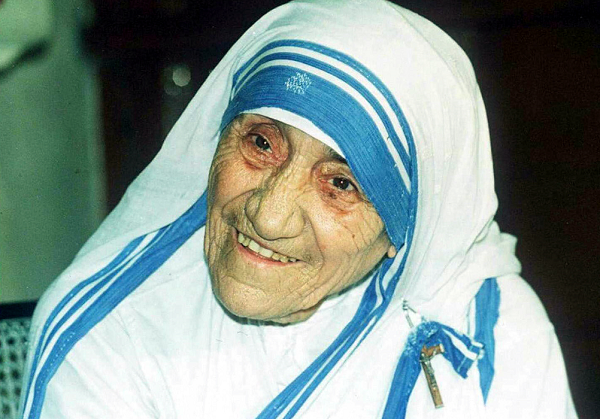 Anyone hoping to cash in on Mother Teresa's fashion can kiss those prayers goodbye because the blue-and-white ribbed sari made famous by the nun has now been officially trademarked. A lawyer for Teresa's order, Missionaries of Charity, told The Guardian Monday that the sari's design is now an exclusive intellectual property.
Initially, Biswajit Sarkar, a lawyer for the order established by the famous nun almost 70 years ago, applied for the trademark in 2013 to prevent "misuse" of Teresa's legacy in regards to commercial gain.
Following Teresa's death in 1997, many religious entities started using Teresa's name and image as a way to make a profit. Following her canonization into sainthood in 2016, the Missionaries of Charity, established by Teresa in 1950, was finally formally granted the trademark. The name Mother Teresa has also been officially trademarked.
"There are many organizations starting schools naming themselves after Mother Teresa and wearing the uniform, where the Missionaries of Charity have no connection," Sarkar said, adding that the order was prepared to take legal action against any group violating the trademark.
Teresa first purchased the blue-and-white sari at a Kolkata market the night she was finally allowed to start performing charity work in the city's poorest neighborhoods, according to the Missionaries of Charity. Afterward, she was often seen and photographed helping others while wearing the blue-and-white robe. Since then, the sari has been considered her signature ensemble.
Sarkar said the order first learned that unauthorized organizations had been using Mother Teresa's name and enforcing uniform policies based on her staple sari when teachers at schools named after her sent letters to the Missionaries of Charity regarding late salary payments.
At the time, the teachers weren't aware that the schools were not affiliated with the order. Sarkar said a cooperative bank had also been running under Teresa's name and there have been instances of religious books published with the blue-striped trimming, which he said falsely alluded to an endorsement by the order.
Although Sarkar had support from the order regarding the Mother Teresa name trademark, the lawyer said initially the "soft-hearted" nuns did not want to trademark Teresa's sari.
"They don't like taking court cases," he said. "They say, 'One day the people will understand they are doing the wrong thing.' But we cannot allow that. Now if anybody is misrepresenting the Missionaries of Charity, we can take severe legal action."
The order is now authorized to sue any religious group using the sari pattern, whether for profit or not.
While some religious sects have trademarks like, for instance, scientology—which has several names, words and symbols legally trademarked—most religious entities do not have any legal protections against commonly used names, symbols and relics.