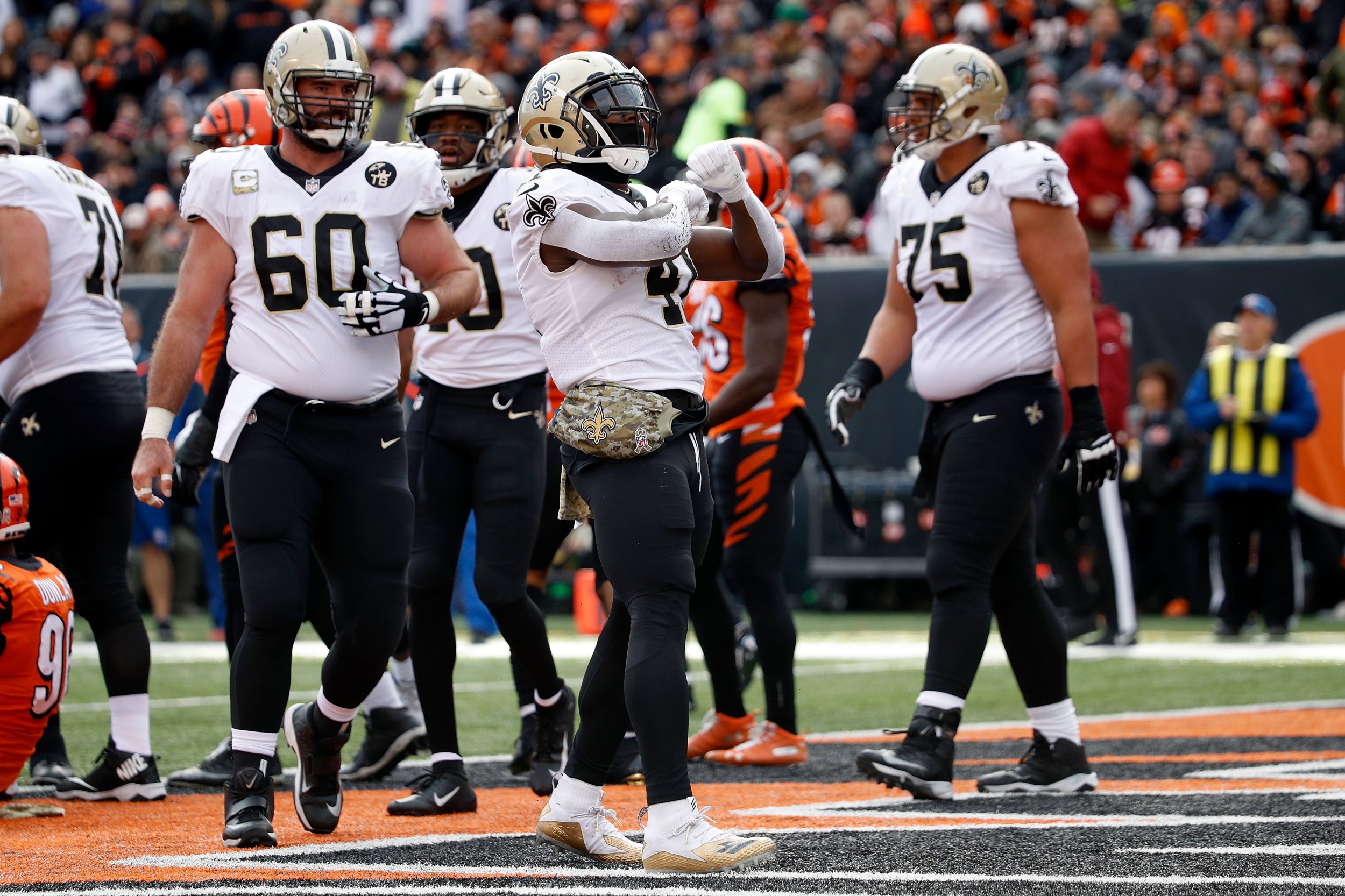 Several New Orleans Saints players honored injured teammate Dez Bryant during Sunday's 51-14 win against the Cincinnati Bengals.
Running backs Mark Ingram and Alvin Kamara, as well as wide receiver Michael Thomas each flashed Bryant's trademark "X" symbol with their arms in the end zone after scoring touchdowns. Several defensive players also performed the celebration after safety Marcus Williams intercepted a pass by Andy Dalton.
Bryant suffered a torn Achilles tendon during his second practice with the New Orleans Saints on Friday and will miss the remainder of the 2018 season. The former Pro Bowler agreed to a one-year deal with New Orleans just two days prior to his injury.
"We were all excited about him being a part of our team," Ingram said after the game. "Great playmaker, good dude, and we all hated to see what happened on Friday. So we just wanted to let him know he's still part of us, and we're holding him down."
Bryant seemed appreciate of the tribute, specifically fellow wide receiver Thomas, whose photo he shared on Twitter with the caption "Baby goat (emoji) #ThrowUpTheX."
"Never judge a book by its cover, that's all we'll say," he said. "When he came to our locker room, he was a hundred percent committed to us. We saw a sense of urgency from the first day. ... When you have a guy like that, you know we sacrifice so much for this game, you want to be there and support him in hard times and let him know we have his back. It's not phony or fake or anything. We want to support him the whole way. He's one of us."
Bryant, who had previously spent his entire career with the Dallas Cowboys, remained unsigned after being released by the franchise in April.
The former No. 24 overall pick had reportedly previous spurned declined offers from the Baltimore Ravens and Cleveland Browns this offseason and joined the Saints this week after missing the first two months of the 2018 regular season.
"[Bryant] came in, he wanted to play his role and make plays and just be a part," Kamara said. "So we just wanted to show him some love. It's unfortunate anytime anybody gets hurt. You don't ever want to see that -- especially a player of his caliber. And he didn't even get to do what he wanted to do with us. So just a little love to him."
"Two days is not a lot of time, and yet there's a lot of respect," head coach Sean Payton added after the game. "It's always difficult when you see an injury like that happen, as unusual as it was. More than anything, I'm sure it's out of respect."
Bryant hasn't appeared in an NFL game since recording three receptions for 24 yards in Dallas' final game of the 2017 regular season against the Philadelphia Eagles on Dec. 31.
The 30-year-old wasn't expected to play in Sunday's game against the Bengals even if he was healthy, according to NFL.com. New Orleans reportedly planned on having him sit out this week and then possibly make his debut in Week 11 against the Philadelphia Eagles prior to his injury.
Bryant would have also had a shot at getting revenge on the Cowboys in an upcoming Week 13 matchup on Nov. 29 at AT&T Stadium
Bryant spent the majority of his career as Dallas' primary receiver, but hasn't surpassed 900 yards since agreeing to a contract extension in 2015 -- which followed his first team All-Pro appearance in 2014, which included leading the league in touchdown receptions.
The three-time Pro Bowler currently has 531 receptions for 7,459 yards and 73 touchdowns during his seven-year NFL career.