Saints QB Drew Brees to Retire At End of Season, Which Could Be Tonight
New Orleans Saints quarterback Drew Brees will play his final game in the Superdome on Sunday night, and it could perhaps be the last game in his career.
Jay Glazer, an insider for the NFL on Fox Sports' pregame show, said Sunday evening that Brees will definitely retire at the conclusion of the 2020 season, as the playoffs continue.
The Saints are taking on the Tampa Bay Buccaneers, led by legendary quarterback Tom Brady, in an NFC Divisional round game. Should the Saints lose, then Brees will be done, Glazer said. But the Saints win, then Brees will lead them into Lambeau Field next Sunday to face Aaron Rodgers and the top-seeded Green Bay Packers in the NFC Championship.
The final possible game for Brees would be Super Bowl LV in Tampa on February 7, 2021. There will await the AFC champion, which could be the Kansas City Chiefs (QB Patrick Mahomes) or the Buffalo Bills (QB Josh Allen).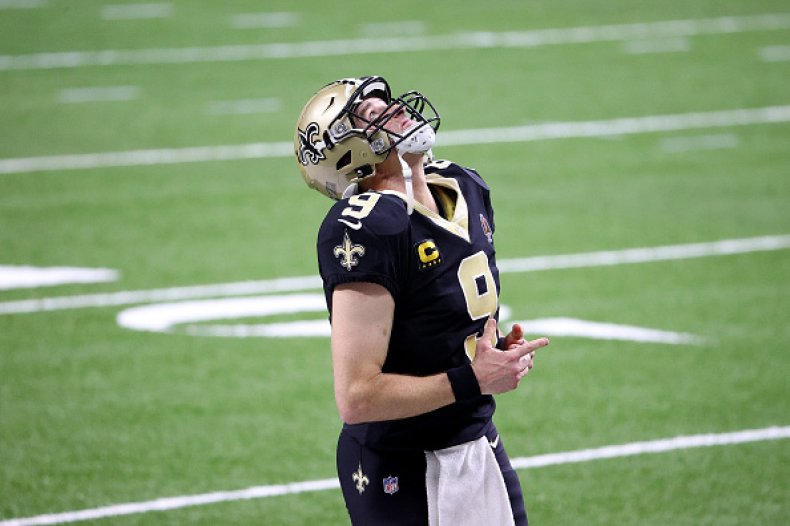 Brees, 42, leads all quarterbacks in NFL history with 131 games of throwing for 300 yards or more, which includes the playoffs. He led most career statistical categories in passing before getting sidelined with an injury this season.
The Saints quarterback already has a contract to be a booth analyst for NBC's game coverage. Reports earlier in the season indicated Brees would play through the end of the 2021 season—which is when his current contract ends.
Brees, who went to high school in Austin, Texas, played his college football at Purdue, leading the Boilermakers to a Rose Bowl after the 2000 season.
He was the first pick of the second round by the San Diego Chargers in the 2001 NFL draft. He played five seasons with the Chargers before getting traded to the Saints in 2006. The move was monumental because it marked the first season the team returned to New Orleans after Hurricane Katrina devastated the city during 2005.
Brees and head coach Sean Payton hooked up for a wild, entertaining tenure that brought the Saints not only into relativity on an annual basis, but their only Super Bowl championship that followed the 2009 season.
Here are some of the achievements accumulated by Brees in his career:
Super Bowl XLIV MVP (2009 season)
First-Team All-Pro in 2006
13-time Pro Bowl Player
Two-time NFL Offensive Player of the Year (2008, 2011)
NFL Comeback Player of the Year (2004)
Walter Payton Man of the Year (2006)
Associated Press Male Athlete of the Year (2010)
Sports Illustrated Male Athlete of the Year (2010)
Maxwell Award (2000)
Two-Time Big Ten Offensive Player of the Year (1998, 2000)