First Omicron Variant Cases Discovered in U.K. Says Health Secretary
The U.K has confirmed its first cases of the Omicron COVID-19 variant a day after it announced travel restrictions from southern Africa.
Health Secretary Sajid Javid said on Saturday that he had been informed by the U.K Health Security Agency (UKHSA) of two cases of the Omicron variant.
"The two cases are linked and there is a connection with travel to southern Africa," he tweeted.
"These individuals are self-isolating with their households while further testing and contact tracing is underway," he added.
In follow-up tweets, Javid said that as a precaution, additional targeted testing would take place "in the affected areas—Nottingham and Chelmsford—and sequencing all positive cases."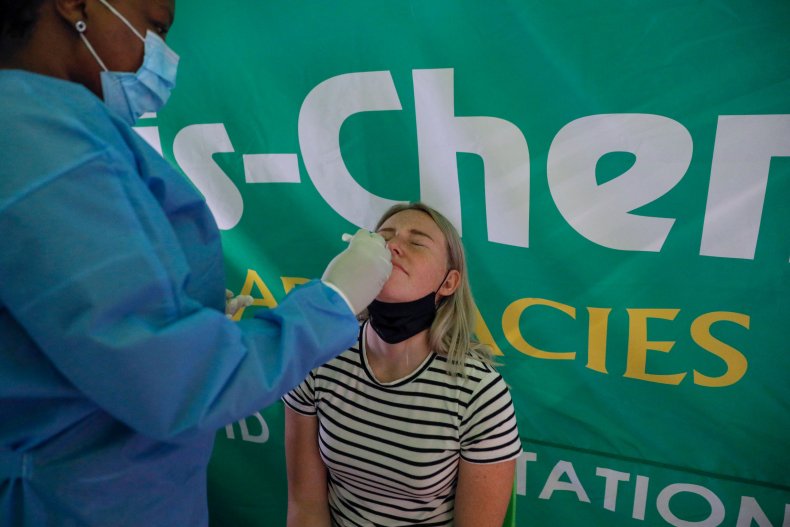 Chelmsford is about 30 miles east of London, in the county of Essex, while Nottingham is about 100 miles north of the British capital, in Nottinghamshire in the East Midlands.
The new Omicron variant, known as B.1.1.529, has been deemed by the World Health Organization (WHO) as a variant "of concern." It has been identified in South Africa, Botswana, Belgium, Hong Kong, Israel and now the U.K.
Javid said the U.K would add Malawi, Mozambique, Zambia and Angola to the six southern African countries already on its travel red list, effective from 4 a.m. Sunday.
"If anyone has traveled to these four countries or any of the other red-listed countries in the last four days then they must self-isolate and take PCR tests," Javid said as he promised his government would "take further action if that is what is required."
Professor Lawrence Young, a virologist from the University of Warwick said it was "no surprise" there were British cases as "once a variant is identified...it will have spread beyond the few original cases and countries".
Young told the BBC it was "very likely that current vaccines will protect against severe disease with Omicron as they do for all the previously identified virus variants".
The U.K was among the first countries to impose travel restrictions on flights from southern Africa. The U.S. will impose restrictions on non-American citizens traveling from South Africa, Botswana, Zimbabwe, Namibia, Lesotho, Eswatini, Mozambique and Malawi.
Canada, Australia and the European Union will also impose restrictions on flights from the southern African countries designated as high-risk for the new Covid-19 variant.
Pfizer and BioNTech have said they believe they can ship a new vaccine to tackle the variant in around 100 days.
Update 11/27/21 1:24 p.m. ET: This article has been updated with additional information.