Salad Recall: Parasite Found in Bagged Lettuce in 7 States
A bagged salad mix has infected more than 100 people in seven states, causing the Food and Drug Administration to issue a recall of the product distributed to three different grocery store chains in a dozen states.
The salad mix containing carrots, red cabbage and iceberg lettuce had been sold at Hy-Vee, ALDI and Jewel-Osco grocery stores and was found to be contaminated with the parasite cyclospora.
The mix is packaged as Hy-Vee Brand Garden Salads, Jewel-Osco Signature Farms Brand Garden Salads and ALDI Little Salad Bar Brand Garden Salads, according to the Centers for Disease Control and Prevention.
Fresh Express, a salad subsidiary of Chiquita Brands International, manufactures the product sold by each of the three grocery stores, according to a statement by ALDI shared by the FDA June 22.
In an emailed statement to Newsweek, Fresh Express President John P. Olivo that food safety is his company's "number one priority."
"Our first concern, of course, is for the health and wellbeing of those who have become ill and to ensure all appropriate measures are in place to protect public health," Olivo wrote in response to the reported outbreak.
Fresh Express will continue its own internal investigation into the outbreak, as well as work with members of the FDA to determine the outbreak's source, Olivo said.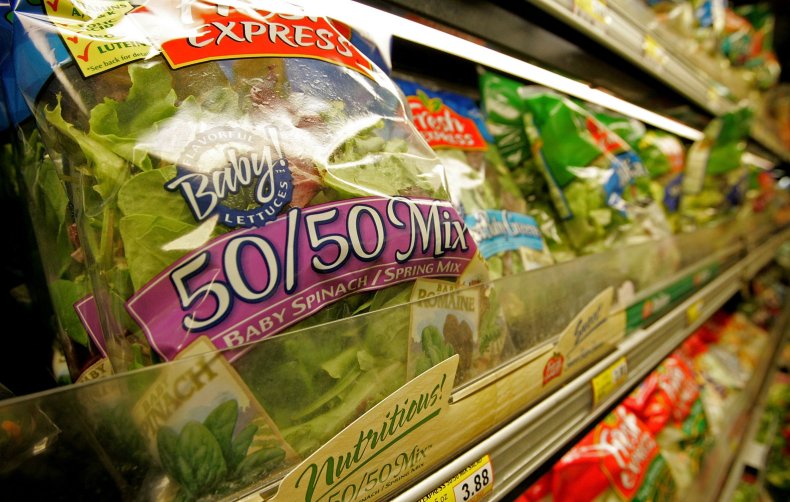 Cyclospora is a microscopic parasite that can affect the intestinal tract and cause diarrhea in those infected. It is spread by ingesting food that has been contaminated with feces, according to the CDC.
The parasite can occur in people of all ages and U.S outbreaks have been linked to various types of imported fresh produce.
Symptoms appear around one week after consuming the contaminated food and can last anywhere from a few days to a month or more if left untreated. It can be treated with the use of an antibiotic.
The 122 people with lab-confirmed cyclospora infections had reported eating the bagged salad mix before getting sick, according to interviews conducted by the CDC.
The infections have been reported from seven Midwestern states, including Illinois, Iowa, Kansas, Missouri, Minnesota, Nebraska and Wisconsin. Reported infection dates range from May 11 to June 15. The three brands of bagged salad are also sold in Aldi, Hy-Vee and Jewel-Osco stores in Arkansas, North Dakota, South Dakota, Indiana and Michigan.
Nineteen people have been hospitalized due to the parasite, but no deaths have been reported. Iowa is reporting the most infections with 54, according to the CDC.
The multi-state outbreak was first reported by the CDC June 19 when the agency confirmed 76 cyclospora infections.
The CDC is advising those who had purchased the recalled salad to throw any remaining mix away, even if some of it had been eaten and no one has gotten sick.
Residents of states where the salad mix has been recalled should throw away any bagged garden salad blend they have in their home, even if they are unsure if it is one of the recalled products, the CDC advised.
There are typically multiple clusters of cyclospora infections that are reported each season, the CDC said.
The CDC and FDA are continuing to investigate the outbreak to determine if other products in addition to the salad mix could be contributing to the illnesses.
06/24/20, 4:53 p.m.: This article has been updated to include parts of a statement from Fresh Express.