Salamander Trade Ban Draws Praise and Frustration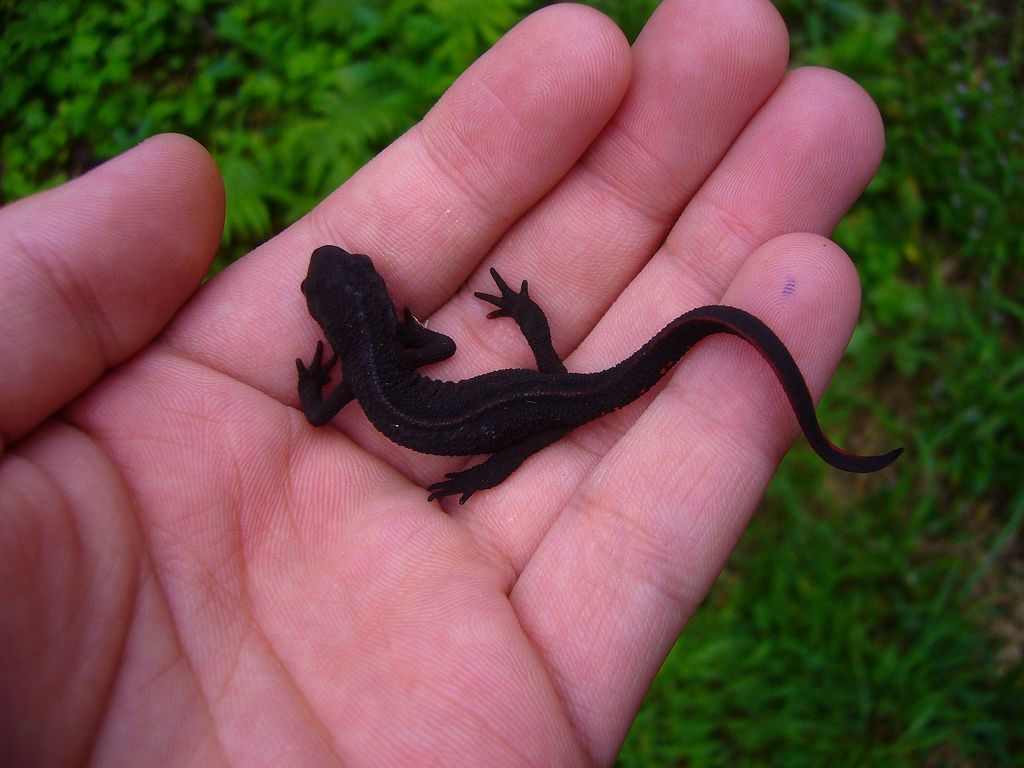 In the past 20 years, a pathogen called the amphibian chytrid fungus has devastated frogs and salamanders around the world, greatly reducing populations and even driving some species to extinction.
In 2013, a similar fungus that infects several species of salamanders and newts, called Batrachochytrium salamandrivorans, or Bsal for short, was discovered in the Netherlands. It has since caused mass die-offs of fire salamanders there and has spread to Belgium, Germany and elsewhere in Europe. Research suggests the fungus arrived in the Netherlands via the pet trade, although it's unclear where it originated.
Since this finding, conservationists and wildlife officials have worried that the fungus could make it to North America, which has the greatest diversity of salamanders on Earth. In response, the U.S. Fish and Wildlife Service (FWS) is implementing a rule that will ban the import and interstate transport of 201 amphibian species as of January 28.
Included in the list of so-called "injurious" species are 67 native species of salamander, which may be susceptible to the fungus. The decision is unprecedented in the sense that so many native creatures have not been listed en masse before, and also in that the rule will be implemented only weeks after being published in the Federal Register. In the past, such laws were first proposed, followed by a monthslong period where comments on the rule's merit were considered and then put into practice.
"In this case, we took the unusual step of posting an interim rule that would take impact [almost] immediately, and that's in response to the imminent threat posed by the fungus," says David Hoskins, assistant director for fish and aquatic conservation at the FWS.
The rule's ban on imports has been widely welcomed by researchers, environmentalists and pet owners, who want to keep this exotic fungus out. But some of these same people think that the ban on interstate trade of native species (none of which have been infected by the fungus yet) is an overstep, one that will make research, zookeeping and pet ownership much more difficult.
Hoskins says people can apply for permits for research and other purposes. But past experience has shown that such permits can be expensive and aren't guaranteed, and the application process takes a lot of time, says Tim Herman, a former herpetology keeper at the Toledo Zoo, where he assembled one of the nation's largest and most diverse collections of salamanders.
"Broad-scale research on native salamanders will be greatly inhibited by this listing," Herman says. His past work has involved, for example, obtaining salamanders or their tissues from 20 different states to better understand their evolutionary relationships, something he says would become very difficult under the new rule. He says it will also create headaches for zoos—which are already short on resources—and make it harder to obtain and display native amphibians.
John Clare, a chemist who started Caudata.org, the "longest-running community for amphibian enthusiasts on the Internet" and through which people can buy and sell captive animals, says the decision may effectively kill the salamander hobby in the United States. And it will likely put out of business or greatly hurt many people who breed and sell these animals (domestically, over state lines) in a safe and responsible way, he adds.
Several companies can already test for the fungus using a genetic technique called a polymerase chain reaction, Clare says, and he and others have had their amphibians tested to make sure they are free of the fungus, although the FWS isn't yet convinced these methods are effective enough to implement on a broad scale. There's also some evidence the fungus can also be treated by exposing amphibians to warmer temperatures for a few days, Clare says.
"Rather than destroy a wonderful hobby/passion and doom animals through isolation [preventing breeding from taking place], a simple treatment and testing requirement could be accomplished," he says.
Robert Likins, a vice president at the Pet Industry Joint Advisory Council, which represents pet owners and hobbyists, says his group is frustrated by the decision. He was in favor of a moratorium on imports instead of an "injurious" listing, which is difficult to reverse once in place.
Another point of contention is the fact that only two species of salamanders have been demonstrated to be lethally susceptible to the fungus. The 67 native species listed are thought to be susceptible, due to being related to the two native species that can be infected by the pathogen. But in most cases, this hasn't been definitely proved.
Karen Lips, a researcher at the University of Maryland, defends the rules, saying that something needed to be done to prevent the pathogen from spreading through the U.S. She adds that there simply isn't enough reliable information yet on the fungus yet to implement rigorous testing and treatment regimes.
The FWS ban on interstate trade will of course also affect her research, but she anticipates that she'll be able to get any necessary permits. Hoskins says the agency will continue to work with academics and others to fine-tune the rule in the future.
"We are all impacted. We all care about salamanders and [are] doing what's necessary" to keep the fungus out of the country, Lips says.