Salem Radio Delves Into Film Distribution With Free-Speech Documentary
Talk-radio giant Salem Media Group is jumping into the movie business by streaming No Safe Spaces, a documentary about free speech from comedian Adam Carolla and nationally syndicated radio host Dennis Prager.
No Safe Spaces was one of 2019's top earning political documentaries, taking in $1.3 million at the box office, and earning a 99 percent audience score at Rotten Tomatoes (49 percent critic scores), the leading online aggregator of TV and movie reviews. The film largely pokes fun at political correctness on college campuses.
Despite the film's popularity — at least in conservative circles — Prager told Newsweek that the filmmakers were unable to strike a deal with traditional streamers due to what he says is a political bias in Hollywood, so he took it to his radio employer, Salem.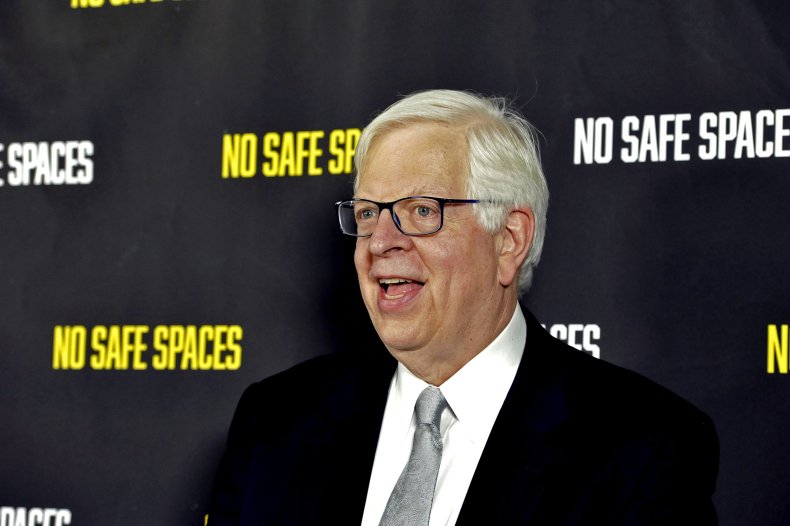 Dave Santrella, Salem's president of broadcast media, said No Safe Spaces will stream on-demand for $19.99 for 60 days. Apart from Salem, the filmmakers are negotiating a distribution deal that will put DVDs on the shelves by mid summer.
Salem will stream the flick for 60 days. While it typically streams recorded events and interviews, No Safe Spaces marks the first time Salem will show a feature film online, and some people close to the situation say that, if successful, it could be a new business for the Christian-conservative radio and online company.
"With theaters closed and Hollywood thumbing their nose at films like this, it's an honor to have Salem Media Group become the distribution source," Santrella told Newsweek.
Prager was more direct, and he singled out Netflix, which he notes passed on No Safe Spaces a year after it paid $10 million for Knock Down the House, a documentary about Alexandria Ocasio-Cortez and other liberal women who ran for office in 2018. The film earned an 18 percent audience score at Rotten Tomatoes (100 percent critic scores) and did negligible business theatrically.
"See how this works? A movie with no track record is given piles of cash and a movie that reaches the top is passed over," said Prager.
Netflix didn't respond to multiple requests for comment.
"The game is rigged, but when we see a wall, we will simply have to find a way over, under, or around it," said Prager. "The message of this film that Adam and I delivered about free speech and tolerance is being blocked by intolerant forces in Hollywood. These people are lying to themselves. They say they believe in free speech — except when it comes to someone they don't agree with," Prager said.