Actress Salma Hayek Discusses Her New Movie and Getting Asked Out by Trump on 'The Daily Show'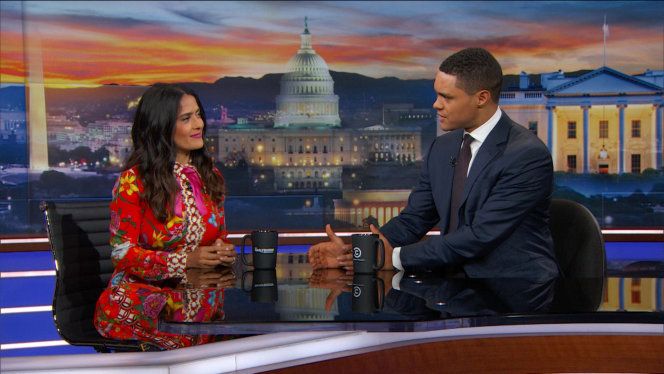 The film actress Salma Hayek appeared on The Daily Show on Thursday night to discuss her new film Beatriz at Dinner, a political dramedy from director Miguel Arteta with a screenplay by Mike White.
The Mexican-American Hayek plays the title character, a Latina masseuse whose car ends up breaking down at a rich client's house in Orange County, California. The client (played by Connie Britton) invites Beatriz to stay for a dinner party hosted by her husband (David Warshofsky), who is trying to impress a wealthy investor and hotel tycoon (John Lithgow). His and the upper-class party guests' casual racism and disregard for the environment clash with Beatriz's animal-loving, pacifist attitude and her Latina pride.
If all of this sounds a little too on the nose, given the current political climate, you'd be surprised to learn that Arteta and White came up with the concept of the film well before Donald Trump was elected president.
"The first idea that Mike White had about this dinner was that they had just killed Cecil the lion," says Hayek, referring to the shooting of a well-known lion in Zimbabwe by an American dentist that sparked international outrage. White wrote the script while trying to imagine what he would say to Cecil's killer if he sat across from him at dinner.
The screenplay was finished before Trump was a serious candidate for president. "When you watch the movie, it's very strange, it's kind of uncanny," Hayek says. "It's like [White] predicted the future."
Daily Show host Trevor Noah reminded Hayek that Trump once asked her out on a date. Hayek said that when she replied to Trump's calls to say that she already had a boyfriend, he told her, "He's not good enough for you."
"And did you end up marrying that boyfriend?" asked Noah.
"No."
"So then Donald Trump was right."
Beatriz at Dinner is out in theaters Friday.