New York Times Reporter Live-Tweets Raid on Pakistan Home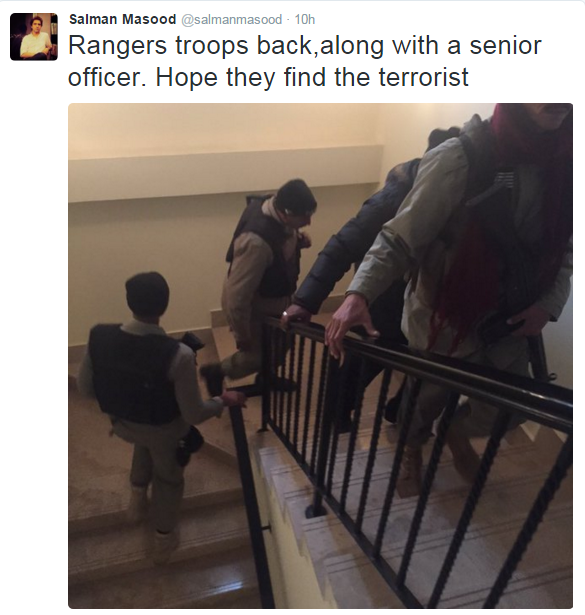 The Pakistan correspondent for The New York Times found himself at the center of the news on Tuesday after he live-tweeted a raid on his Islamabad home by paramilitary Rangers.
"Rangers have shown up at my house, saying they want to search the premises, but have no documents or warrants," Salman Masood tweeted on Tuesday morning. Masood added that a plainclothes officer told him he was from "intelligence" but declined to offer more information and insisted on searching his property.
Masood tweeted that he spoke with a "senior Islamabad police official," who told him a "terrorist search operation" was taking place, while Rangers told Masood that they were conducting a "routine search operation." He also tweeted photos of a group of four Rangers climbing the stairs of his apartment building and searching kitchen cabinets and cupboards. They asked him if he had "any illegal weapons hidden in the house."
"Hope they find the terrorist," Masood tweeted.
Masood's most recent New York Times article, published on Monday, focuses on the restarting of Taliban peace talks between U.S., Chinese, Pakistani and Afghan diplomats in Islamabad. The peace talks come months after the first official talks between the Afghan government of President Ashraf Ghani and the Taliban were set to take place but were delayed following the news that Afghan Taliban leader Mullah Mohammed Omar had in fact died two years previously.
"Salman and his family are OK, and he has received an apology from the Interior Ministry, which said the search of his home was part of a broader pattern of searches across his neighborhood this morning," says Douglas Schorzman, senior editor on the Times International Desk, in an email to Newsweek. "It's still unclear whether that's true, though, and given the pattern of targeted harassment of Times correspondents in Pakistan by the authorities, we're taking this matter very seriously. The Interior Ministry has assured us that it will conduct an inquiry, and we'll be conducting our own."
This is not the first time Pakistani authorities have targeted a New York Times journalist. In 2013, the country expelled Times Islamabad bureau chief Declan Walsh for engaging in "undesirable activities," according to a letter that authorities sent to Walsh.
Pakistan occupies the lower rungs of the 2015 Reporters Without Borders press freedom index, ranked 159 out of 180 countries worldwide. While Pakistan has dropped one place on the index since 2014, press freedom in the country has been in decline for the past decade, dropping from a ranking of 119 in 2002.